The ABC
Water is a vital component of our existence, and plumbing has made it much easier to obtain it.
Ancient civilizations such as the Greeks, Romans, Persians, Indians, and Chinese towns devised techniques to irrigate their crops and offer public baths, wastewater removal, and potable water, which led to the development of plumbing.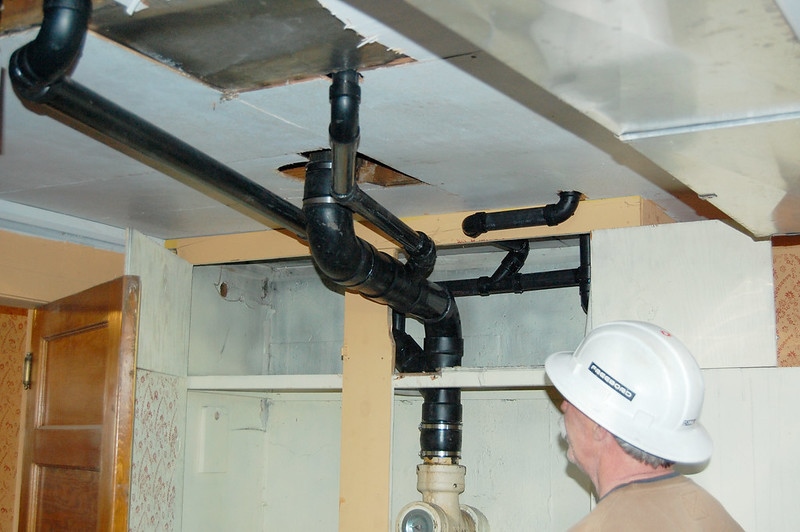 Prehistory
Around 2700 B.C. some of the first plumbing systems appeared in ancient towns, using earthen pipes to deliver water to public baths and to remove effluent.
The Ancient Egyptians were the first civilization to employ copper pipes and drill 300-foot-deep wells.
Plumbing evolved even further during the times of the Ancient Greeks, who had hot and cold running water as well as showers for athletes, but it was the Romans who were the first to employ fully complex plumbing systems.
They devised a complex method to transport water from the highlands using subterranean lead pipes.
The famed Roman Baths also included steam chambers, hot flowing water heated by wood, and sewer systems to transport trash.
Middle Ages
Following the fall of the Roman Empire, plumbing technology stagnated, and Europe would not see comparably complex systems until many decades later.
In monasteries and castles, there were still some sanitary systems in place, but most houses just used a washbasin and tossed the effluent out the window onto the street.
---
Read Also:
---
Modern Plumbing
From the first contemporary style shower prototype in 1810 until the passage of the National Public Health Act in 1848, plumbing systems continued to improve.
This was the foundation for plumbing codes all around the world. In 1858, the first sewer system was installed in London, England, and in the 1930s, hygiene standards and rules were established to maintain a baseline sanitary level of life.
Facts and more!
The first plumbing pipes were constructed of baked clay and straw, while the Egyptians were the first to use copper.
They dug 300-foot-deep wells and created the water wheel. Bathrooms and plumbing fixtures have been discovered in the pyramids for the dead, as the excavations showed.
The Romans were responsible for the most important achievements since they constructed canals that transported water from the highlands to the city and distributed it underground via lead pipes.
In 1815, Philadelphia became the first city to have a secure water system.
Water was drawn into Centre Square using steam turbines from the Schuylkill River.
In 1830, the first public water main was laid beneath New York streets. Multiple fires necessitated a sufficient quantity of water for firefighting.
During World War II, the usage of iron, steel, and copper was prohibited, forcing the plumbing sector to use new materials such as plastics.
Water conservation regulations were first enacted in 1978. It was illegal for toilets in California to utilize more than 3.5 gpf.
Pipes and Their Types
There are many different types of plumbing pipes available today, some of which are ancient classics and others that are constructed of modern materials.
However, when deciding the type of pipes to employ in your home's plumbing system, you should weigh the benefits and drawbacks of each of these materials.
Here the most common types of water pipes available today are short-listed:
Copper Pipes
Copper is one of the oldest and most common materials for plumbing pipes, and it is being used today.
Copper pipes come in two basic kinds that may be combined to create a complete plumbing system: flexible copper tubing and rigid copper and are still actual and usable even nowadays due to the advantages they offer, such as they are safe, durable and temperature resilient.
Polyvinyl Chloride Pipes (PVC)
PVC is one of the most widely used forms of plastic pipe for water delivery, with applications ranging from drainage to water mains.
Irrigation, house, and building supply piping are the most typical applications. PVC pipes are stiff and generally come in white, cream, or grey.
Galvanized Steel Pipes
Galvanized pipe is a steel pipe that has had a zinc coating applied to it. The galvanized covering prevents the pipe from corroding.
Galvanized pipe was originally the most popular type of pipe for water supply lines, but due to the effort and time required to cut, thread, and install galvanized tubing, it is no longer widely utilized, saved for minor repairs.
Chlorinated Polyvinyl Chloride (CPVC)
The main distinction between the two materials is that CPVC is chlorinated, whilst PVC is not.
Because of this chemical difference, CPVC can survive temperature changes (up to about 180 degrees Fahrenheit) in a way that PVC cannot.
Cross-Linked Polyethylene Pipes (PEX)
Plastic pipes, in general, have been a popular choice for new construction. This type of plastic is relatively new to the plumbing industry, yet it may be utilized for a wide range of plumbing applications.
PVC and PEX pipes vary primarily in that PEX pipes are flexible. As a result, they may be utilized in lengthy, uninterrupted runs.
Signs that Will Help You Understand Your House Needs Repiping
Plumbing is a difficult element of house maintenance that is usually best left to the experts.
Knowing when to repipe and when not to repipe your property is essential, given the potentially high expenses of replacement and repiping.
Let's take a look at some of the indicators that it's time to repipe your house with that in mind.
Pipes make noise,
There are difficulties with changing the temperature,
The water isn't smelling normally and has an unpleasant odor,
Presence of water discoloration,
Low water quality,
Leaks,
Water pressure problems.
Interested in This?
If you consider applying for repiping services that would work great for your house, then you will need to make sure that you are applying to a company in your area! Seattle Repiping, for instance, is happy to assist clients in achieving lifelong happiness as one of Seattle's leading repiping service providers.
They provide an in-depth study of your piping system, a free quotation, and the opportunity to remedy any difficulties with your place's pipelines at a reasonable price, much like the finest repipe companies. So why don't you give it a try?!