If the pandemic has taught us one thing, it is about the value of our outdoor spaces that we used to take for granted until it was taken away from us due to social distancing for safety measures.
Since the first quarter of 2020, people have been confined to their homes and have been trying to make their homes a cozy, safe, and relaxing place.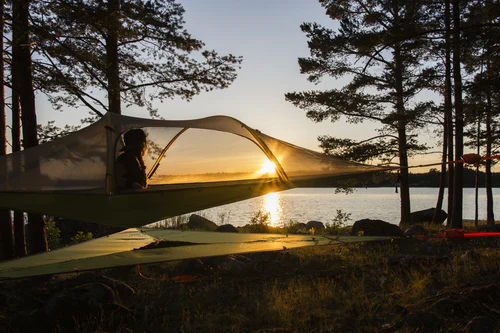 Besides the focus on inner space, the outdoor living spaces are getting more attention than before.
Since remote work has become the latest trend, people want to enhance and boost their indoor and outdoor spaces.
If you are thinking about joining the DIY home renovation club, you might want to include an outdoor tv as well, which is another cool way to create a unique outdoor living space.
How to Make an Awesome Outdoor Living Space?
Before you start to invest in outdoor furniture and other items, we recommend that you take a good look at the garden and assess it in minute detail.
Assess the position and general outlook of the garden while determining how you can make the best use of your outdoor living space.
Also, assess where the sun rays touch the different parts of your garden at different times of the day.
Believe it or not, but by following the sun, you will be following one of the grandest determining factors of the planning of your outdoor living space.
Also, you will have to think about the purpose of creating an awesome outdoor living space.
What exactly are you planning to do, and how are you planning to use your outdoor space?
For instance, you might want to use the outdoor living space to entertain your guests, such as family and friends.
You might want to turn your outdoor space into a perfect resort where you can recover from the pandemic blues, relax, and sunbathe.
Perhaps, you are thinking about making the best use of the summers and inviting your friends, neighbor, and family over for an outdoor cinema.
Besides defining the purpose, the underlying tip for building the perfect outdoor space is that you must blend the lines of your indoor space with the lines of the outdoor space.
In other words, your outdoor space should serve as an extension of your indoor space.
Many people think that skipping a couple of details won't be a big deal while creating a perfect outdoor living area – the truth, however, is the other way around.
Every detail of your garden counts and contributes to the creation of a perfect outdoor space, which should serve as your happy place, not just during the day but also during the nighttime.
---
Read Also:
---
Choosing the Best Outdoor Furniture
You could start with a nice set of sturdy chairs for your patio. We recommend that you choose your outdoor furniture that matches with your indoor furniture so that the outdoor space serves as an extension of your indoor area.
While choosing the best outdoor furniture, make sure that the furniture isn't over the top and in perfect harmony with your living room.
Opt for the furniture to be placed around a mellow outdoor rug, and place a side table in the middle or beside the chairs.
And, voila! There you have your perfect outdoor living area, which is also suitable for sociable living.
Keep it Covered
If you are not a die-hard fan of the sun, we recommend that you create an outdoor chill-out space where you and your family will be protected against the dangerous sun as well as the rain.
If you want to make the best use of your outdoor space, you will have great fun with covered space.
And the best part is that you won't have to spend a lot to create a covered outdoor living area as you will be able to find many DIY tutorials online.
If you want to enjoy the warm breeze and relax underneath the covered spot, we recommend adding a padded sun lounger where you can stretch, breathe in the good summer air, and have the time of your life.
By keeping your outdoor living area covered, you can enjoy dinners without having to worry about occasional drizzles.
Install an Outdoor Kitchen
Summers are perfect for outdoor cooking and camping. While going to a real camping site might not be a good idea, given the ongoing situation, you can set up an outdoor kitchen in your outside space and benefit from the ultimate gateway to summer entertainment.
You don't necessarily have to go big with the kitchen setup if you are a bit low on the budget.
You can have utmost fun with a BBQ set up, which will add to the outdoor cooking fun as you play your favorite track in the background and enjoy the warm summer breeze at the same time.
Don't Forget Indoor and Outdoor Plants
You might already have plants in your garden. However, you will still need to pick the perfect plants for your outdoor and indoor living space.
While choosing the best plants, you must keep in mind the importance of blurring the lines between the indoor living space and the outdoor living space.
For instance, you might want to position plants with larger leaves besides French windows that overlook the gardens.
Make a careful selection of your garden pots before placing your garden plants in them.
Determine the Focal Point of Your Outdoor Space
Understandably, your indoor and outdoor living space is all about the way you position a focal point, which is the center of attention.
The focal point can also serve as the perfect statement piece, which can be eye-catching and aesthetically pleasing at the same time.
Did you know that the better your outdoor living space, the more the value of your house will be (if you ever plan to re-sell your property)?
If you don't want to go big, you can always opt for a nice garden bench or a love seat with nice cushions.