Leaving home for college is an exciting step towards independence, but the initial excitement often comes with the reality of a bare and uninspiring dorm room.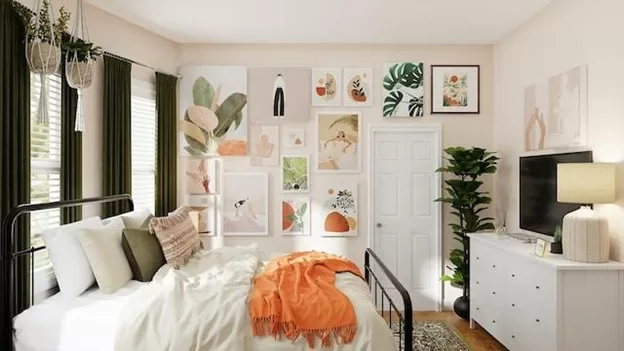 However, fear not! With a bit of creativity and some budget-friendly ideas, you can transform your drab dorm into a cozy and stylish haven.
In this article, we'll explore the benefits of a dorm room renovation, offer valuable tips, present five DIY renovation ideas, and share five life hacks to make the most of your limited space and resources.
Benefits of Dorm Room Renovation
Dorm room renovation offers more than just aesthetic appeal. It can contribute significantly to your overall well-being and academic success. A well-designed and personalized space can:
Boost Productivity: A thoughtfully arranged dorm room can create a conducive environment for studying and focusing on your coursework. But if you still struggle, find inspiration online. The extra essays platform has many useful resources for students that help boost productivity.
Enhance Comfort: A cozy and comfortable space helps reduce stress and promotes relaxation after long study sessions.
Foster Creativity: Personalizing your room with DIY projects can nurture your creative side and provide a sense of accomplishment.
Promote Socialization: A welcoming and stylish dorm can become a gathering spot for friends, facilitating social interactions and a sense of community.
---
Read Also:
---
Tips for Budget-Friendly Dorm Renovation
​​Revamping your dorm room doesn't have to drain your wallet. With a little strategic planning and resourcefulness, you can achieve a fantastic transformation on a budget.
Here are some practical tips to help you turn your drab dorm into a comfortable and stylish sanctuary without breaking the bank:
Plan and Prioritize: Make a list of what you need and want for your room. Prioritize essential items and allocate your budget accordingly.
Thrift Stores and Online Marketplaces: Explore thrift stores, garage sales, and online platforms for affordable decor and furniture options.
DIY and Upcycling: Get creative with DIY projects using items you already have or can find at a low cost. Upcycle old furniture or create personalized wall art.
Functional Furniture: Opt for multipurpose furniture like storage ottomans or lofted beds to maximize space utilization.
Temporary Decor Solutions: Use removable wallpaper, wall decals, and adhesive hooks for easy decoration that won't damage the walls.
Five DIY Dorm Room Renovation Ideas
Elevating your dorm room's aesthetic doesn't have to be an expensive endeavor. With a dash of imagination and some hands-on work, you can craft unique decor that reflects your personality.
Here are five DIY dorm room renovation ideas that will infuse your space with creativity and style:
String Light Canopy: Hang fairy lights from the ceiling to create a dreamy and cozy ambiance in your room.
Photo Wall Collage: Display your favorite memories with a photo collage using washi tape or simple frames.
Crate Bookshelves: Stack wooden crates to form unique and budget-friendly bookshelves or storage units.
Tapestry Headboard: Hang a colorful tapestry behind your bed to add texture and a focal point to your room.
Chalkboard Wall: Transform a portion of your wall into a chalkboard for notes, doodles, and daily inspiration.
Life Hacks for Dorm Living
Navigating the challenges of dorm living requires a blend of creativity and practicality.
With limited space and shared facilities, it's essential to employ clever life hacks that streamline your daily routine and make the most of your environment.
Here are five ingenious life hacks to help you thrive in your dorm:
Space-Saving Hangers: Use cascading hangers to optimize closet space and keep your clothes organized.
Bedside Storage Caddy: Hang a fabric organizer on the side of your bed to keep essentials within arm's reach.
Cable Management: Keep cords and chargers in check with binder clips attached to the edge of your desk.
Shower Caddy for Supplies: Use a shower caddy to transport cleaning supplies easily between your room and shared spaces.
Binder Clip Cable Organizer: Clip binder clips to the edge of your desk and thread cables through them to prevent tangling.
In Conclusion
Dorm room renovation on a budget is a fun and rewarding endeavor that can transform your living space into a comfortable and stylish haven.
By following the provided tips and utilizing the DIY ideas and life hacks, you can create a personalized environment that supports your academic success and well-being.
Remember, the goal is to strike a balance between creativity, functionality, and budget consciousness.
With a little effort and creativity, your dorm room can become a reflection of your personality and a place you're proud to call home.
For further inspiration and ideas, consider exploring interior design blogs, social media platforms, and home improvement resources.
Keep in mind that while a well-decorated dorm room can enhance your college experience, focusing on your studies and building meaningful relationships should remain your top priorities.
---
Author Bio
Tori Eslinger is a seasoned writer who specializes in crafting informative content on home improvement, interior design, and lifestyle topics. With a keen eye for detail and a passion for creative expression, Tori's articles often delve into transforming living spaces on a budget, providing readers with practical tips and DIY ideas. His knack for combining functionality and aesthetics shines through as he guides readers through the process of making their dorm rooms both cozy and efficient.