Crock pots are convenient for cooking dishes, especially in a hurry, as you can throw in all items together. However, when cooking in Crock pots, you may wonder are crock pots safe to leave on overnight.
Yes, since crock pots are primarily meant for slow cooking so you can leave them on overnight without any trouble. But, there are a few things that you must consider when leaving them overnight, like fixing the temperature and other factors.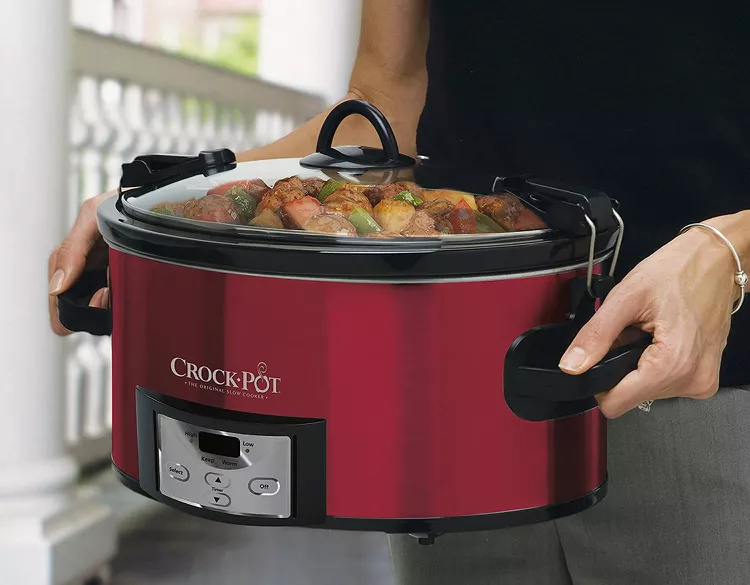 So, if you are concerned about whether or not you can leave your crock pot overnight, you are in the correct place. Today in this guide, we will discuss everything you need to know about this.
Are Crock Pots Safe to Leave on Overnight?
Yes, you can leave your crock pots or slow cooking pots overnight without causing any damage to your food or the cooking pot itself. The wattage of a crock pot typically falls in the power range of 50 to 300 watts.
Depending on its size, it will fall anywhere in that region. In comparison, the power of a heater is between 400 and 1500 watts. Therefore, leaving these pots overnight poses virtually no risk of fire or any burn.
Additionally, you will need to look at a few factors for that. Thus, keep on reading to know more about this.
Cooking at High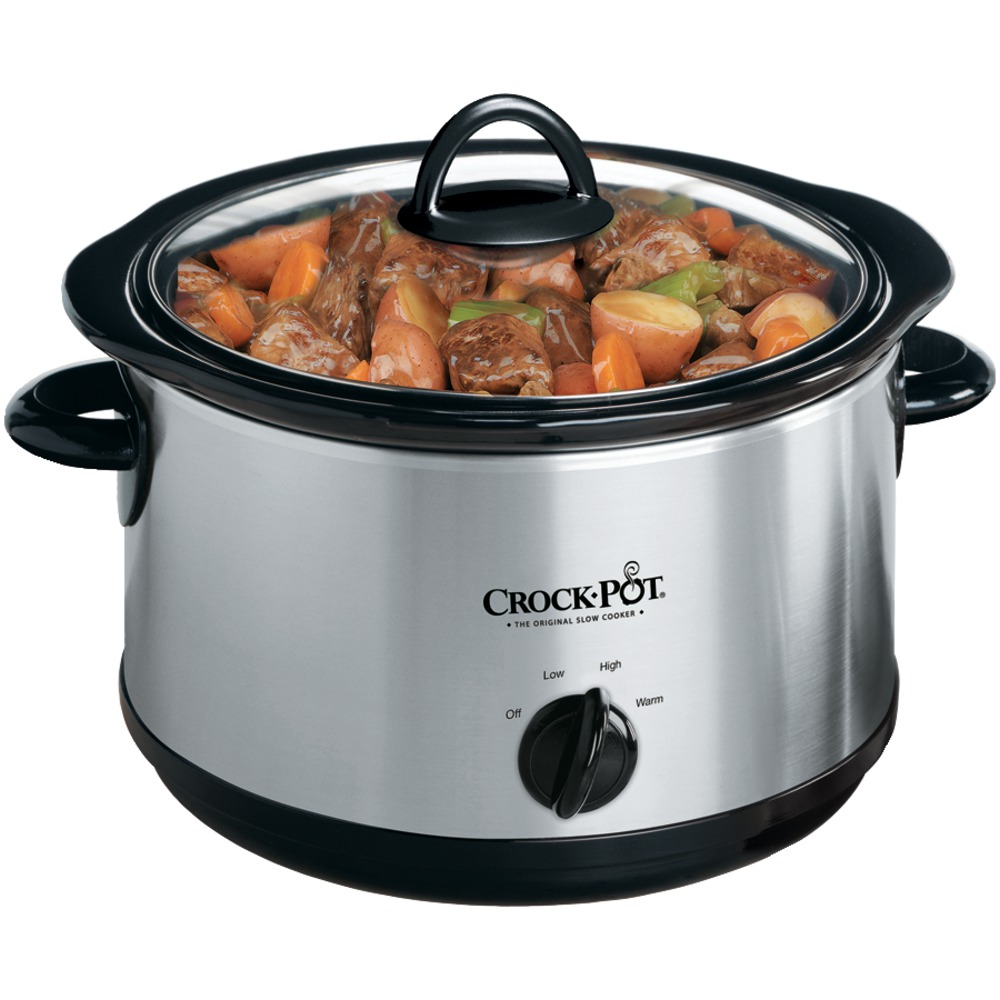 You cannot leave your crock pots on high overnight. When you leave your crock pots on all night, there is a greater chance that the food could burn or overcook. It was not intended for a slow cooker or crock pot to cook on high for extended periods of time.
Additionally, when you cook something in the crock pot, you are meant to cook it on low settings, so technically, you should never even require to use this on high.
Cooking at Warm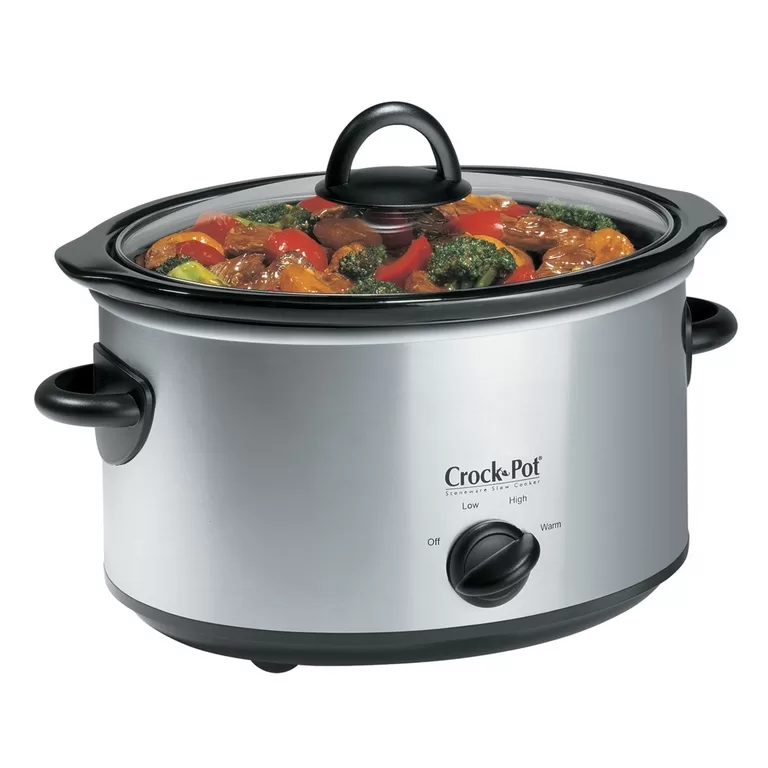 Cooking at warm is the lowest heat setting possible in a crock pot. This setting gives out very low heat, so it is absolutely safe to leave your crock pot overnight in warm settings. Additionally, setting your pot on a timer to cook on low, then switching to warm till morning should be okay.
Cooking at Low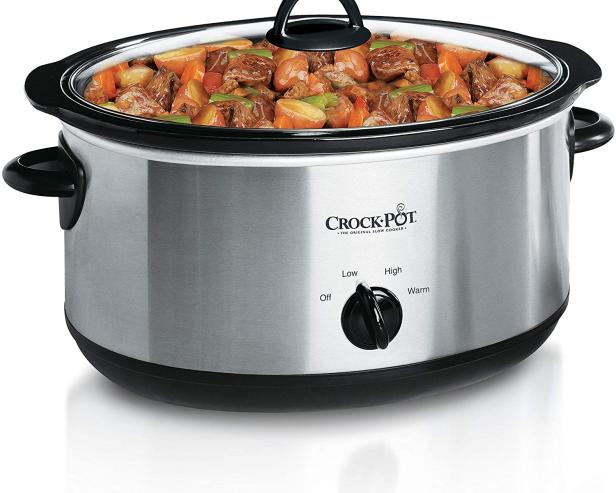 Many of you might be concerned whether food will get wasted in any way when you leave your Crockpot on low overnight. But, according to USDA, it is generally safe to store food at 145–165°F (63–74°C) in a low or warm setting for an unlimited amount of time.
Can Food Become Bad on Crock Pot overnight?
This highly depends on what settings you are keeping food overnight on Crack Pot. When the temperature remains below 140ºF, bacteria can start to grow on the food and make it bad.
Additionally, it is advised to reheat food at a temp exceeding 165°F (74°C) for at least fifteen seconds before storing it at 140°F (60°C) for a longer length of time. This time, keeping the meal at a lower temperature is safer since the added heat will destroy the majority of germs.
So, if you want to keep your food in the crock pot overnight, you need to make sure that the temperature remains in the 140ºF- 165°F region for the food to remain safe for eating. So, a warm to low setting is more than sufficient to keep the food safe.
Safety Concerns with Leaving a Crock Pot On Overnight
Crock pots are very easy to use and make the whole cooking process quite easy. However, since you will be leaving it overnight, it is important you follow a few safety precautions to avoid any damage to the pot or the food inside it.
If you leave your crock pot overnight on high, then there is a high chance of burning the pot and food inside.
Never overload your crock pot with food, as the pot cannot properly heat the food when it becomes overloaded.
Always plug the crock pot in a properly rated socket, and make sure to check whether or not the power outlet is the same as the recommended one.
Keep the lid closed while leaving the crock pot for a longer time to hold the heat properly within the pot.
Things to Consider when Leaving Crock Pots Overnight
So, when you decide to leave the crockpot overnight, there are a few things you will need to consider to ensure that your food stays safe and healthy for eating. Keep on reading to know more
Always Keep a Sufficient Amount of Liquid
Insufficient liquid might result in all of it evaporating, something you don't want to happen. Therefore, make sure there is the right volume of liquid in the cooker to prevent food from drying out.
Check All the Cables Properly
Prior to using the slow cooker, always check the cable. Pay attention to any indications of frayed or unprotected wires. These broken wires may catch fire and cause sparks if left overnight.
Ensure You Have a Properly Working Smoke Detector
Ensure your smoke detector is in good working order. If you do decide to use your slow cooker overnight, the piercing buzzing will likely wake you up before the smell of smoke does.
Always Clean Your Crock Pot After Cooking
Before using your slow cooker, ensure it is thoroughly cleaned from the inside out. Any leftover food from earlier cooking can burn during the course of the night.
FAQs
Down below, we will talk about all the Faqs which might be wandering around your head after reading our guide so far.
Can I Leave My Crock Pot Unattended?
You may leave your Crock-Pot slow cooker on when you're away from home without worrying about it. You may prepare dinner in the slow cooker over the course of eight to ten hours because it uses very little power.
What Is the Temperature at Which Food Remains Safe?
The range of temperatures between 40 and 140 degrees Fahrenheit is what promotes more bacterial development. Therefore, it is advised to cook your food at 145°F to guarantee that no germs grow on it and keep you safe.
How Long Can You Keep Food Warm In A Crock Pot?
Put the dish in the crock pot for 1-4 hours on warm temperature mode if you want to maintain its temperature until everybody has eaten. Your food's texture is unaffected by the little simmering that occurs at this temperature.
Can I Cook Everything in The Crock Pot?
Never use your crock pot for cooking things with a quick cooking time, such as fish or cocktail franks. Typically, you shouldn't use your slow cookers or crock pots for cooking any item that takes 1-3 hours to be ready.
Conclusion
Crackpots have become essentials in every kitchen for slow-cooking dishes or keeping food warm for extended periods. But, to keep them on overnight, you will need to follow a few basic rules discussed in our guide.
Always make sure to clean the pot after cooking, as the remaining residue can cause the burning of new dishes. Also, always check the cables properly before leaving the pots turned on overnight.
Moreover, keep your crock pot settings warm or low if you keep them running for 8-10 years, as running them high for a long time can damage the pot.