When it comes to a great backyard, numerous factors come into play. These may be your home fence, home facade, outdoor ornaments, patio, or lighting.
And, why not? These help in elevating your outdoor decors to unexceptional levels.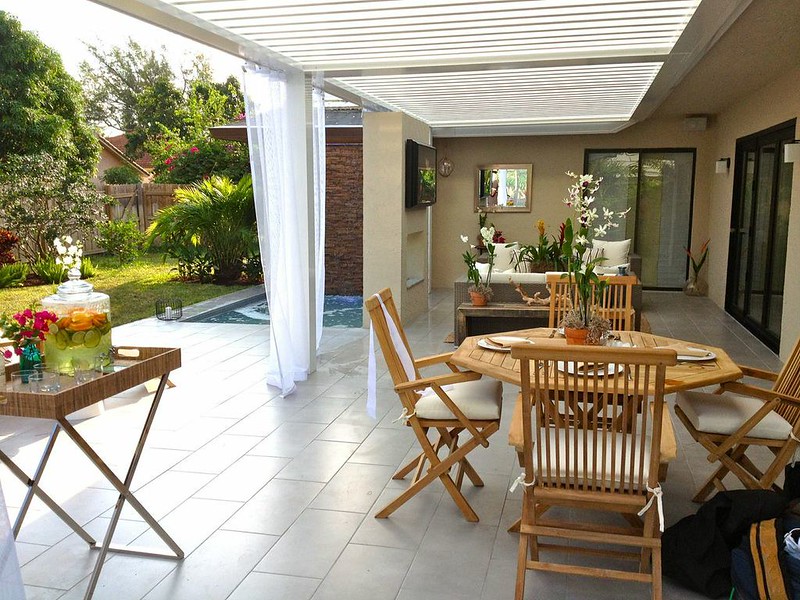 A great philosophy that works well is knowing what you already have and making thoughtful decisions about what's to be added and what not!
Your background may look fabulous during the day, but is it appropriate enough to suffice your barbecue sessions?
Maybe not! If that's what's on your mind, then a well- thought decision holds paramount importance.
And, why not? An outdoor space is a vital area of your paradise. You need to pay attention to all your entertaining, family meals, and lounging needs.
You often feel overwhelmed by the fact that you underestimate the most excellent part of your home.
Not anymore, folks since you can enhance your background space with these good tips. All you've to do is take into consideration the size of your room and your budget.
Can't wait? Let's get going:
Intimate Setting
Turn your backyard into an intimate space for personal use and entertaining. Think of the area as a room without walls and evaluate how each piece works in correlation to each other and the outdoor environment on the whole.
Consult an interior designing expert to determine what suits the best for your outdoor space.
Use a Pergola for an Outdoor Living Space
Is the scorching summer heat preventing you from making the most of your outdoor space?
Not anymore!
Add a large pergola for turning an open backyard into a shaded outdoor living space. You can opt-in for fiberglass, vinyl, or a metal pergola that includes sun shades with canopy and decorative grating.
The best thing about a pergola is that it holds up against the outdoor elements and needs a little upkeep.
Masses generally opt for budget-friendly wooden pergolas. You have the ease of reaping the benefits of a pergola by moving a step beyond its regular use by employing the same for growing vines and other flowering plants for a natural outdoor layer shade.
---
Read Also:
---
Select a color palette
Determine your backyard needs first, and then decide upon the color palette for incorporating in the new outdoor scheme.
Neutral sand tones and bright whites are ideal for an outdoor oasis. It is because they contribute to the overall tranquil feeling.
Also, nothing beats the great sunlight spilling over a fresh coat of paint and a patio garden, of course.
Outdoor Lighting
Now that we're talking of the backyard- know that outdoor lighting holds pivotal importance.
What good of a backyard will it be if your guests will have to move indoors to enjoy the excellent barbeque and music sessions?
You get the gist.
Your landscape may look excellent during the day, but you can make it stand out during the night when you install a great lighting system.
Just keep in mind that lights work wonders in sprucing up your backyard to unexceptional levels.
One such playful addition to your backyard setting can be lanterns. These luminous decor adds interest and lights up your space.
Another good idea is to go with outdoor led lights as they last longer and are energy-efficient. Install these outdoor spotlights to accent unique yard areas and use bollards and pedestals to light up your path.
However, the best part is that some LED providers use bright lights for controlling your outdoor lighting through phones or smart devices.
Stringing lights along the fence is another great way to light up your outdoor space and contributes to a perfect outdoor lighting experience.
Entertain around a Pit Lounge
Add a sunken patio along with a fire pit for extending your entertaining outdoor space. Surround yourself with comfortable and cozy seating options.
This decor idea is sure to provide you bliss during the freezing winter evenings!
Install custom-sized benches by adding lounges and outdoor chairs, and cushions across the fire pit.
Find a wood-burning, natural gas, or propane option for customizing with materials like stone or brick- and you can even make modifications to the designs.
Yes, use varieties like square pits, tabletops, circular pits, and more!
Hidden Storage
Maximize your tiny outdoor space using hidden storage. This option is excellent if you wish to keep pillows, throws, or some other entertaining necessities on hand.
However, a loophole here is that you need a spot for stashing all the unwanted/ lesser-used elements.
A storage bench sounds like a great idea and also bestows you with a decent amount of space. Other things that you can try are a side table or storage ottoman.
Use an Entertainment Deck and Ditch the Grass
Are you too tied up in regular household chores and have no time for your backyard upkeep? Well, how about getting rid of grass entirely and building a deck that expands all around your yard?
Sounds fun, right!
With this dream yard design, you get a great space for entertaining numerous people- all at once.
Also, you won't have to worry about your lawn maintenance. Interior design experts suggest going the extra mile to create more privacy.
Yes, you can have hedges or large shrubs, build a deck plunge pool, and install custom seating with an outdoor bar, benches, and tables.
Outdoor Draperies
Add exquisite drapery panels to the tiny balcony or patio. Many perceive it as a small trick, but this holds greater importance in uplifting your small space.
The curtains, too, work well to create privacy and shade while helping in making your area feel much like a backyard living room.
You can also use a wood frame for hanging on the curtain rod in case of the absence of an overhead option.
Throw Pillows
You may believe that you require keeping minimum accessories to the outdoors. Why? Because it's outside, and regular cleaning doesn't feel like your cup of tea.
It'll come as a surprise to you that it's the complete opposite!
Just pick your favorite items like throws and pillows, and incorporate these well into the outdoors. Employ the durable, dew-resistant linens for infusing color and adding a cozy yet comfortable touch to space.
Takeaways to an Exemplary Outdoor Space
Modifications to your backyard space are much more than a few fixtures, here and there.
Just turn a keen eye to your home's design and find ways to make it compatible with the available home space.
Overall, lights are the experts' personal favorite since they create breathtaking scenery for helping you enjoy during the night.
Beware of using too many of them, as it can even ruin the look you're eyeing at.
Till then, happy modifying pals!