Learn how to calculate how much concrete is needed for projects around the home and how many bags of concrete mix to buy.
Calculate the Concrete Construction volume in cubic feet and convert that volume into bags depending on the size of bag available or the weight you are able to carry.
Using basic calculations, figure out the volume of large and small projects or irregularly shaped areas.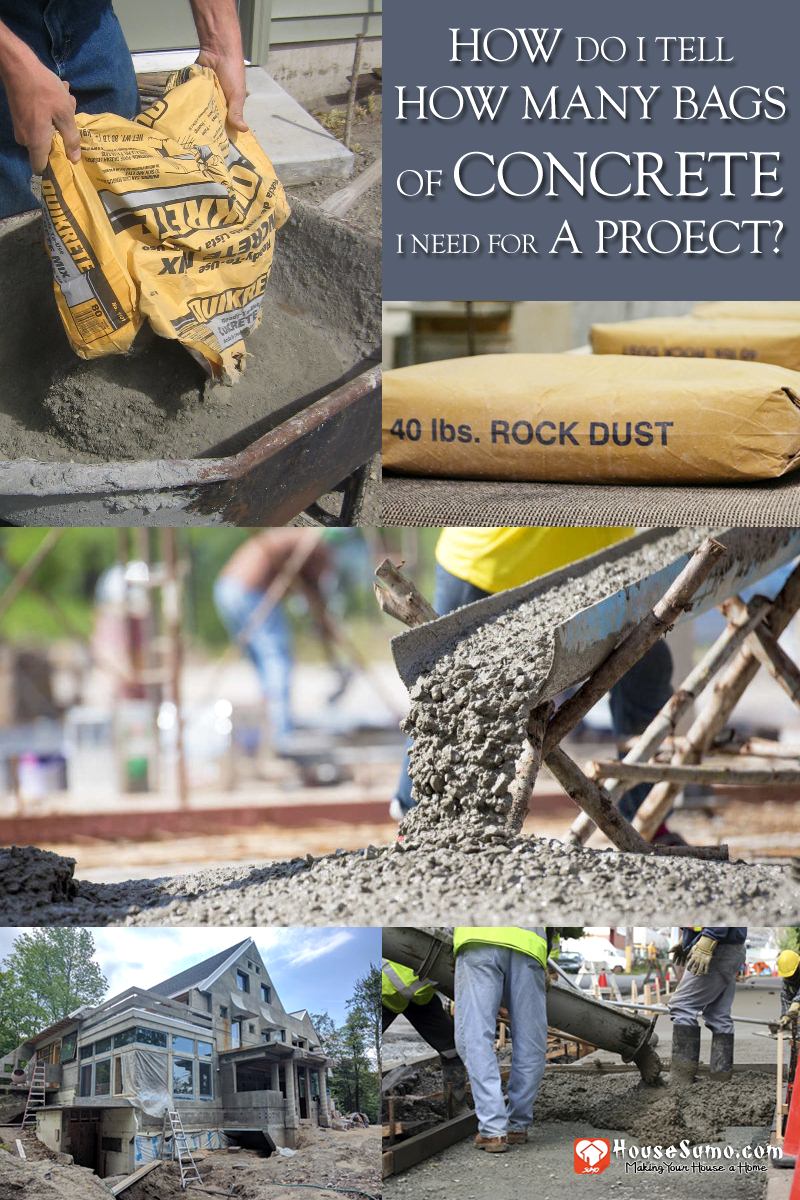 Are you wondering, "How many bags of concrete do I need for this project?" Learn how to calculate the concrete volume and convert that into the number of bags of concrete required for your project. The rebar calculator is simple to find the quantity of the concrete and the rebar according to your specific cost. This would reduce the waste level of the construction and you can save cost.
We'll cover rectangular areas, circular footings, fence posts, and complex areas that include curves.
Before we continue our article, we must note that you must take safety measures to protect yourself when working with concrete. First, you must wear protective clothing. Second, you must wear shoes that are special for working on concrete. Third, you should be careful and notice site conditions.
Overview
Many outdoor and a few indoor projects around the home require concrete. When small quantities are needed, it is better to purchase bags of concrete mix rather than have them premixed and delivered.
Some of the outdoor projects that you would need concrete for are a DIY fire pit, decks, patios, etc.
So just how many bags of concrete do I need for a project? It's all about volume and calculating it correctly.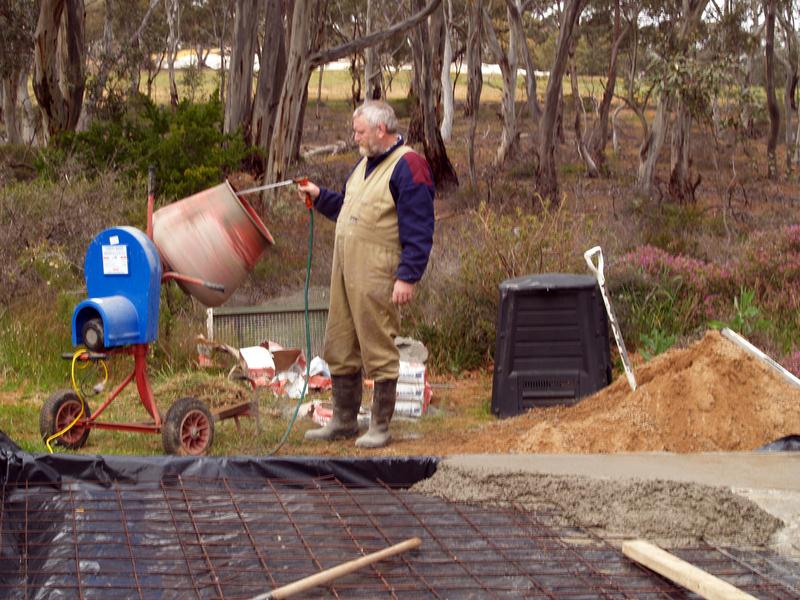 Concrete Bags
Regular concrete mix sold at lumberyards and home centers comes in different-sized bags ranging from 40 to 80 pounds.
An 80-pound bag yields approximately 0.60 cubic feet of concrete. 60-pound bags yield 0.45 cubic feet and 40-pound bags just 0.30 cubic feet.
The actual yield is approximate because the amount of water added to the mix may vary. 60 to 80 pounds is a lot of weight to lift, carry and handle. You can buy smaller bags if you don't feel up to that.
Concrete Volume
How much concrete do I need? Let's look at some different home projects and learn how to calculate the volume required for each one.
Concrete should always be at least two inches thick and often a thicker amount is necessary.
Always round up the number of bags calculated and always buy five percent more concrete (by volume) than you think you'll need to account for spillage and irregular fill levels.
Concrete Pad
The pad we're doing is 8 feet by 9 feet and 3 1/2 inches thick.
First, we convert all our units to be the same, and we need cubic feet as a result. 3.5 inches ÷ 12 inches per foot = 0.292 feet, therefore, our pad is 8 feet x 9 feet x 0.292 feet.
Calculating the volume for a rectangular or square pad is easy. Length x Width x Depth = Volume required. 8 x 9 x 0.292 = 21.024 cubic feet.
So how many bags of concrete do I need? The number of 80-pound bags = 21.024 ÷ 0.60 = 35.04. 60 pound bags = 21.024 ÷ 0.45 = 46.72 and 30 pound bags = 21.024 ÷ 0.3 = 70.08 bags.
Deck Footings
For deck footings, we calculate the volume of a cylinder. For this example, we'll assume the footings have to be 3 feet deep and have a 10-inch diameter.
The volume of a cylinder is the radius x radius x pi x height. The radius is 1/2 the diameter. Our radius is 10 inches ÷ 2 = 5 inches.
Then we convert inches to feet. 5 inches ÷ 12 inches per foot = 0.42 feet. Pi = 3.14. Putting it all together we get 0.42 x 0.42 x 3.14 x 3 = 1.66 cubic feet. 1.66 cubic feet ÷ 0.6 cubic feet per 80 pound bag = 2.77 eighty pound bags per footing.
Related: The Concrete Chronicles: Unraveling the Mystery of Drying Time
Fence Post Holes
Fence post calculations are similar to deck footing calculations, except, we have to exclude the volume of the fence post itself.
For our example, we'll use an 8-inch diameter post hole and a 4-by-4 fence post. The holes will be 3 feet deep.
Our hole radius = 0.33 feet (8 ÷ 2 = 4. 4 ÷ 12 = 0.33). 0.33 x 0.33 x 3.14 x 3 = 1.03 cubic feet of hole volume.
Now we calculate the volume of the fence post. A 4-by-4 post is actually 3.5 inches by 3.5 inches. Converted to feet this is 0.292-by-0.292 feet. We calculate the post volume the same as for a pad. 0.292 x 0.292 x 3 = .26 feet for the post.
How much concrete do I need? Concrete volume = hole volume – post volume = 1.03 – 0.26 = 0.77 cubic feet per post hole. How many bags of concrete do I need? 0.77 ÷ 0.6 = 1.3 80-pound bags of concrete per post hole.
Complex Areas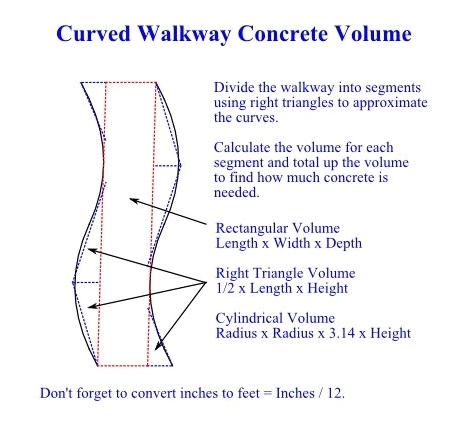 Complex areas can be broken down into small sections. The volume of each section is calculated and totaled.
Break down a curved walkway into rectangular and triangular areas. Calculate the volume of each area and add it up. The volume of a right triangle = length x width x 1/2 x depth.
Related: Concrete vs Cement: Understanding the Difference
Credits, References, and Resources
---
Frequently Asked Questions about Concrete and Cement
---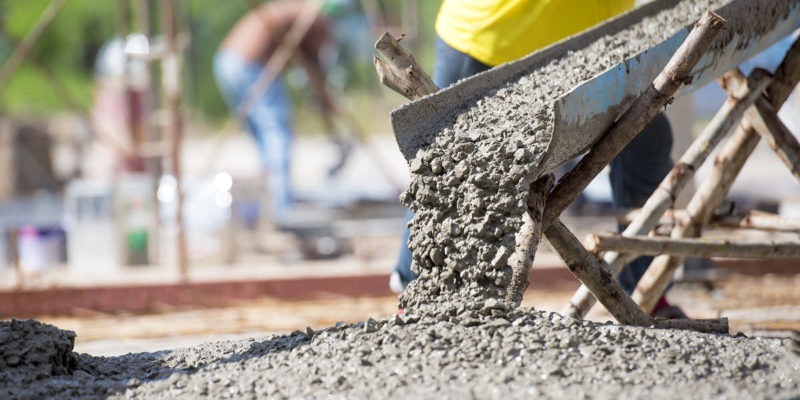 ---
1. How do You Calculate How Much Concrete You Need?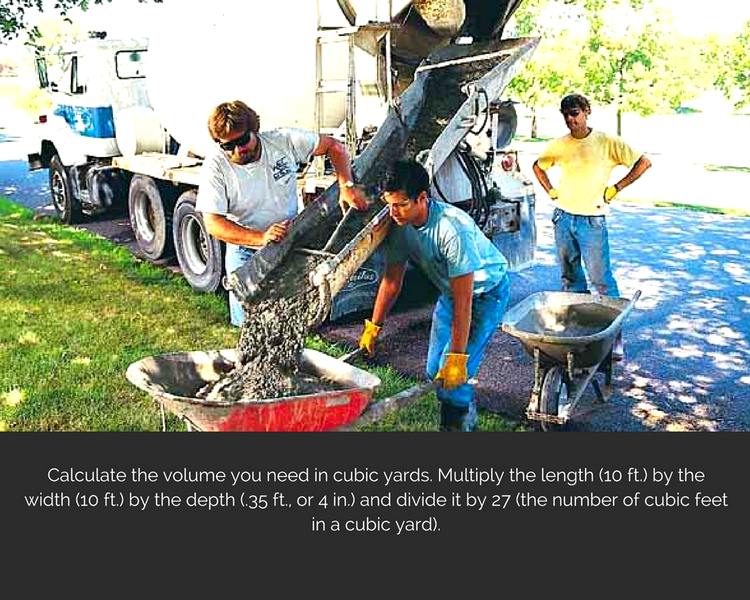 ---
2. How do You Work Out Cubic Meters of Concrete?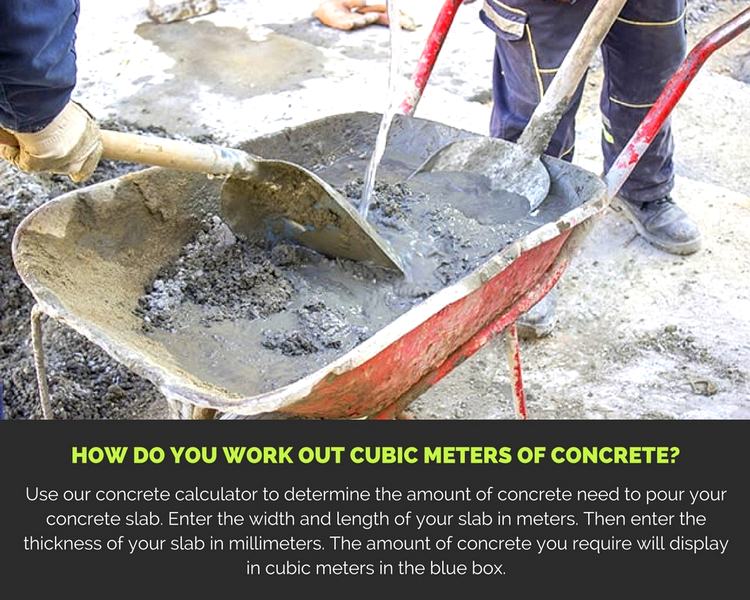 3. What is the Formula for Calculating Concrete?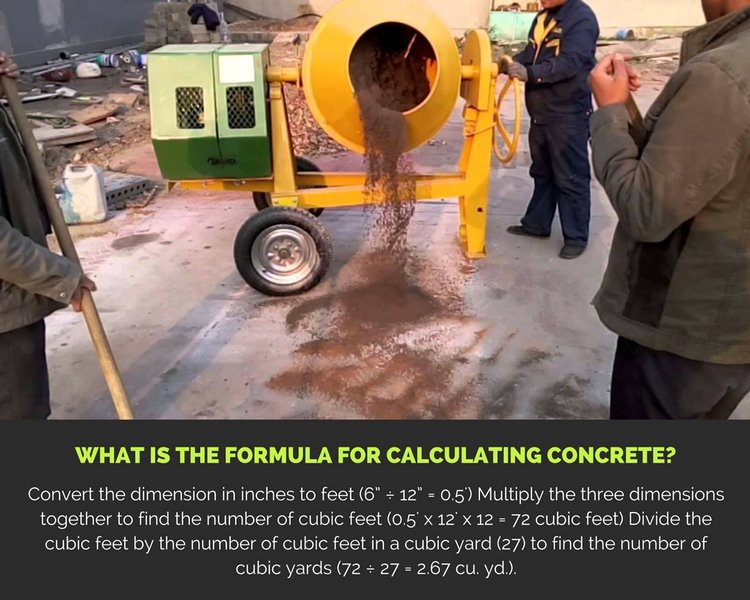 4. How Much Cement Sand and Gravel do I Need?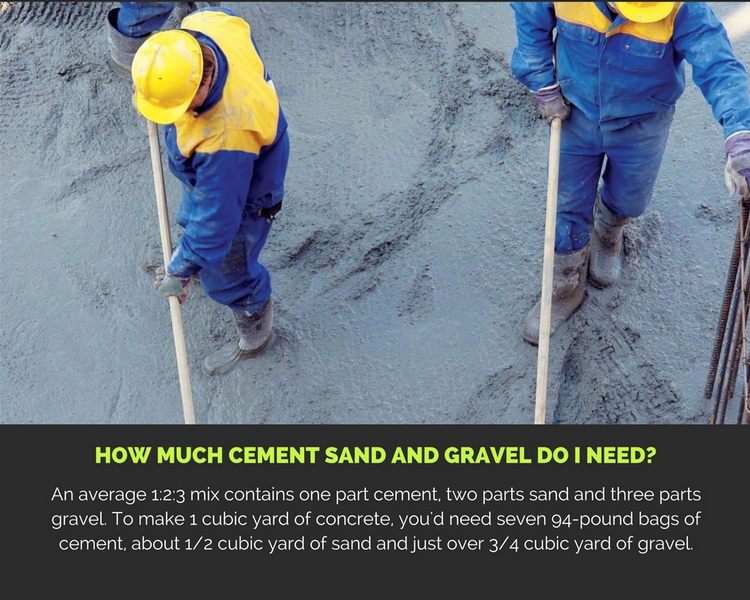 5. How Much Would it Cost to Pour a 30×30 Concrete Slab?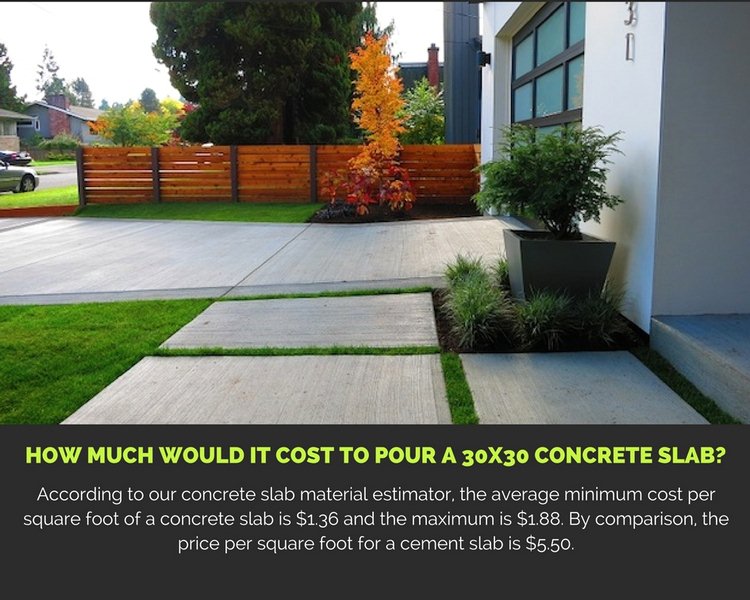 6. What is the Formula for Mixing Concrete?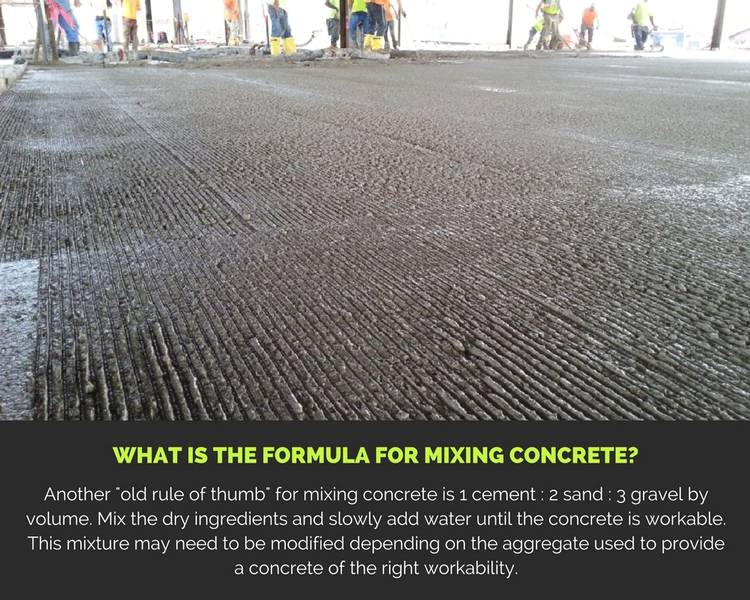 7. How do You Know How Much Concrete You Need?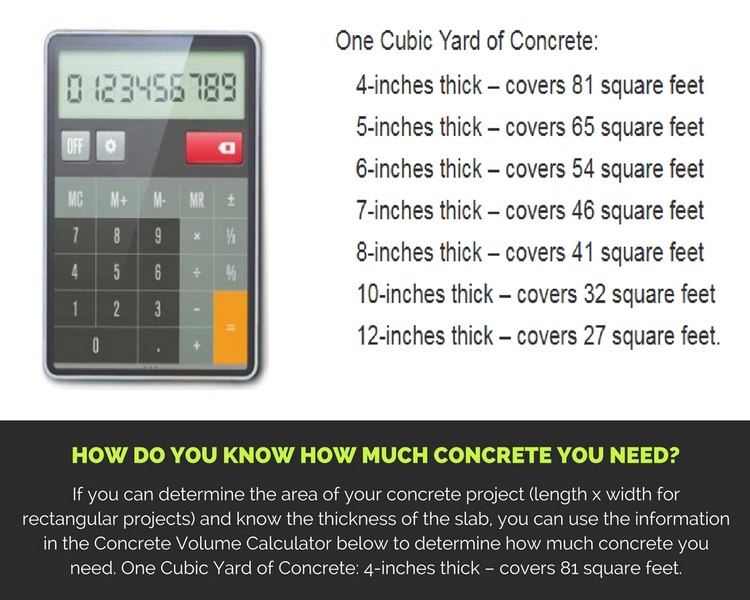 8. What is the Ratio for Concrete?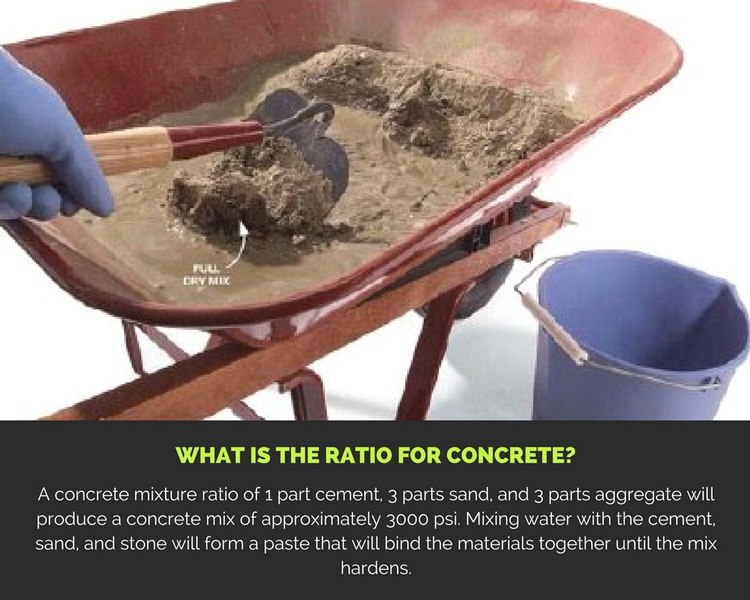 9. What is the Volume of a 50kg Bag of Cement?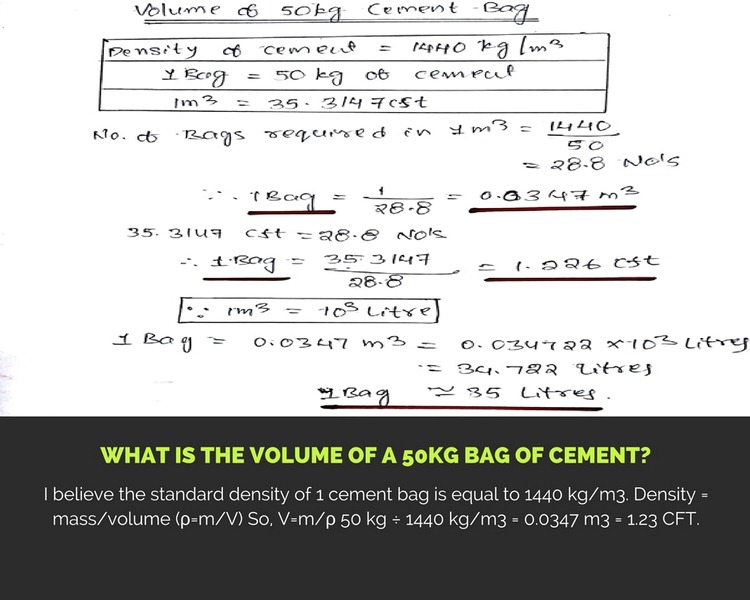 10. How Much Does 1 Bag of Concrete Cover?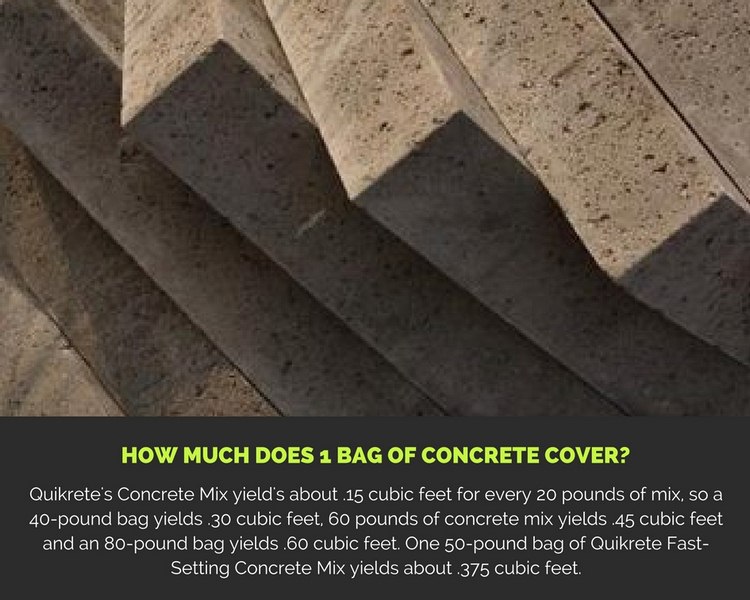 11. How Many Cubic Meters Does a Bag of Cement Make?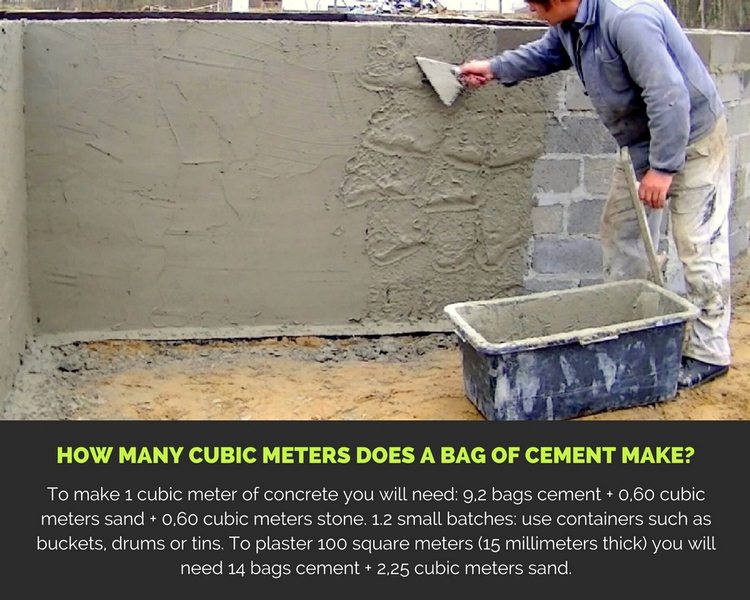 12. How Many 80 Pound Bags of Concrete Does it Take to Make a Yard?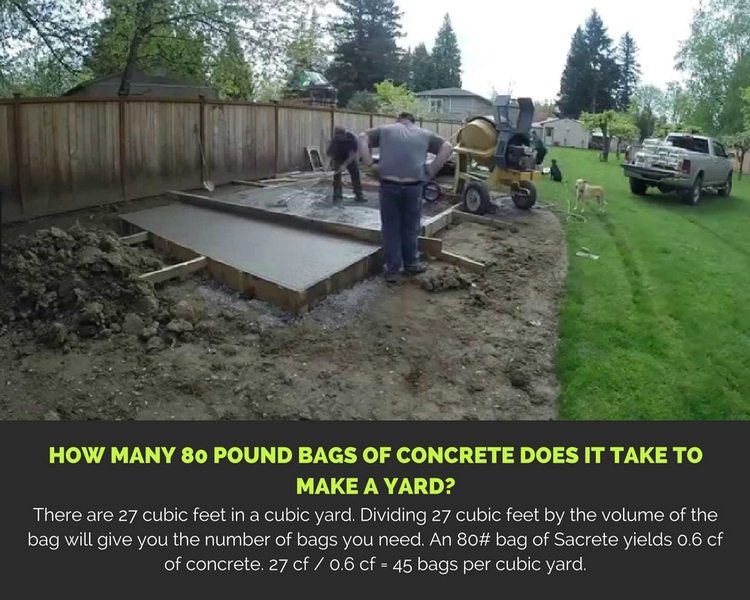 13. How Much Water Do You Need for a 60-pound bag of Concrete?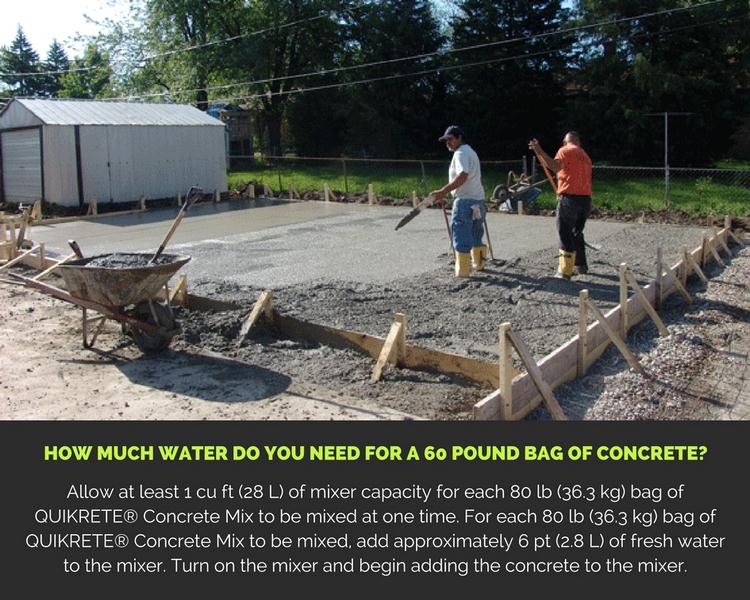 14. How Much Cement is Required for 1m³ Concrete?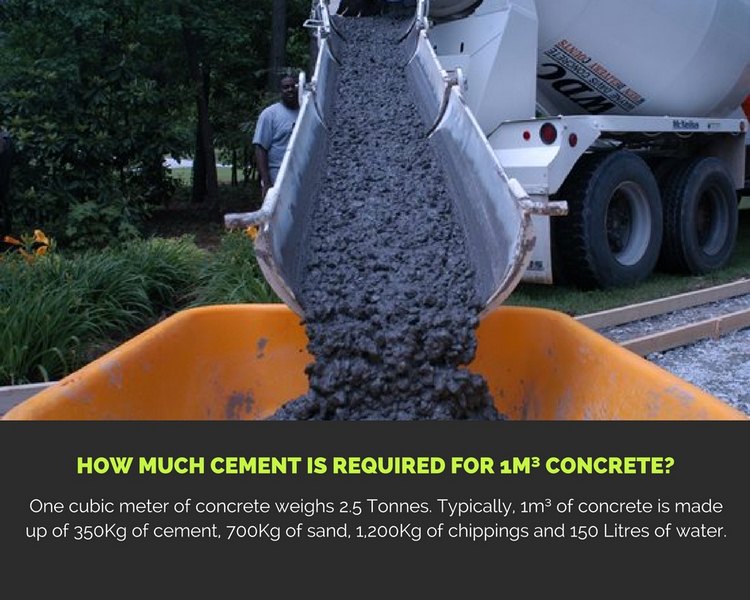 15. How Many Bags of Cement are required for 1 Cubic Meter?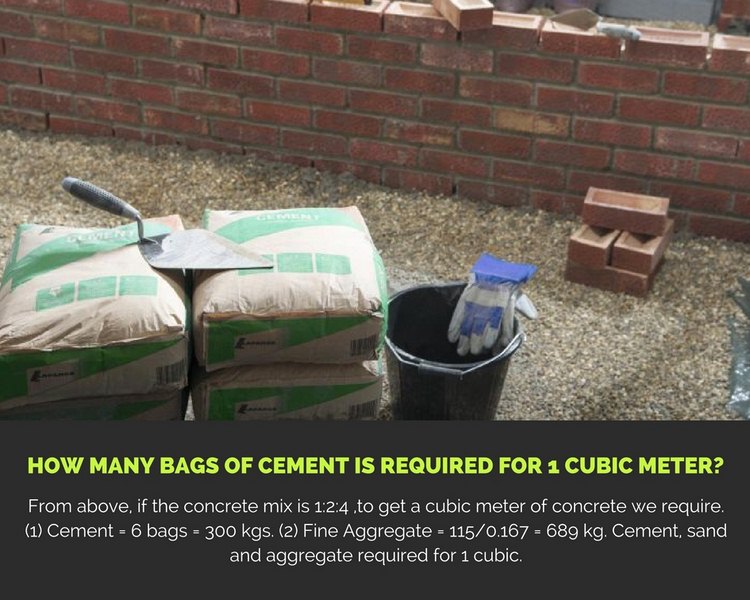 16. How to Calculate Volume of Cement Bag by Civil Engineers
17. How Much does Concrete Cost per Cubic Meter?
Once you have determined how much concrete you need for your project, you'll need to set a budget. Working out what your concrete will cost is quick and easy with some advice from experts. Check out this link right here.