How much concrete do I need? How many bags of concrete do I need? Learn how to calculate how much concrete is needed for projects around the home and how many bags of concrete mix to buy. Calculate concrete volume in cubic feet and convert that volume into bags depending on the size bag available or the weight you are able to carry.
Using basic calculations, figure out the volume of large and small projects or irregularly shaped areas.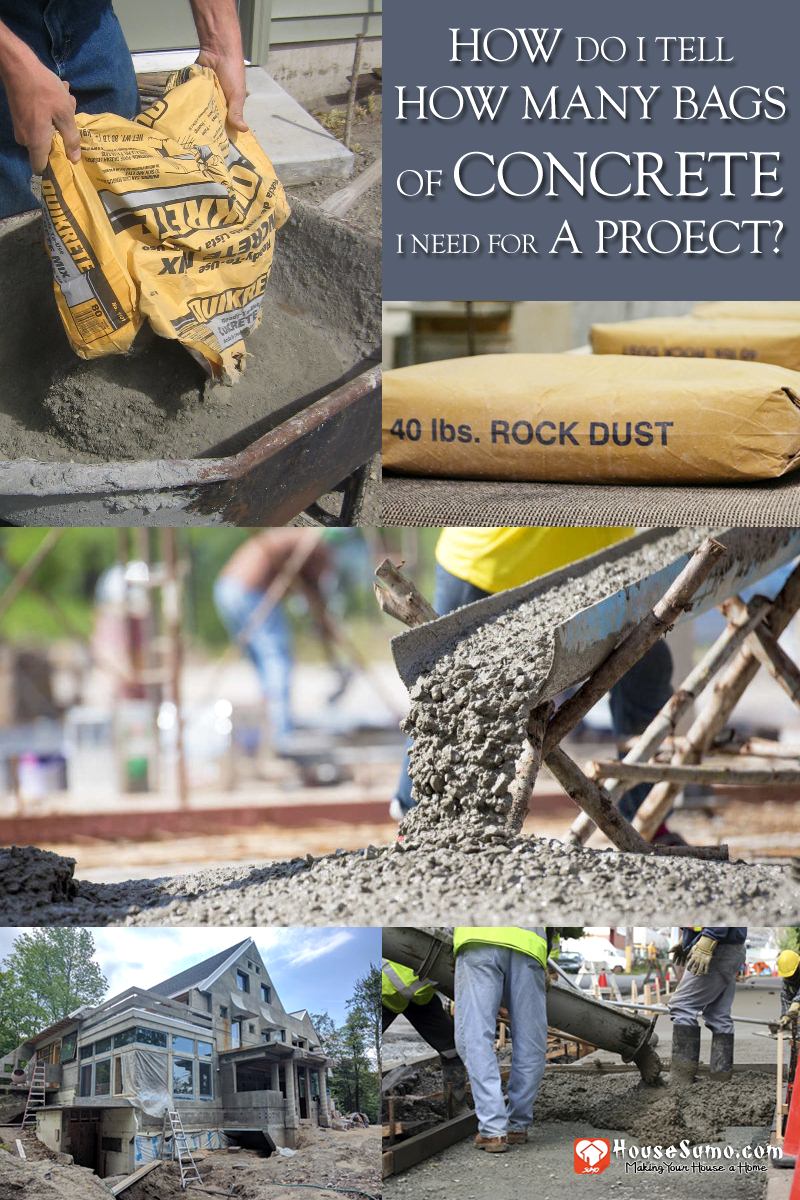 How Many Bags Of Concrete Do I Need: How Much Concrete Do I Need
Are you wondering, "How many bags of concrete do I need for this project?" Learn how to calculate concrete volume and convert that into the number of bags of concrete required for your project. We'll cover rectangular areas, circular footings, fence posts, and complex areas that include curves.
Overview
Many outdoor and a few indoor projects around the home require concrete. When small quantities are needed, it is better to purchase bags of concrete mix rather than have it premixed and delivered. So just how many bags of concrete do I need for a project? It's all about volume and calculating it correctly.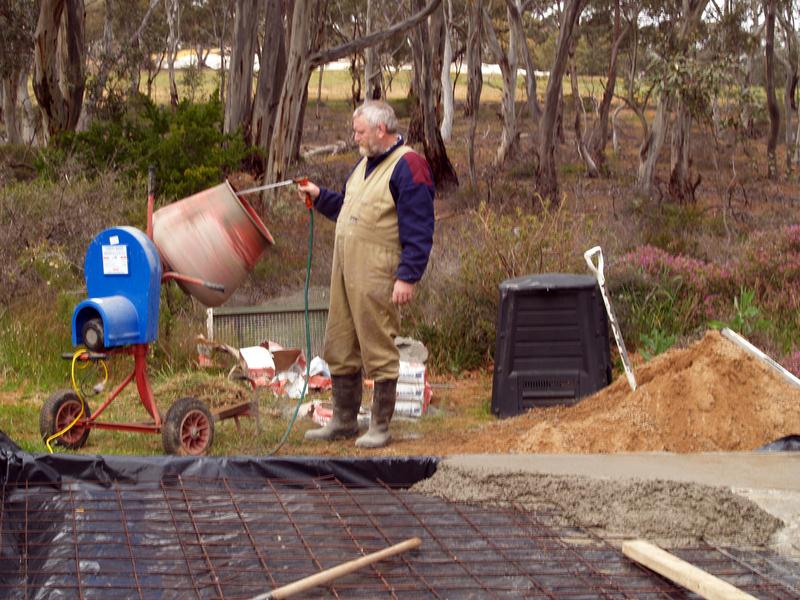 Concrete Bags
Regular concrete mix sold at lumber yards and home centers comes in different sized bags ranging from 40 to 80 pounds. An 80-pound bag yields approximately 0.60 cubic feet of concrete. 60-pound bags yield 0.45 cubic feet and 40-pound bags just 0.30 cubic feet.
The actual yield is approximate because the amount of water added to the mix may vary. 60 to 80 pounds is a lot of weight to lift, carry and handle. If you don't feel up to that, you can buy the smaller bags instead.
Concrete Volume
How much concrete do I need? Let's look at some different home projects and learn how to calculate the volume required for each one. Concrete should always be at least two inches thick and often a thicker amount is necessary. Always round up the number of bags calculated and always buy five percent more concrete (by volume) than you think you'll need to account for spillage and irregular fill levels.
Concrete Pad
The pad we're doing is 8-feet by 9-feet and 3 1/2 inches thick. First, we convert all our units to be the same, and we need cubic feet as a result. 3.5 inches ÷ 12 inches per foot = 0.292 feet, therefore, our pad is 8 feet x 9 feet x 0.292 feet.
Calculating volume for a rectangular or square pad is easy. Length x Width x Depth = Volume required. 8 x 9 x 0.292 = 21.024 cubic feet. So how many bags of concrete do I need? Number of 80 pound bags = 21.024 ÷ 0.60 = 35.04. 60 pound bags = 21.024 ÷ 0.45 = 46.72 and 30 pound bags = 21.024 ÷ 0.3 = 70.08 bags.
Deck Footings
For deck footings, we calculate the volume of a cylinder. For this example, we'll assume the footings have to be 3-feet deep and have a 10-inch diameter.
The volume of a cylinder is the radius x radius x pi x height. The radius is 1/2 the diameter. Our radius is 10 inches ÷ 2 = 5 inches. Then we convert inches to feet. 5 inches ÷ 12 inches per foot = 0.42 feet. Pi = 3.14. Putting it all together we get 0.42 x 0.42 x 3.14 x 3 = 1.66 cubic feet. 1.66 cubic feet ÷ 0.6 cubic feet per 80 pound bag = 2.77 eighty pound bags per footing.
Fence Post Holes
Fence post calculations are similar to deck footing calculations, except, we have to exclude the volume of the fence post itself. For our example, we'll use an 8-inch diameter post hole and a 4-by-4 fence post. The holes will be 3-feet deep.
Our hole radius = 0.33 feet (8 ÷ 2 = 4. 4 ÷ 12 = 0.33). 0.33 x 0.33 x 3.14 x 3 = 1.03 cubic feet of hole volume.
Now we calculate the volume of the fence post. A 4-by-4 post is actually 3.5 inches by 3.5 inches. Converted to feet this is 0.292-by-0.292 feet. We calculate the post volume the same as for a pad. 0.292 x 0.292 x 3 = .26 feet for the post.
How much concrete do I need? Concrete volume = hole volume – post volume = 1.03 – 0.26 = 0.77 cubic feet per post hole. How many bags of concrete do I need? 0.77 ÷ 0.6 = 1.3 80 pound bags of concrete per post hole.
Complex Areas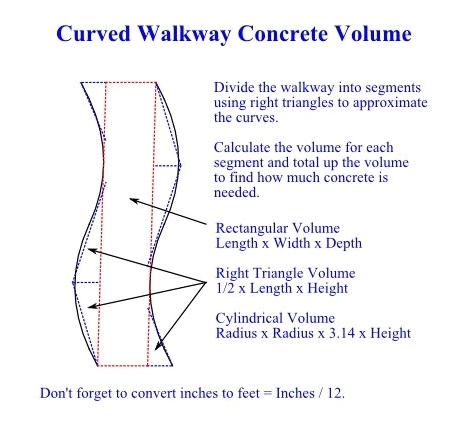 Complex areas can be broken down into small sections. The volume of each section is calculated and totaled. Break down a curved walkway into rectangular and triangular areas. Calculate the volume of each area and add it up. The volume of a right triangle = length x width x 1/2 x depth.
Credits, References, and Resources
---
Frequently Asked Questions about Concrete and Cement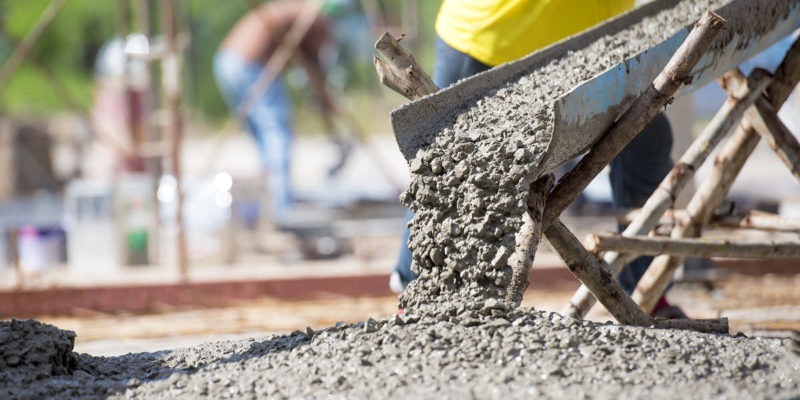 1. How do You Calculate How Much Concrete You Need?
Calculate the volume you need in cubic yards. Multiply the length (10 ft.) by the width (10 ft.) by the depth (.35 ft., or 4 in.) and divide it by 27 (the number of cubic feet in a cubic yard).
2. How do You Work Out Cubic Meters of Concrete?
Use our concrete calculator to determine the amount of concrete need to pour your concrete slab. Enter the width and length of your slab in meters. Then enter the thickness of your slab in millimeters. The amount of concrete you require will display in cubic meters in the blue box.
3. What is the Formula for Calculating Concrete?
Convert the dimension in inches to feet (6" ÷ 12" = 0.5′) Multiply the three dimensions together to find the number of cubic feet (0.5′ x 12′ x 12 = 72 cubic feet) Divide the cubic feet by the number of cubic feet in a cubic yard (27) to find the number of cubic yards (72 ÷ 27 = 2.67 cu. yd.).
4. How Much Cement Sand and Gravel do I Need?
An average 1:2:3 mix contains one part cement, two parts sand and three parts gravel. To make 1 cubic yard of concrete, you'd need seven 94-pound bags of cement, about 1/2 cubic yard of sand and just over 3/4 cubic yard of gravel.
5. How Much Would it Cost to Pour a 30×30 Concrete Slab?
According to our concrete slab material estimator, the average minimum cost per square foot of a concrete slab is $1.36 and the maximum is $1.88. By comparison, the price per square foot for a cement slab is $5.50.
6. What is the Formula for Mixing Concrete?
Another "old rule of thumb" for mixing concrete is 1 cement : 2 sand : 3 gravel by volume. Mix the dry ingredients and slowly add water until the concrete is workable. This mixture may need to be modified depending on the aggregate used to provide a concrete of the right workability.
7. How do You Know How Much Concrete You Need?
If you can determine the area of your concrete project (length x width for rectangular projects) and know the thickness of the slab, you can use the information in the Concrete Volume Calculator below to determine how much concrete you need. One Cubic Yard of Concrete: 4-inches thick – covers 81 square feet.
8. What is the Ratio for Concrete?
A concrete mixture ratio of 1 part cement, 3 parts sand, and 3 parts aggregate will produce a concrete mix of approximately 3000 psi. Mixing water with the cement, sand, and stone will form a paste that will bind the materials together until the mix hardens.
9. What is the Volume of a 50kg Bag of Cement?
I believe the standard density of 1 cement bag is equal to 1440 kg/m3. Density = mass/volume (ρ=m/V) So, V=m/ρ 50 kg ÷ 1440 kg/m3 = 0.0347 m3 = 1.23 CFT.
10. How Much Does 1 Bag of Concrete Cover?
Quikrete's Concrete Mix yield's about .15 cubic feet for every 20 pounds of mix, so a 40-pound bag yields .30 cubic feet, 60 pounds of concrete mix yields .45 cubic feet and an 80-pound bag yields .60 cubic feet. One 50-pound bag of Quikrete Fast-Setting Concrete Mix yields about .375 cubic feet.
11. How Many Cubic Meters Does a Bag of Cement Make?
To make 1 cubic meter of concrete you will need: 9,2 bags cement + 0,60 cubic meters sand + 0,60 cubic meters stone. 1.2 small batches: use containers such as buckets, drums or tins. To plaster 100 square meters (15 millimeters thick) you will need 14 bags cement + 2,25 cubic meters sand.
12. How Many 80 Pound Bags of Concrete Does it Take to Make a Yard?
There are 27 cubic feet in a cubic yard. Dividing 27 cubic feet by the volume of the bag will give you the number of bags you need. An 80# bag of Sacrete yields 0.6 cf of concrete. 27 cf / 0.6 cf = 45 bags per cubic yard.
13. How Much Water do You Need for a 60 Pound Bag of Concrete?
Allow at least 1 cu ft (28 L) of mixer capacity for each 80 lb (36.3 kg) bag of QUIKRETE® Concrete Mix to be mixed at one time. For each 80 lb (36.3 kg) bag of QUIKRETE® Concrete Mix to be mixed, add approximately 6 pt (2.8 L) of fresh water to the mixer. Turn on the mixer and begin adding the concrete to the mixer.
14. How Much Cement is Required for 1m³ Concrete?
One cubic meter of concrete weighs 2.5 Tonnes. Typically, 1m³ of concrete is made up of 350Kg of cement, 700Kg of sand, 1,200Kg of chippings and 150 Litres of water.
15. How Many Bags of Cement is Required for 1 Cubic Meter?
From above, if the concrete mix is 1:2:4 ,to get a cubic meter of concrete we require. (1) Cement = 6 bags = 300 kgs. (2) Fine Aggregate = 115/0.167 = 689 kg. Cement, sand and aggregate required for 1 cubic.
16. How to Calculate Volume of Cement Bag by Civil Engineers
Review
How Many Bags Of Concrete Do I Need

Frequently Asked Questions About Concrete and Cement
Summary
How much concrete do I need? How many bags of concrete do I need? Learn how to calculate how much concrete is needed for projects around the home and how many bags of concrete mix to buy. Using basic calculations, figure out the volume of large and small projects or irregularly shaped areas