Professional window cleaners are great at their jobs. They have learned the tricks and can use that to their advantage to deliver impressive window cleaning results.
If you have ever watched a professional window cleaner at work, they appear to effortlessly wipe stains, dirt, and grime off the window.
If this is a skill that you wish to have, then it is understandable. Having clean windows in your home will improve the appearance and aesthetics of your home. It will also influence the amount and quality of light coming into your house.
To ensure well-cleaned, streak, and smudge-free windows for your home, you may need to invest in some cleaning equipment.
Most of this cleaning equipment can be found in your local hardware and convenience stores. Investing in these pieces of equipment and using the right cleaning techniques can overall improve the success rate of your window cleaning task. Below are some of the cleaning tools you need to get the job done like a pro.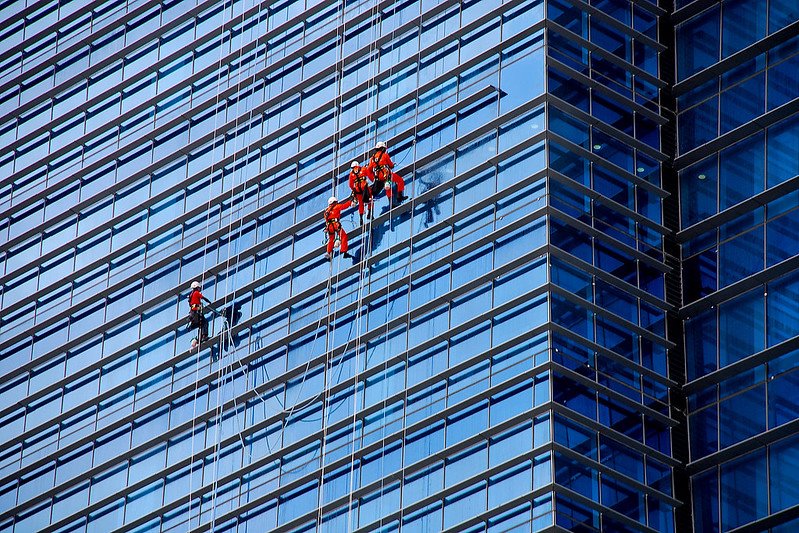 Squeegee
Homeowners often do not invest in the right cleaning tools that will impact the chances of getting the best possible results.
Instead of using a newspaper, paper towel, or a washcloth and spray bottle to clean your windows, you can invest in a squeegee.
Squeegees come in different sizes, and you can easily choose the one that falls within your price range.
One of the biggest advantages of using this tool is that it doesn't leave streaks on your windows.
It also cuts down on the time spent cleaning each window compared to other outdated options like paper towels, newspapers, and more.
Once you choose the right size of a squeegee for your needs, getting the hang of it is really easy. It offers you a faster and more effective way to clean your windows without hassles.
However, using your squeegee recurrently can result in unusual streaks. When you notice this, do not hesitate to change the rubber blade.
Plastic Rectangular Bucket and Scrubber
Another important tool that will contribute to the success of your window cleaning task is a plastic rectangular bucket. Be sure to choose a bucket that isn't too big or small.
A bucket that is around 5 gallons is perfect for your window cleaning task. Selecting a bucket that is too big may pose a weight problem if you need to climb up a ladder to get some windows cleaned.
In contrast, selecting a smaller bucket can be frustrating, especially if you cannot access it or when it spills its content.
After selecting the right bucket size, you should also invest in a scrubber. A scrubber is usually made from foam and has a handle.
It allows you to gently scrub your window glass surfaces without scratching them. A scrubber is most perfect for windows that have gathered layers of dust, dirt, and grime.
All you need to do is dip the scrubber in the cleaning solution contained in your bucket, scrub the dirt in a clockwise or anticlockwise motion, and use the squeegee to wipe the surface clean.
---
Read Also:
---
Other Supplies for your Window Cleaning Task
Other important supplies for a professional window cleaning job include hand dishwashing liquid, lint-free rags, washcloths or small towels, warm water, and ladders.
If you do not have a ladder, you may have to buy one or borrow from friends, family, or neighbors. If your window is accessible from top to bottom without a ladder, you do not need one.
Preparation
After getting all of the supplies needed to do a professional job, begin by pouring warm water into the bucket, then add a teaspoon full of dishwashing liquid.
If you are cleaning your window in warm weather, using cool water is recommended as the window surface may already be heated up.
In cool weather or during winter, you should use a windshield washing solution with warm water to get the best result.
Cleaning Your Windows, the Professional Way
Step 1
If you have purchased a good-quality window cleaning solution, you may not need to add vinegar to your cleaning water.
Dispense some of the cleaning solutions into your scrubber, massage it in, and dop your scrubber in water.
Step 2
Clean the window frames using a washcloth or rag. Once done, begin the cleaning process using your scrubber. Work your way to all the angles.
Once done, use your squeegee to clean at angles to ensure perfect results. If there are any stubborn stains left, use a scouring pad to clean them out.
Step 3
Hold your squeegee so that it comes in contact with one of the corners of your window and draw it down the length of the window. Do this across the window for impressive results.