Ensuring your building exterior is cleaned and unpolluted when exposed to numerous harmful elements is not possible.
Over time many unwanted substances such as dirt, mold, mildew, stains, bird droppings, and tree pollens become the reasons for damaging your living as well as spoiling your reputation in the neighborhood.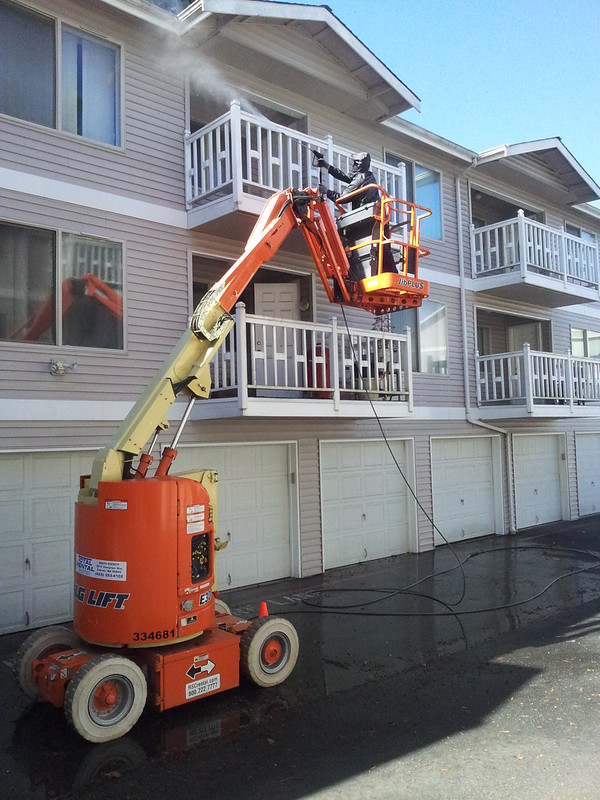 Stained windows, filthy sidewalks, dusty roofs, and grimy walls can cause a major turnout of your potential customers and visitors, resulting in a loss to your company if we are speaking about commercial cases.
On the other hand, we speak about residential property, dirt in general hugely lowers the curb appeal.
One of the proven ways to deal with these unavoidable situations and to make your building stand out from others is by giving a pressure wash to your commercial and residential property.
Pressure washing has quickly become a preferred way to efficiently clean years of grime and dirt stains from the property's exterior, including windows, driveways, decks, walls, concrete, and sidings.
It uses different pressures, water temperatures, and biodegradable detergent to clean your building safely and effectively.
In pressure washing, using a stream of water differs from surface to surface, ensuring the safety of the host material.
For example, to wash the roof, as it is a sensitive surface, it uses low-pressure water and special detergents for cleaning, which is alternatively called soft washing.
In order to power washing a building, seeking assistance from experts is essential because things in the wrong hands can cause unimaginable damage to your building, resulting in costly maintenance.
That's why it's important to consider hire reputable professionals like Chicago Racoons pressure washing, and use exterior cleaning services of such quality, without taking the risk to do it on your own.
In the rest of the article, we are going to look at the 5 ultimate benefits of power washing your building. Keep reading.
Improves Curb Appeal
Do you have plans of selling your property in the near future? If so, then dirty sidings and grimy rotten walls can become a source of putting away potential homebuyers.
An unappealing appearance just makes other leave thinking that other parts of the home are just as neglected.
To get your building back in pristine condition, using pressure washing services may be worth your while.
Pressure washing is a cost-effective and most straightforward way to enhance the appearance of the property.
It thoroughly cleans all the exterior surfaces, including the deck, driveways, sidings, walls, and roofs, ensuring zero damage to the underlying material.
It gives your building a clean, appealing, and scintillating look you deserve!
---
Read Also:
---
Prevents Costly Repairs
If you're wondering how pressure washing pressure help prevents costly repairs, consider the damage caused by bird droppings, mold, mildew, grime, stains, and tree pollens.
If these harmful substances remain unchecked for a long time, they can start deteriorating the building surface, resulting in costly repairs that you don't think to budget for.
Pressure washing not only gets rid of your property of these unwanted substances but also helps increase its lifespan.
In addition, pressure cleaning services are not much cost to your bank than expensive repairs that can even break it.
Moreover, hiring inexperienced pressure washers can also cause severe destruction to your living.
Pressure washers are extremely powerful and difficult to manage by an inexpert person.
Therefore not using a pressure washer correctly could result in structural and water damage to your home sidings.
Increase Value of Your Property
A clean and pleasant-looking outside home will have greater value as compared to others in the neighborhood? According to the National Association of Realtors, power washing your building can increase its sale price from $10,000 to $15,000.
This is a substantial sum when you consider the average expense of a home power washing service is $300 to $500.
With this significant return on investment, pressure washing the exterior of your property actually makes sense.
Moreover, regular pressure washing keeps the building cleaner and brighter. Selling such a property can attract potential buyers compared to a building that looks grimy and filthy from the exterior.
Cleans Completely
One of the enormous benefits of pressure washing your building is that it removes dirt and grime from every inch of the exterior surfaces completely and thoroughly.
These could include;
Decks
Walkways
Roofs
Home sidings
Porch
Windows
Driveways
Awnings
Facades
Pressure washing companies have the right equipment, eco-friendly detergents, and relative experience to do a complete job.
They can work on many surfaces, including concrete, asphalt, wood, paving stone, bricks, tarmac, steel, iron, and pavements.
Most importantly, cleaning the above areas become really easy with these professionals taking up the task.
Friendly to the Environment
Thorough cleaning is usually associated with the usage of harsh chemical cleaners. These solutions can be pretty effective, but they are not suitable for the environment.
Pressure washing doesn't introduce any toxic chemicals dangerous to the surroundings.
It works by splashing a stream of water exerted at high pressure and uses eco-friendly detergents, causing zero damage to the environment.
Using a pressure washer can save a lot of water, compared to using a garden hose. This means that the least amount of water is able to produce high-quality cleaning results.