It is important that you are familiar with all the available roof replacement materials and their specialties before you select the one that suits you.
Knowing the composition of the materials, their "green" aspects, and other pros and cons are of utmost significance. Besides these, it is also vital to know about the expenses, maintenance requirements, and service life of the material.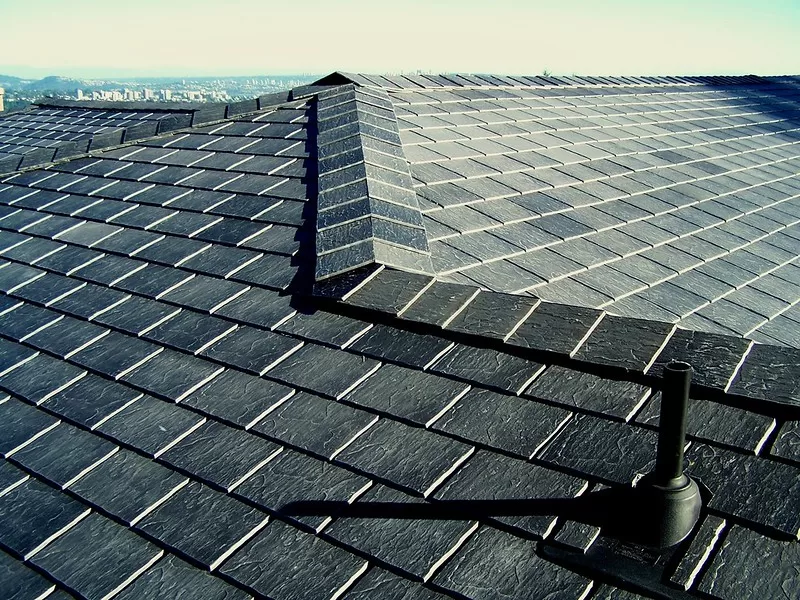 1. Asphalt Shingles
These are the most popular roofing material in America. Considering its inexpensive nature, it is no surprise. In spite of not being durable like metal or wood, asphalt is durable enough, making it cost-effective.
Two versions of asphalt shingles are available – organic and fiberglass. Organic ones are made of waste paper loaded with asphalt to form the base on which ceramic granules are embedded.
In the other version, glass fibers form the base, coated with asphalt and then granules. Organic shingles are durable but they are more flammable than fiberglass ones.
The advantages are that these are lightweight and can be mounted on ordinary roof structures. Installation is easy. The cons are that you have to keep your attic extremely dry and well-ventilated.
The production of these shingles can pose considerable environmental hazards in the form of greenhouse gases. They are also comparatively easily damaged and will need repair and replacements more than any other material. The service life is assessed to be 17 to 20 years.
---
Read Also:
---
2. Metal Roofing
Metal is more expensive than asphalt. This material comes mostly as sheets, smooth or corrugated. The common metals used are lightweight steel, aluminum, and zinc.
The advantage of this material is that they are available in different colors and has a high aesthetic value. The metal reflects solar heat and keeps your house cool. It is definitely fire resistant and to a great extent weather resistant too.
It is recyclable and so environmentally friendly. The higher upfront cost is a disadvantage. The roof will need thicker sheathing or an attic in order to reduce the noise during rains.
The installation can be quick but replacement if there is a need can be expensive. All the same, the life expectancy of a metal roof is more than 100 years.
3. Wood Shingles and Shakes
These are wood pieces either hand cut or machine cut. Hand-cut pieces are thicker, heavier, and more expensive and are termed as "shakes". The machine-cut pieces are thinner, lighter, and less expensive and are called shingles. Cedarwood and redwood are the commonly used woods.
These woods contain essential oils that make the wood moisture and insect-resistant. They provide good installation to the house and hence energy efficient. As wood is recyclable this type of roofing is eco-friendly.
The most important factor of wood is its aesthetic quotient. It complements all styles of architecture. However, it is highly flammable and not advisable in regions where wildfire is common. Installation can only be done by experts and repair is also expensive. This roof has 25 to 30 years of life.
4. Slate
Slate is available as natural slate and vinyl slate. Natural slate is heavier and costlier but durable. The vinyl version is less expensive and lighter.
The most important aspect of slate is its elegant looks which will enhance almost all architectural structures, especially the vintage varieties. Slate needs little maintenance and it is reusable.
This makes it environment friendly. However, since it is a heavy material it will need an extra strong roof structure. It also needs highly professional installation. It is breakable and any repair on the roof structures like chimneys or vents is cumbersome. The life of a slate roof is 40 to 70 years.
5. Tiles
Tiles give your roof a classic look. Clay, concrete, and fiber cement tiles are available. They are all strong, durable, and waterproof. They are fire-resistant and available in many colors.
Since they are heavy, they can only be mounted on very strong roof structures. They are more expensive than asphalt, metal, and wood but do not need constant maintenance. Again, since they are breakable, repair on the roof is very difficult. All the same, its service life is 50-plus years.
6. Solar Tiles
This is a new generation option that is fast gaining popularity. However, there are several factors that would dissuade an ordinary house owner from opting for this. These are glass tiles mounted on photovoltaic panels.
Solar tiles are our answer to depleting traditional energy sources. They provide renewable energy and hence futuristic.
However, the heavy initial expense is still an impediment. Also, the unavailability of experts to install a solar tile roof is another great barrier. They are expected to produce energy for nearly 30 years.
These are the available roofing materials at present but a lot more options are in the making. We need to look for renewable energy and also materials that make as little impact on the environment as possible.