Some soft, porous woods or portions of wood (end grain) will drink in the stain as you apply it making the wood way too dark or almost black. Almost like staining cardboard, there will be very little grain showing – just a near-solid opaque stained wood substrate
Pre-stain Wood Conditioners
Often plywood or wood veneer will stain this way. The way to minimize stain absorption is to "pre-condition" the wood before staining. Preconditioning partially seals the porosity of the wood by filling the pores to a greater or lesser degree, thus holding the stain out.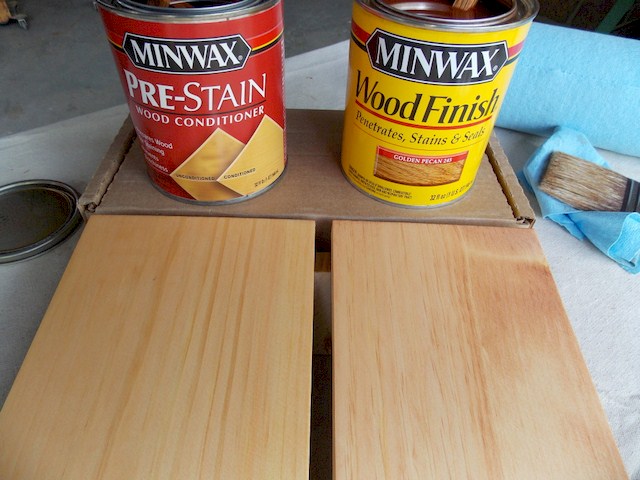 Characterless Wood
While some are quick to pre-condition every piece of pine trim or any and every piece of softwood. – I don't. Unless the softwood is unusually porous I will bypass the pre-conditioning as a rule. I save the pre-condoning for plywood, veneers, and wood that are noticeably porous.
The problem with pre-conditioning every piece of softwood in sight is that pre-conditioning will remove the whole patina and mottling that is characteristic of that wood. I happen to like these "markings" in wood as it gives the wood its uniqueness.
Others, who may want a more monolithic, nonvariant look to their wood, may want to pre-condition all softwoods before staining as some stain manufacturers are wont to recommend.
A good compromise may be to apply the pre-conditioner but keep it very thin to minimize and even out any mottling and color variations but not eliminate them.
---
Read Also:
---
There are two ways to pre-seal porosity before staining.
The first method is the specialty product made for the pre-stain application. These are called "conditioners" or stain "controllers". Minwax makes a pre-stain "conditioner" as such.
Generally, these are applied to the porous wood and allowed to sit for some time, and then wipe off the excess. There is a window of time in which the stain needs to be applied (for the Minwax conditioner it is two hours). Read the directions on the particular product that you are using.
The second method of pre-stain sealing is to use a wash coat of shellac. De-waxed shellac is used for this. Zinsser's "Seal Coat" is a shellac in which the naturally occurring wax inherited in the shellac has been removed.
You Must Thin the Shellac
Don't use straight shellac or Seal Coat or you will over-seal the wood, resulting in a wood substrate that will not "take" any stain – or very little stain. You must thin the shellac sufficiently with alcohol to make use of it as a pre-stain sealer.
The recommended "cut" by Zinsser for their Seal Coat as a pre-stain conditioner is to add 3 parts of alcohol to 2 parts of Seal Coat. (I use a 2 parts alcohol to 1 part shellac mix. I would rather be under-sealed than over-sealed). Test on a piece or two before proceeding to do the whole project.
This mix is applied to the wood with a brush or rag in the direction of the wood grain, then allowed to sit for 15 minutes after which a scouring pad (Scotch Brite type or synthetic abrasive pad) is used in the direction of the wood grain to knock down any raised grain and uniformly re-open the pores up a bit.
Too Light – Too Dark: The Fine Line of Pre-stain Sealing
If you are slightly over-sealed and the stain doesn't take dark enough, try applying the stain with a brush rather than a rag. If it still is too light you may have to apply two coats of stain, allowing for complete drying between coats.
Another option is to use a wiping stain with a higher percentage of pigment which offers more control over the color depth than a penetrating stain.
If you are still under-sealed a bit after pre-sealing (the stain is still absorbing too much), you can thin the stain by adding a clear stain base to the stain as needed.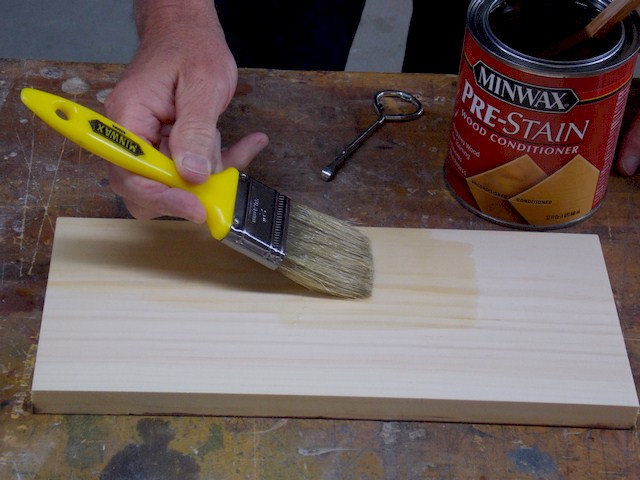 Don't Over Seal !!!!
I have been called in to stain wood trim etc… that the homeowner tried to pre-seal only to find out that the wood would not take any stain whatsoever. I had to woodgrain the wood in that situation. It is safer to be a bit under-sealed than to over-seal.