Wood Filler and Wood Sealer: Their Use in Wood Finishing — Most people are familiar with stains and clear coats, but when it comes to the fillers and sealers used in wood finishing they become confused. I have seen wood filler ("Plastic Wood") used to fill nail holes, I have heard of sanding sealer recommended as a way to fill the pores of hard wood etc…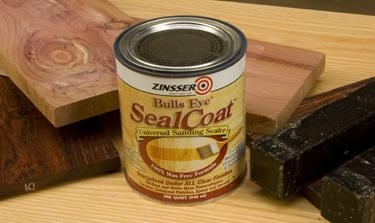 Wood Filler and Wood Sealer: Their Use in Wood Finishing
I want to outline here the wood fillers and sealers, their purpose and when to use them.
Wood Fillers
There are two types of wood fillers that I am familiar with. The first type is used to repair dents, gouges etc.. in wood by filling and surfacing the imperfection. These are made with some sort of fibrous material and a resin as a binder. I have heard of wood workers using saw dust and glue for this type of wood filler. The universal problem with these types of fillers is that they won't take stain the same way that the surrounding wood will for a couple of reasons:
There is no "wood grain" in these fillers – they are just a paste of fiber and resin.
They are not the same porosity as the surrounding wood nor the same type of wood.
The second type of filler is used to fill the pores of hardwoods like oak. This is a "paste wood filler". This type of filler is applied to the surface and squeegeed off, leaving it in the pores of the wood filling and leveling the surface. Commercial paste wood filler comes in premixed colors and can be tinted to match using either universal colorants, dry pigments or japan colors depending on the wood filler
I use "Swedish putty" to fill the pores in lieu of using a commercial wood filler. One or two applications will do the job, and it will match the stain that I am using on the wood also without the need to match it with colorants of any type.
Must Read:
Sanding Sealers
As their name implies, these are used to seal the wood – and are made for sanding. Sanding sealers are made with zinc stearate ( a soap-like material ) which is added so that the sandpaper will not gum up while sanding. The typical use of these would be after the staining and prior to the finish clear coat. Sanding sealers are quick drying, allowing for multiple coats in a short period of time and a quick finishing system. Sanding sealers, because of the stearates in them will repel some clear coat finishes.
Latex and Polyurethanes in particular will not adhere well to these intermediate clear coats. It is important that you use a "system" of stain, sealer and clear coat that is compatible. Don't just assume that anything can be used over anything.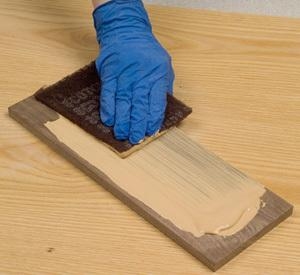 Shellac
My preference for a sanding sealer is shellac. Although shellac will gum up a little when sanding, it is very quick drying, will not lift an oil based stain, and will not re-soften when varnished over. Shellac (unless "de-waxed") must be overcoated with an oil varnish. Other finishes will not adhere to shellac because of the naturally occurring wax contained in it.
You don't have to use a sanding sealer, they are used for the advantages they impart. You can simply do two or three coats of whatever finish you choose, sanding them between coats.
Wood Putty
Wood putty is used to fill nail holes. There are a few different types of wood putty. You can make your own, called "Swedish putty" by mixing whiting with your stain, or you can buy pre-colored oil based putty. Minwax makes pre-colored putty that will match their stains. You can tint your own putty using universal colorants, which is a bit messy, but do-able. See article on How to Match Putty.
Pre-Stain Sealers
These are used on soft woods like pine to allow a more uniform and less blotchy stained finish. Be careful with these, you can overseal the bare wood so that it will not take any stain.
Of the pre-stain sealers I prefer to use dewaxed shellac (Zinsser's SealCoat). SealCoat a 2lb cut of shellac, must be thinned to to a 1lb cut to be used as such or you will overseal the wood. To make a 1lb cut of shellac, you add 3 parts of alcohol to 2 parts of SealCoat. According to Zinsser, SealCoat is a universal sealer and can be used under any type of stain.