With urban landscapes constantly evolving, the spaces we inhabit reflect our changing lifestyles, values, and aesthetic preferences.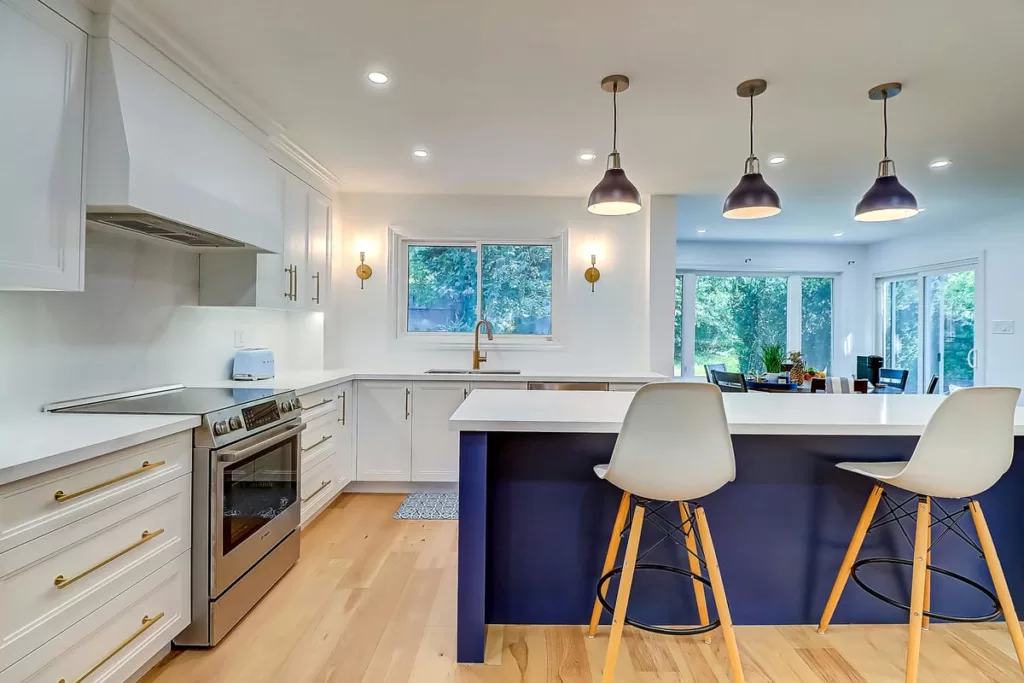 In Newmarket, ON, a unique blend of tradition and modernity makes for an intriguing canvas for home renovations. As residents continue to seek spaces that marry form with function, several definitive trends have emerged. Let's explore these currents in-depth.
Open Floor Plans: Breathing Easy and Living Large
Embracing Spatial Fluidity
The modern architectural lexicon is increasingly favoring designs that let spaces meld into each other. Walls are no longer barriers but bridges connecting different functional areas of the home.
The result? A home where conversations flow seamlessly from the kitchen to the living room and where light filters unobstructed through expansive spaces.
Advantages of the Open Concept:
Enhanced Social Interaction: Family members can interact freely, breaking down silos of isolation.
Versatile Usage: Spaces can easily be repurposed for social gatherings or impromptu workspaces.
The Digital Homestead: Welcoming the Age of Smart Homes
Seamless Tech Integration
Gone are the days when technology was an afterthought in home design. Homes today are digital hubs, where devices enhance comfort, security, and entertainment.
Features Taking the Lead:
Smart Thermostats: Adjusting temperatures remotely or setting climate schedules.
Home Automation: Controlling lighting, window blinds, or even garden sprinklers with a tap or voice command.
---
Read Also:
---
Nature's Embrace: Sourcing and Incorporating Natural Materials
Going Organic in Design Choices
From rugged stone walls to elegant wooden beams, nature-inspired elements bring warmth, texture, and an earthy authenticity to interiors.
The Return to Nature:
Wood Types: Oak, walnut, or reclaimed wood, each imparting its unique grain and character.
Natural Stone: From granite countertops to slate tiles, they offer durability and timeless beauty.
Green Living: Crafting Eco-friendly Homes
The Sustainability Drive
As environmental concerns loom large, homes are becoming epicenters of sustainable living, with every renovation choice echoing a commitment to the planet.
Steps Towards a Greener Home:
Energy Efficiency: Adopting solar panels, green insulation, and energy-saving appliances.
Water Conservation: Installing rainwater harvesting systems or greywater recycling units.
A Palette of Boldness: Embracing Vibrant Colors
The Psychology of Colors
While neutrals have their charm, bold colors breathe life into spaces, affecting moods, perceptions, and even room dimensions.
Popular Shades:
Deep Blues: Evoking serenity and depth.
Emerald Greens: Imbuing spaces with vibrancy and lushness.
Fluid Spaces: Multipurpose Rooms for Modern Living
The Era of Flexibility
As remote work and hobbies burgeon, the need for rooms that adapt is paramount. This adaptability ensures a home remains functional through changing needs and phases of life.
Dynamic Room Ideas:
Home Gyms: Spaces that double up as meditation corners or mini dance studios.
Library-cum-Home Offices: Quiet reading nooks by day, bustling work zones by night.
Luxuriate Outdoors: Extravagant Outdoor Living
The External Living Room
With people yearning to connect with nature, backyards, terraces, and patios are transforming into luxurious extensions of indoor spaces.
Top Outdoor Trends:
Outdoor Kitchens: Equipped with grills, wine coolers, and wood-fired ovens.
Cozy Fire Pits: Perfect for evening gatherings and storytelling sessions.
Artistry at Home: Celebrating Local Crafts
A Celebration of Regional Heritage
Integrating local crafts and designs doesn't just support local artisans but also imparts a unique, rooted charm to homes.
Elements to Incorporate:
Handmade Tiles: Infusing spaces with character.
Custom Furniture: Crafted by local carpenters, offering uniqueness and authenticity.
The Evolution of Space: Adaptability and Functionality
Today's home renovations are not solely about style or aesthetics; they're about adaptability. As lifestyles evolve, especially in bustling urban centers like Newmarket, ON, homes need to adjust. This adaptability takes many forms:
Transformable Furniture:
Wall Beds: Great for studio apartments, they offer the duality of a spacious living room by day and a cozy bedroom by night.
Expandable Tables: Perfect for small dining areas, accommodating both everyday use and larger gatherings.
Efficient Storage Solutions:
Incorporating clever storage solutions ensures that every square foot is utilized, from pull-out pantry shelves to under-staircase drawers.
Biophilic Design: Forging a Deeper Connection with Nature
While incorporating natural materials is one facet of the trend, biophilic design delves deeper. It recognizes our intrinsic need to connect with nature.
Key Elements:
Indoor Plants: Beyond aesthetics, they improve air quality and boost well-being.
Water Features: Indoor fountains or water walls bring tranquility and a sense of calm.
Maximized Natural Light: Skylights or larger windows, strategically placed, to flood interiors with sunlight.
The Wellness Home: Spaces That Nourish Mind, Body, and Soul
Holistic well-being is becoming a central theme in home renovations. It's not just about physical health but also mental and emotional well-being.
Wellness Features:
Meditation Corners: Quiet nooks with calming elements like soft lighting and plush cushions.
Home Spas: Incorporating steam rooms or jacuzzis for relaxation.
Soundproofed Rooms: Whether it's for undisturbed work, music practice, or simply a quiet retreat, soundproofing is gaining popularity.
Texture Play: Elevating Interiors Through Tactile Experiences
Adding varied textures can dramatically elevate the ambiance of a space, creating layers of tactile and visual interest.
Trending Texture Incorporations:
Textured Wall Panels: From wooden slats to 3D geometric patterns.
Mixed Fabric Interiors: Combining leather, velvet, and linen for a rich sensory experience.
Historical Fusion: Marrying the Old with the New
One of the most intriguing trends, especially in cities with rich architectural heritages like Newmarket, ON, is the harmonious blending of historical and contemporary elements. This fusion gives homes a timeless charm, resonating with history while embodying modernity.
Preservation Meets Innovation:
Retaining Historical Facades: While the exteriors retain their historical essence, interiors are revamped to contemporary standards.
Upcycling Old Elements: Repurposing old wooden beams, stained glass, or antique tiles to infuse character into new designs.
Advantages of this Fusion:
Sustainability: By preserving and repurposing, we reduce the need for new resources and honor the craftsmanship of yesteryears.
Unique Aesthetics: Such homes stand out, offering a narrative that's distinctively their own. They tell tales of eras gone by while staying firmly rooted in the present.
In the dynamic world of home renovations, the trends often mirror societal shifts, technological advancements, and evolving aesthetic sensibilities.
As homes transform, they become sanctuaries reflecting the essence of their inhabitants. For those in Newmarket, ON keen on embracing these trends, Yorkland Homes stands as a beacon of innovation and expertise.