Only buying a good bed frame doesn't finish the job at all. You need to install it well to sleep soundly on it.
Many of us make plenty of mistakes while installing a bed frame. So, we will tell you how to put together a bed frame and headboard. You will know the assembly process of both metal and wooden frames in the discussion below.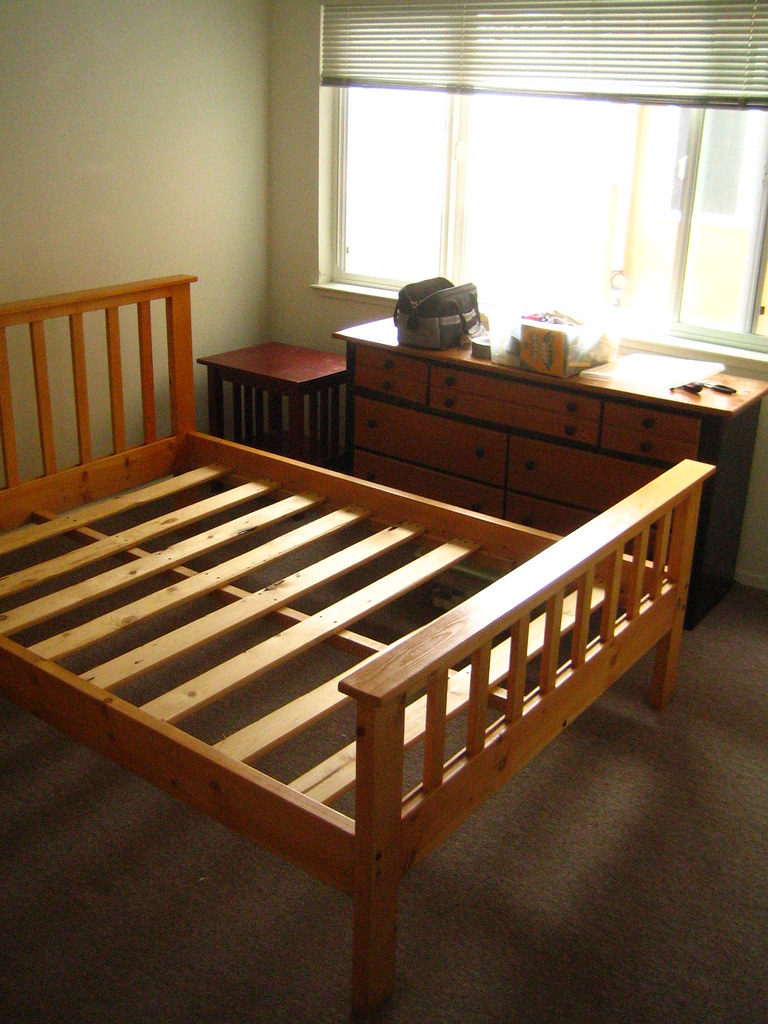 Additionally, if you're in need of comfortable seating for your workspace, consider exploring a range of "office chairs" that can enhance your productivity and well-being while you work.
Wooden Bed Frame VS Metal Bed Frame; Which One to Choose
Whether you are looking for a sturdy bed frame for an active couple or for other self-purposes, you mainly have two options. In the current market, wooden frames and metal frames are being sold in large numbers. Both types have various designs and categories. You can pick any of them for your bedroom.
If you wish to have bed frames that have a gorgeous design and magnificent color pattern, we will suggest you buy wooden bed frames. Wooden frames are heavier than other ones. They are pretty durable. If you want to give your bedroom an authentic look, you will have to buy a wooden bed frame.
In recent times, metal bed frames have become popular across several countries. Metal frames suit any place. Such frames are light enough. You can carry or move them with ease. Frames made of solid metal can be durable for a long time. They can perform like new ones for more than a decade.
The main difference between the wooden bed frame and the metal bed frame is the squeaking issue. Most of the time, wooden bed frames can make irritating noises when they become older. Metal bed frames make noises in rare cases. But any frame can make noise if you have not done the installation in a proper way.
We have given equal value to both types of bed frames. So, we will describe easy ways of assembling wooden and metal bed frames separately.
---
Read Also:
---
Installing Wooden Bed Frames
Installing metal bed frames is a bit tougher than metal ones. As we told you earlier, wooden frame parts are heavier and tough to carry.   So, here are some steps to follow for the easy and fast assembly of wooden bed frames.
Placing the Headboard
When you are about to assemble a wooden bed frame, you need to place the headboard in a good location first. Choose a wall and place the headboard standing against that wall. Make sure the design or front part is opposite the wall.
Joining Side Rails with the Headboard
If you look carefully at the bottom of the headboard, you will find the same amount of holes on both sides. All you have to do is join the side rails with the headboard holes and twist the screws inside.
Sometimes, manufacturers give brackets with bed frame sets. You can also use brackets to attach rails with ease. Try to use good screwdrivers in this step.
Attaching the Baseboard with the Side Rails
You will now repeat the previous step again to attach the baseboard. The procedure is the same, using brackets, screws, or both to attach each side.
Placing Support Legs
There are few bed frames that contain support legs for the beams or boards. If your bed frame also has some, you need to attach them before placing beams or boards.
You might also need to use screws or bolts to complete this step. But you can join the legs only with your hands when you buy the latest bed frames.
Putting Boards or Beams
After all the steps above, you only now need to put the beams or boards in the correct place. All you have to do is place the beams or boards on the side rails.
But when you have both rails and beams, make sure you have placed the boards on top of the beams. Sometimes, you need to do some extra effort according to the type of boards or beams.
Installing Metal Bed Frames
The way of assembling a metal bed frame with a headboard is quite different. The structure and construction of the metal frames don't match the wooden frames. Now, we will talk about the assembly of a metal bed frame.
Attaching Feet with Legs
First of all, you have to place your two frame legs in two places. After that, you need to get their feet off them and join them. You might also need screws or bolts to attach firmly.
Often, manufacturers give wheels instead of feet. But it will make no difference in the assembly. The method is always the same.
Connecting Side Arms
Now, you join the side arms together. There are many ways of attaching the side arms together. It depends on the type. In most cases, you need to connect sidearms using nuts and bolts. But in other cases, you only have to slide the arms in the slot to get attached together.
Modern metal bed frames give you the opportunity to maintain the width according to your mattress. You will need to pick the right hole or slot to connect the arms to get an accurate size.
Putting the Support Beam on the Center
You will now connect the center support beam with the center of both legs. In this case, you might be in need of screws or other similar essentials.
Attaching the Headboard to the End
The modern bed frame structure is quite user-friendly. You can attach or detach the headboard according to your comfort. So, when you are willing to install the headboard, you have to find out the slots where you need to put the headboard's legs inside.
In some cases, you have to use nuts and bolts to install the headboard on the mainframe. When this step is done, consider your bed frame is ready to be used.
Some Tips to Follow While Doing the Assembly
Apart from describing the way of assembling a bed frame, including a headboard, we would like to warn you about a few things. We want to make sure you stay safe, and that your work is done well without issues. So, here are some points that you need to keep in your mind to finish the job with ease.
Before attaching all the parts of the bed frame, including the headboard, make sure each part is well-constructed and has no damage.
A bed frame is not a type of furniture that you will move from one place to another frequently. You have to fix a spot in your room where you want to install the bed frame and keep it there for a long time.
If you find your bed frame parts too heavy, you will be in need of extra helping hands for the installation.
Don't do anything in a hurry. Take time while you are working. Sometimes, a little bit of unconsciousness can cause you nasty injuries.
Final Words
It is a must to follow the right way of installing a bed frame to make your bedtime peaceful and vital. Your chosen bed frame will work only when you assemble it well. So, we advise you to take enough time and give proper effort into installing a bed frame. And also you can check out the best mattress for sleep apnea.
Bed Sheets and covers to protect your matters here.