How to Build a Pergola, Step By Step DIY Pergola — A wooden pergola can add beauty as well as added function to your outdoor living space. These structures are also easy to build.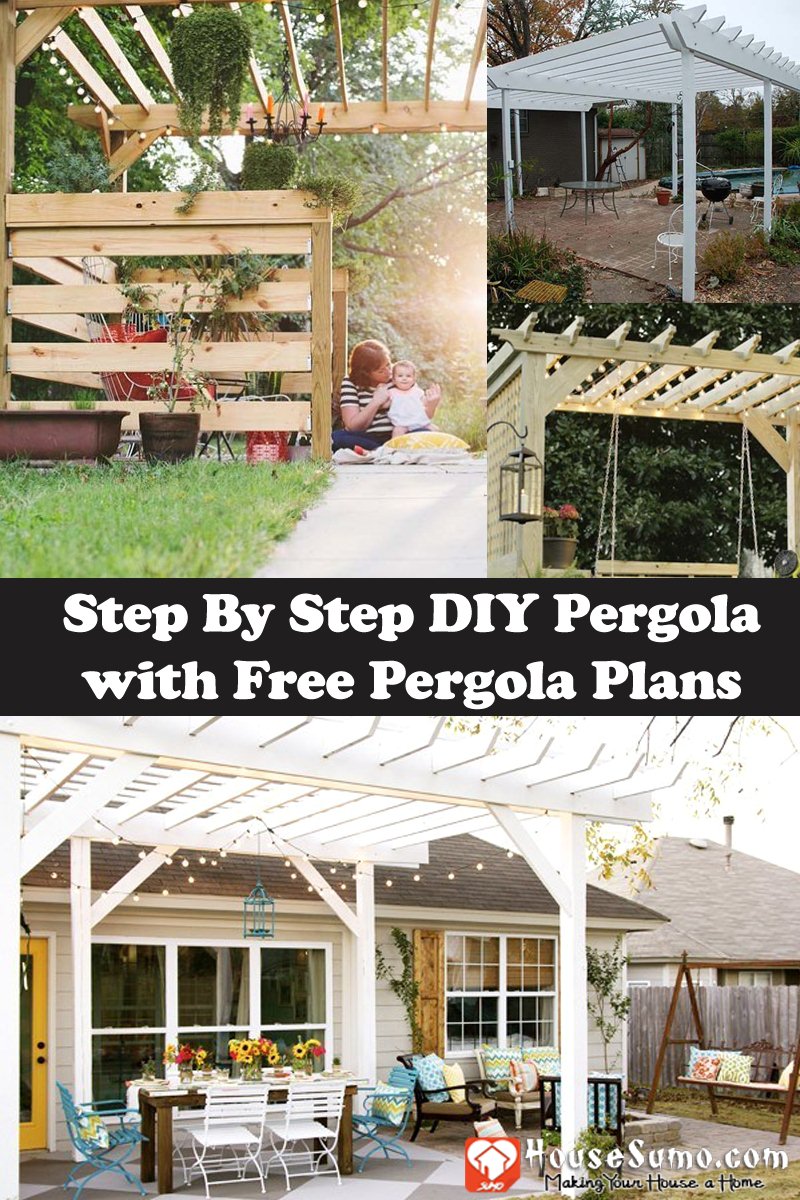 How to Build a Pergola, Step By Step DIY Pergola with Free Pergola Plans
A little shade can greatly improve your outdoor living space by offering important protection from the sun's damaging rays, as well as lowering the temperature several degrees. While there are several methods from umbrellas to retractable canopies, these are more subject to wind and weather damage. One of the more permanent and attractive solutions is a wooden pergola. A handsome addition to any outdoor space, a pergola is a straight forward build, and can be accomplished by a do-it-yourself homeowner on a single weekend.
Once you have established where the pergola is to be built, mark your first corner. For this example, we will be building a 12 foot by 12 foot pergola. From your established corner, measure out to the other four corners, making certain the measurements are exact. You will also need to measure diagonally between the corners to be certain everything is square. Take the extra time here to avoid major headaches later. Before you dig the holes for your corners, be certain to call 811 to have all underground utilities or wiring located and marked.
Setting the Corner Post for the Pergola
Dig the four holes for the corner posts. These will need to be a minimum of three feet deep. The corner posts will be 4 by 4's so your holes will need to be at least 10 inches in diameter. The corner posts must extend 8 feet 6 inches above ground level, so be certain your material is long enough to allow this height once the post is secured in the ground. If the post is too tall, it can be trimmed after being set in place.
Set the 4 by 4 in the hole and pour in dry concrete. Use a level to make certain the post is level in all directions, then tap the post with a hammer to allow the cement to settle before pouring in two gallons of water. Allow the concrete to dry before continuing. Mount two 2 by 10 boards on each side of the post. The top of the 2 by 10 must extend above the post by the height of a 2 by 8. This will create a slot to insert your sandwich beam. Repeat this process on all four posts.
Build Sandwich Beams for Top of Pergola
Build two sandwich beams out of 2 x 8 inch boards. These boards should be 16 feet in length. You may angle the ends of these boards for a more cosmetic look if you desire. Secure the two boards together using wood glue and screws. Once the beams are complete, set them atop the corner post, allowing them to rest in the slot created by the vertical 2 by 10's. Secure the sandwich beams in place by inserting screws from each side of the slots.
The rafters will be constructed of 2 by 6 inch boards 15 feet in length. On each end of the rafter cut out a 2 inch by 16 inch space. (See Diagram 3). The rafters will be set atop the sandwich beams, the notched out portion laying atop the beams. Place the rafters on 16 inch centers and secure them in place.
Must Read:
Optional Rafters Atop Pergola
For a bit more shade you can add another layer of rafters running perpendicular to the first set of rafters. This second set of rafter can be made of 2 x 2 inch boards placed on 16 inch centers. Secure the second rafters in place by installing screws at each intersection. This will help strengthen the structure and will give a good cosmetic effect while allowing for the growth of vegetation if you so desire.
External Links with Free Pergola Plans