Basement decorating with cheap sectional couches is a very exciting task for me. You can decorate it occasionally or while shifting from one place to another place.
To get a new finishing look you can choose the best sectional couches. Actually, we think it is very easy to select any sectional set for our living room or basement. But while you will go to the shop, all those features will make you confused soon.
So to solve this as usual here we have discussed the prime features to know before the steps of buying a sofa.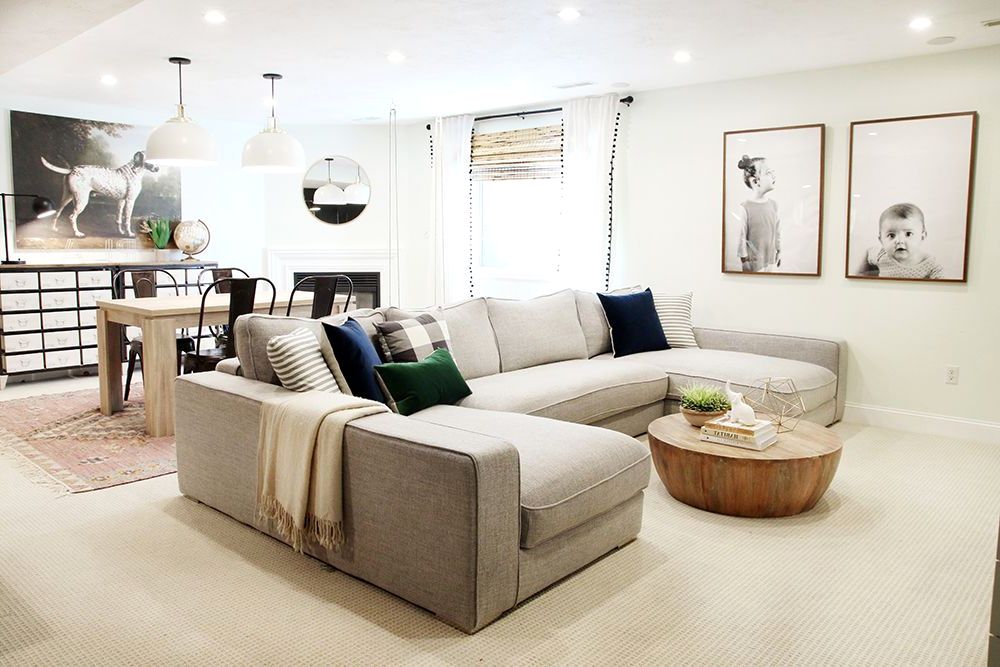 How to Pick
To some people, it is something like a dream world to furnish their basement with affordable sectional couches.
So to pick the perfect basement couches without breaking the fixed amount follow the below details. Let's go on it.
---
Read Also:
---
Room Size
Wasting a huge amount of money can't make you happy or satisfied all the time. You need to make a plan before doing a good job. So checking out the exact room size before you go. This will help you to select the comparable size according to the dimension.
If you have a wide range of basements, then you can take a full family sofa set. Here you can also add the coffee table with other furniture like bookshelves, corner tables, etc.
Here you can follow two methods. One is the tight gathering furniture decorating & the other light decorating formula. You may like the simple light decorating. It will give your basement a decent look.
Sofa Shape
According to the sofa design, you can find different kinds of sofa. L shape, round shape, Curved shape, corner set, loveseat, and so on.
All will not be adjustable with your room space or the basement. The round shape looks good for the wide area. For low space or for narrow space you can choose the single-piece couches but never buy used couches as they may consist of various kinds of insects especially bed bugs. Learn more about how you get bed bugs in used couches.
The maximum basement has free space for entertainment or to get together for a party. So to arrange a friendly party you can arrange a family package sofa. It also has a variable design sofa like modern, classic & traditional.
Color Combination with Sofa & Background
A good combination of colors based on your furniture can give you a relaxed environment. Selecting a unique piece of paint or print in the background can increase the attraction level.
You can set personal paint like a family photo or the traditional or artificial photo behind the sectional setup. Moreover, it is very important to keep a similar touch between background & your furniture.
If it makes you more nervous or confused then contact an interior designer. He will suggest to you the best idea to select the color & design of your basement furniture.
Fabric Quality with Materials
To have long-lasting basement coaches you should examine the raw materials with your fabric quality. These will assure you of the product rank. It may be covered with leather or fabric.
According to your comfort, you should select the best one. Leather is naturally more expensive than the fabric one. Though we need to use this sofa in our day-to-day life. So it should be durable & comfortable.
Loose weaves have a low-quality water-resistant system. Synthetic microfiber can be stain-resistant.
They also have cotton or linen fabric which will be stronger than the micro fabric. If your fabric has a tight weave, then the dust or liquid cant enter into the depth of it.
We should also check the manufacturing materials like wooden pieces, spring, foam & other materials. If you find any low-quality materials inside the sofa, you should avoid this piece. This will hamper your whole product with your comfort.
Good Frame
Frame quality can change the total look of your sofa. The best design frame with light or dark color will give a different impression. Sometimes we can see some old fashion traditional design frames.
They have really a different look. You can also check out that the whole figure of couches is based on the frame. I think now it will make sense to you that a good frame will help you to get a good quality perfect couch for a long time.
Check the Cushions
Plump cushions top get a cozy look, feather filled have high-quality comfort & foam or fiber can give a flattering look.
So to stay a lovely floppy style sofa, we just check out the cushions inside materials. So here you may face a problem.
While using the feather seat cushions you need to plump them. On the other side, if you choose the foam cushions, they may flatter after a regular using day.
That will not be comfortable for all of your family members. So it will be better to select the backside with feather filled & the seat filled with foam or fiber. This will help you to adjust the comfort & looks of the sofa.
Overall
All will fail if the size is not best fitted for your basement. So taking this measurement is really very important.
You should also check out the entry path. Is it suitable for furniture? After the shipment of furniture, you find that the doorstep is not wide enough for your furniture.
This will make you puzzle at a sudden moment. You can also imagine the look of your couches. It can help you to realize the outlook before buying the sofa.
Just think about how you will orient the basement couches. If you want to select the sectional sofa then you need to check out if all functions are working or not.
That means you can use the sectionals as a sofa, an extra bed, or a table. They are actually popular for their features.
So finally if you really want a long-lasting & affordable basement couch for your home need to check out all the above features.
No doubt those will assure you to pick a perfect couch for your Basement. No need to be worried about buying a perfect piece of sofa.
Our content will solve your all problems. Because we care about your hard money. Spending a good amount of money & having a low-quality product is not a good thing, right?? So to secure your money just follow our site.