Do you want to keep your kitchen cookware safe from the unexpected damage?
If your answers to the questions are yes, you should consider safe cookware, especially metal utensils safe.
Cookwares are safe if their materials are safe. They are even safer when their pairings with kitchen utensils are also safe. This applies to any kind of metal cookware.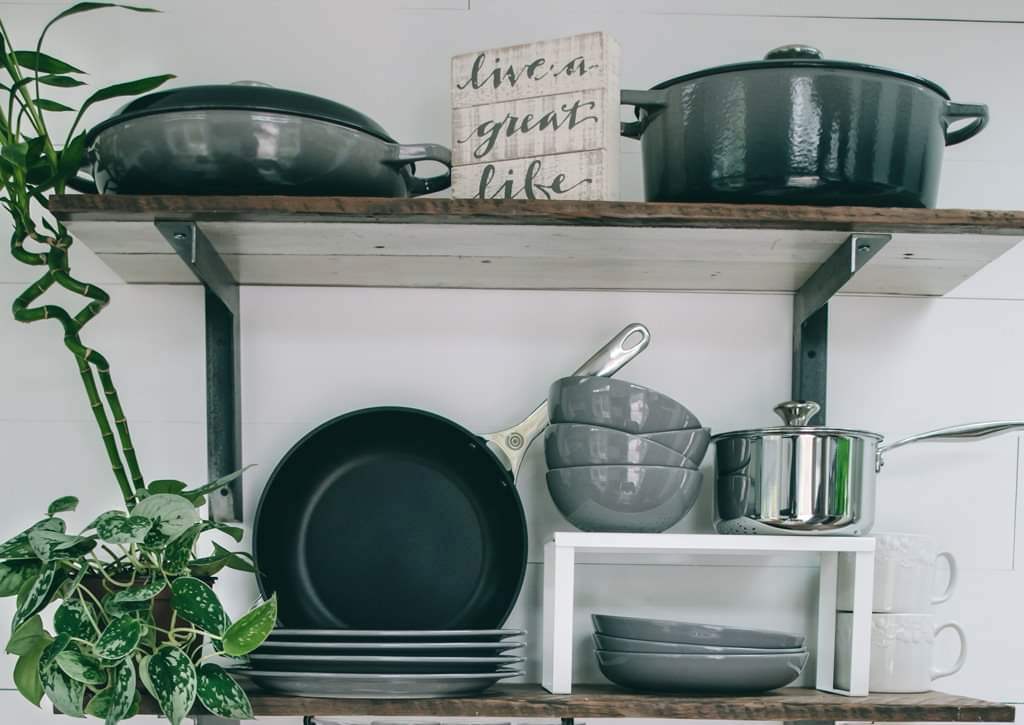 People often consider metal utensils safe cookware, such as whisks, spoons, and spatulas, as "risky". After all, metal utensil tends to collide or damage cookware surface. This is especially true for pans (or other cookwares) with fragile materials such as nonstick pans.
In fact, not every nonstick pan is dangerous when paired with different types of metal utensils. The same also goes with other types of pans, such as the hard-anodized pans.
As long as you use the right metal utensil safe nonstick cookwares or metal utensil safe anodized cookware, you shouldn't worry about how those will affect your cookware.
Here are some of the different metal utensil safe cookware you can use depending on your regular cooking activities.
Common Metal Utensils Safe Cookware Options
---
Read Also:
---
Hard-anodized Cookware
Not every hard-anodized pots and pan are metal utensils safe. Because their surface is non-stick, so using a metal utensil like a spatula, tong or whisk may damage the nonstick surface by creating scratches.
But the good news is, there is several metal utensils safe hard anodized cookware set available in the market. So before buying any hard-anodized pot or frying pan, you should ensure that they are safe to cook with metal utensils.
Cast Iron Cookware
Cast iron cookware made of pure cast iron materials. So there is no risk of using any metal utensils with cast iron.
But you should take care while using metal utensils on cast iron skillet or pan. Because they may damage the non-stick property of the skillet.
However, if the non-stick surface on cast-iron skillet damaged for using metal tools, you can still regain it by seasoning the pan or skillet.
Stainless Steel Cookware
Another most popular and available cookware option to use with metal utensils. As stainless steel is durable and heavy-duty, so a metal utensil can't damage it easily.
But still, like other cookware, metal utensils can also damage the stainless steel cookware nonstick surface by creating scratches. So you also need to careful while cooking with stainless steel pan or pot and metal utensils.
Ceramic Cookware
Not every ceramic cookware is metal utensils safe. Mostly high-quality ceramic cookware set from well-known brands like GreenPan, GreenLife, Xtrema, etc. are safe to use with metal utensils.
But still, there is the risk of damaging the non-stick surface if you use metal utensils for a long time with ceramic cookware. So it's good to avoid metal tools while cooking with ceramic.
Copper Cookware
Some high-quality copper cookware like Gotham Steel Copper Cookware Set is completely safe to use with metal utensils.
They use high-quality materials for the non-stick surface. So metal utensils can't create scratches easily even you use them for a long time. But you should use it carefully and also clean it manually.
Some Other Options
Besides these options, you can also consider Aluminum Cookware, Stoneware, Enameled Cast Iron Cookware, Porcelain Cookware, Carbon Steel Cookware, etc.
But before buying any of this cookware, you must read the manual to ensure whether it's metal utensils safe or not.
Tips for Buying Metal Utensils Safe Cookware
Buying a good-quality cookware set is not an easy task especially if you have poor knowledge about it. However, you can consider the following things before buying a new cookware set or pan.
Always look for cookware that is made of safe and healthy materials like ceramic, food-grade stainless steel, cast iron, etc.
Never go for a Teflon coated frying pan or pot. Because they can leach toxin while cooking at high temperatures as well as metal utensils also can easily create scratches on them.
Look for cookware that is easy to clean and maintain.
Nowadays, the stackable cookware set is more popular because they are easy to maintain and needs a low storage area for storing.
You are not going to invest in new cookware set in every year or after a few months. So get a cookware set that is durable and made of heavy materials.
Metal utensil safe cookwares are not enough on their own to make sure you do not damage them while cooking.
Consider whether you're going to use the nonstick or the hard-anodized pans first.
Then, observe the material specifications and shapes to make sure your whisks, spoons, and spatulas are safe. Make sure to avoid the ones that will damage your entire cookware sets.
Good luck with choosing your metal utensil safe cookwares!