Building your new house can be financially draining. Here is a list of just some of the many things you will have to spend money on when building a new house:
Employing a construction company to build your new home
Finding the right architect to design the plan for your house
Purchasing the materials needed to build the structure
Fitted kitchens, wardrobes, toilets, etc.
The cheapest way to build a house is by doing lots of the jobs yourselves. If there is a wall that needs to be painted, instead of hiring a painter, get the job done yourself.
To help you avoid going over budget, here are a few things that might help.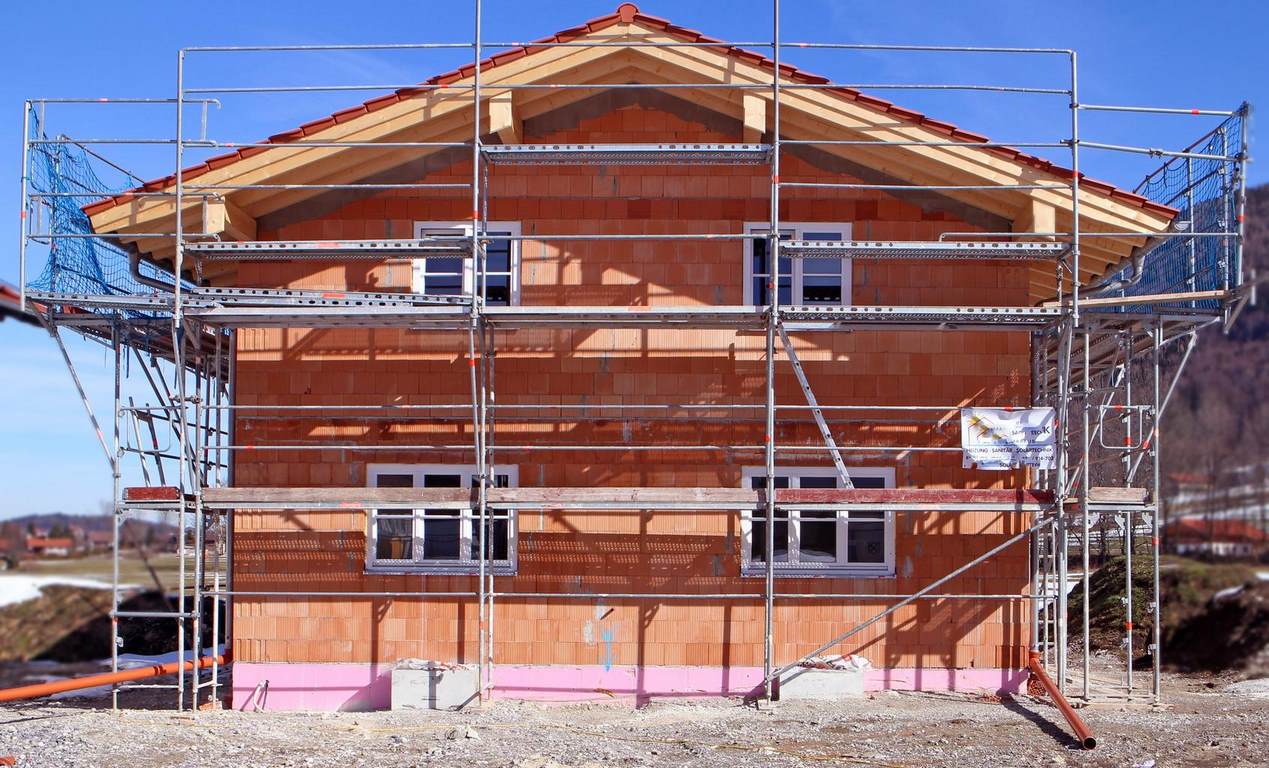 When Should I Not Try to Cut Costs?
There are many things you can do to help you cut costs when building your new home, however, there are a few things you should not avoid paying for.
1.  Hiring a Reputed Construction Company to Take on the Project is Vital
Having a reliable builder that has the experience and education in construction will save you a lot of stress.
Although they might seem expensive, in the long run, they might even save you money. Fixing things down the line, or having issues with the foundation of your new home can prove to be very expensive.
When choosing a construction company, speak to people who have used their service in the past, and see if they would recommend that company to build your home.
2. Choosing a Good Architect to Design your New Home is Important
This is something you will find very difficult and expensive to change in the future if you don't like the design.
If the architect has already had a similar design built, perhaps asking to view the home might be worth your while.
3. Choosing Good Quality Material to Build the Structure of your Home is Important
Unlike a lot of other materials where you can save money, structural materials for walls and the foundations of your home should be of the best quality. You will be unable to replace this material in the future.
Attempting to save money, sometimes down the line, will end up costing you more. Remember that your home is a long term investment.
Think about Building a Smaller Home
Building a smaller home is an obvious way for you to save money. Consider if you need all that space.
Lots of homeowners combine rooms. For example, a large kitchen can be used as a dining room. Ask yourself if your home needs to have four bathrooms? So we need to be putting in two guest bedrooms?
Smaller houses are a lot easier to maintain. When you have a large home it might seem that trying to keep it clean is a never-ending battle.
Hiring somebody to help might also burn another hole in your wallet.
---
Read Also:
---
Quality Building Materials Don't have to be Expensive
Building materials will take up a large amount of your budget.
Although lots of people think that the more they spend on building materials, the better quality the materials are. This isn't always the case.
Be careful when picking your materials. Some of the building material suppliers will hike up the price of basic materials to sell to people.
Perhaps asking your construction company for advice might help.
This doesn't mean you should buy low-quality material, just shop around and find durable material at a fair price.
Choose a Simple Floor Plan
Choosing a simple floor plan will help you save money. If the floor plan is very complex, the more money you should expect to spend.
If your floor plan is complex you will probably have to hire more workers and they might need specific machines designed to work on areas like curved walls.
By choosing a simple design, your floor should have fewer angles so you can use your materials more efficiently.
Keep your Home Low-Maintenance
Purchasing quality material will help you from having to spend more money in the future.
If you decide to buy cheap roofing material, low-quality flooring, cheap windows, and doors, you might find it ended up costing a lot in the long run.
Spending money on durable, high-quality materials when the house is being built will save you a lot of stress in the future.
Conclusion
For many of us, building a new home is one of the biggest tasks we take on in our entire lives. Moving into a newly built home is very exciting, however, to be patient.
Building a house takes time, and can often go over budget.