The Importance of Flea Control in the Home
Fleas are more than just a nuisance for homeowners and their pets. These tiny, agile pests can transmit diseases and cause allergic reactions in both humans and animals.
They can also reproduce rapidly, making it important to take swift action in order to prevent an infestation. One effective method of controlling fleas is through carpet cleaning.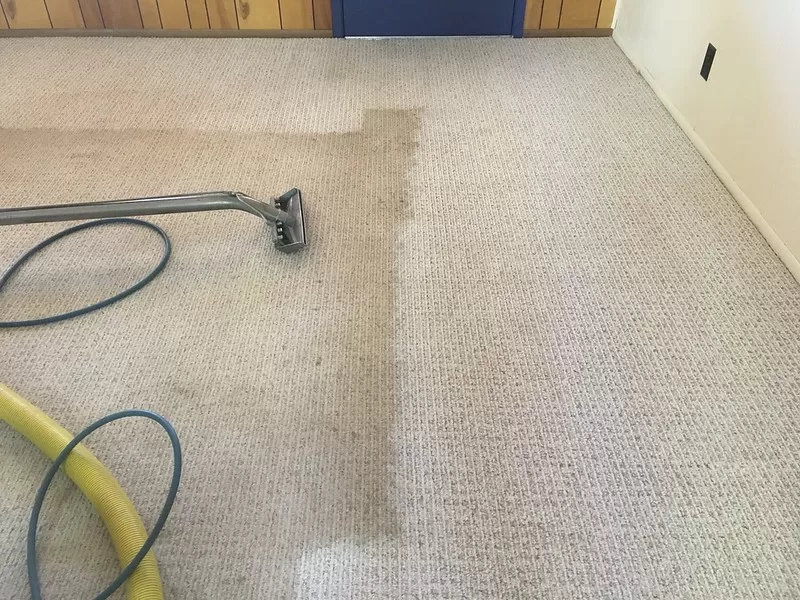 How Carpet Cleaning Can Help
Carpet cleaning not only removes dirt, stains, and allergens from carpets, but it can also kill fleas and their eggs. When a professional carpet cleaner applies a chemical treatment to your carpets, the fleas come into contact with the solution and are eliminated.
This is especially useful if you have pets that spend a lot of time inside, as they can often bring fleas into the home on their fur.
---
Read Also:
---
Choosing the Right Carpet Cleaning Method
There are several methods of carpet cleaning, each with its own set of benefits and drawbacks. Some common methods include steam cleaning, dry cleaning, and foam cleaning.
Steam cleaning, also known as hot water extraction, involves the use of hot water and a cleaning solution to loosen and remove dirt and debris from the carpet. This method is effective at removing stains and killing fleas, but it can take longer for the carpets to dry.
Dry cleaning involves the use of a dry compound that is spread over the carpet and worked into the fibers. The compound absorbs dirt and stains and is then vacuumed up, leaving the carpet clean. This method is quick and convenient, but it may not be as effective at removing deep stains or killing fleas.
Foam cleaning involves the use of a foam cleaning solution that is applied to the carpet and allowed to dry. The foam is then vacuumed up, taking the dirt and debris with it. This method is similar to dry cleaning, but it may be more effective at removing stains and killing fleas.
Tips for Maintaining a Flea-Free Home
In addition to carpet cleaning, there are other steps you can take to prevent and control a flea infestation in your home. Some tips include:
Vacuuming regularly to remove fleas and their eggs from carpets and upholstery.
Using a flea spray or powder on your pets to prevent them from bringing fleas into the home.
Keeping your lawn trimmed and free of debris, as fleas thrive in tall grass and other hiding places.
Using a flea control product in your home, such as a flea bomb or flea trap.
Washing your pets' bedding and blankets regularly to eliminate any fleas that may be hiding there.
By following these tips and scheduling regular carpet cleanings, you can help ensure that your home is free of fleas and other pests.
Benefits of Professional Carpet Cleaning
While it is possible to clean your carpets on your own, there are several benefits to hiring a professional carpet cleaner. These professionals have the expertise and equipment needed to thoroughly Carpet cleaning kills fleas. They can also apply specialized treatments to remove stubborn stains and odors.
In addition, professional carpet cleaning can help extend the life of your carpets. Dirt and debris can build up over time, causing the fibers to break down and leading to wear and tear. By removing these substances, a professional cleaning can help your carpets last longer and maintain their appearance.
Choosing a Professional Carpet Cleaning Company
When selecting a carpet cleaning company, it is important to choose one that is reputable and has experience in flea control. Be sure to ask about the products and methods they use to kill fleas, as well as any additional treatments they offer.
It is also a good idea to get multiple quotes from different companies and compare their services and prices. Don't be afraid to ask questions and request references, as you want to be sure you are choosing a company that you can trust to effectively and safely clean your carpets and eliminate fleas.
Conclusion
Carpet cleaning is an effective way to kill fleas and prevent an infestation in your home. By choosing the right cleaning method and hiring a professional company, you can help ensure that your carpets are clean, healthy, and flea-free.
Regular cleaning and maintenance, along with other flea control measures, can help you enjoy a comfortable and pest-free home.