Eating together around the dining table is a great way to connect with loved ones. But Plain Jane dining chairs won't inspire meaningful conversations or brighten your mood. Modern dining chairs, however, can transform your dining space into a stylish, welcoming oasis for gathering and sharing delicious food.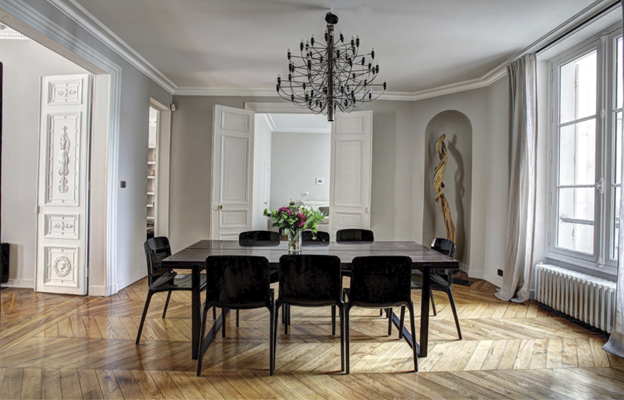 When shopping for modern dining chairs, look for sleek, contemporary designs that reflect your taste. Consider different materials, colors, shapes, and features to find options perfect for your home. This guide will highlight some of the most popular categories of modern dining chairs to consider.
Leather Dining Chairs
Leather dining chairs add luxury and sophistication to any dining space. Quality leather's rich texture and smooth feel bring warmth and comfort to the dining experience. Leather withstands heavy use and ages beautifully over time.
Leather dining chairs are available in many colors, from classic black to bright red. Neutral leather chairs fit well in formal dining rooms, while vivid colors make a bold style statement. Distressed leather with natural markings provides a rustic vibe.
Leather dining chairs often have minimalist frames to allow the leather to shine. A sleek steel or wood frame supports a lightweight, contemporary look. For easy cleanup, avoid heavily textured leather on the seat and back.
---
Read Also:
---
Wood Dining Chairs
Wood dining chairs instantly infuse warmth into dining spaces with their natural beauty. Wood types like oak, walnut, and teak have unique grain patterns, ranging from rugged and rustic to refined and elegant. Modern wood chairs highlight the wood's charm with clean lines and smooth finishes.
Lighter woods like maple or birch give dining rooms an airy ambiance, while darker woods like mahogany provide a striking contrast. Wood dining chairs can be left natural or finished with stains, paints, and lacquers in any color. Distressed and weathered finishes are trendy for a timeworn look.
Wood types like teak and oak stand up well to heavy use. Look for chairs with joint construction that allow natural wood movement to prevent cracks and splits over time. High-quality wood dining chairs become heirlooms passed down through generations.
Upholstered Dining Chairs
For style and comfort, upholstered dining chairs can't be beat. The padding and fabric upholstery create a plush, inviting seat for lingering over meals and conversations. The choices for fabric patterns, colors, and textures are endless, allowing you to coordinate with your existing décor perfectly.
From solids and stripes to florals and geometrics, fabric upholstery adds personality to any dining space. For a cohesive look, choose dining chairs with matching fabrics. Or take a more eclectic approach by mixing and matching fabric patterns and textures.
Details like tufted cushions, exposed legs, and decorative nailheads provide visual interest. Save your backs and bottoms with plush seat cushions and contoured backs. Upholstered dining chairs offer both fashion and function.
Modern Rattan Dining Chairs
Rattan dining chairs impart breezy, casual comfort, perfect for relaxed dining. The woven rattan material has natural variation in color and texture for organic appeal. Lightweight and durable, rattan makes a stylish but practical choice for dining chairs.
Painted or stained rattan dining chairs showcase the intricate weave while adding pops of color. Unfinished natural rattan develops a warm patina over time. Look for rattan chairs with padded seats upholstered in weather-resistant fabrics for comfort.
With their casual vibe and organic texture, rattan dining chairs complement coastal, cottage, and bohemian interior designs—cluster rattan dining chairs around your table for laidback style.
Scandinavian Dining Chairs
Scandinavian-style dining chairs embody simple, minimalist designs perfect for modern spaces. Clean lines, light colors, and natural wood define mid-century modern Scandinavian furniture. Many designs showcase ergonomic shapes for comfort and support.
Scandinavian dining chairs often have gently curved silhouettes with tapered legs. Subtle contours provide comfort while maintaining a lightweight appearance. Wood types like ash, oak, and walnut are common for their light coloring and beautiful natural grains.
Woven seat materials add organic contrast to sleek wood frames. Danish cord, leather straps, or rattan are frequently used for seating. Scandinavian-style dining chairs exude peaceful tranquility. Cluster them around your dining table to create a zen dining oasis.
Mid-Century Modern Dining Chairs
Mid-century modern style combines clean, often retro lines with comfortable, ergonomic shapes. This nostalgic post-war aesthetic pairs perfectly with sleek contemporary dining tables. Mid-century chairs feature light-colored woods, tapered legs, and simplified forms.
Iconic mid-century chair designs include molded plywood chairs like the Eames Molded Plastic chair and elongated wire chairs like the Bertoia Diamond chair. Upholstered mid-century chairs often have tufted backs and cushioned seats perched atop slim metal legs.
The retro style of mid-century modern chairs imparts approachable charm. Mix and match them with other modern dining chairs for an eclectic look, or use them to build a head-turning mid-century dining set.
Modern Dining Armchairs
Armchairs provide extra comfort and support for more intimate dining with a few people. Modern armchairs feature clean lines that visually lighten bulky, solid arms. Transparent acrylic or sleek metal arms maintain airy aesthetics.
Upholstered armchair frames padded with foam and fiberfill cradle you as you savor gourmet meals. Contoured seats with attached back cushions offer ergonomic comfort and support. Look for family-friendly armchairs with stain-resistant fabrics that can handle messy meals.
Place modern armchairs at each end of your dining table for intimate two-top seating. Flank the table ends with matching armchairs for a cohesive, elegant look. Armchairs help delineate the head of the table for more formal dining.
Dining Side Chairs
While armchairs imply hierarchy at the dining table with their greater size and presence, side chairs express egalitarianism. Side chairs keep the visual focus on the community gathered around the table rather than on any one individual.
Side chairs are more compact than armchairs, with open sides and smaller footprints. Their lightweight appearance and minimal silhouettes keep sightlines open across the dining table. This allows diners to see and connect easily.
Mix and match styles of dining side chairs for a personalized look. Just be sure they complement the scale of your dining table. Pull them up and start a dinner party that brings people together through the shared joy of food and connection.
Create Inviting Spaces with Modern Dining Chairs
Modern dining chairs allow you to create a stylish, welcoming dining space perfect for connecting with loved ones. Clean lines, sleek materials, and ergonomic shapes ensure your chairs look great and provide lasting comfort.
Which category of modern dining chair fits your style? Do you prefer the refined luxury of leather, the casual comfort of rattan, or the retro charm of mid-century designs? Whether you seek bold statements or understated elegance, there is a fantastic selection of modern dining chairs to mix, match, and make your own.