Furniture in your home has much more functionality than just meeting a need. Selecting the right furniture is the key to bringing ultimate comfort to your life. Besides the bed and sofas, modern tables are the centerpieces of your home. Whether it is dining tables, coffee tables, console tables, accent tables, or nightstands, they have their own vitality.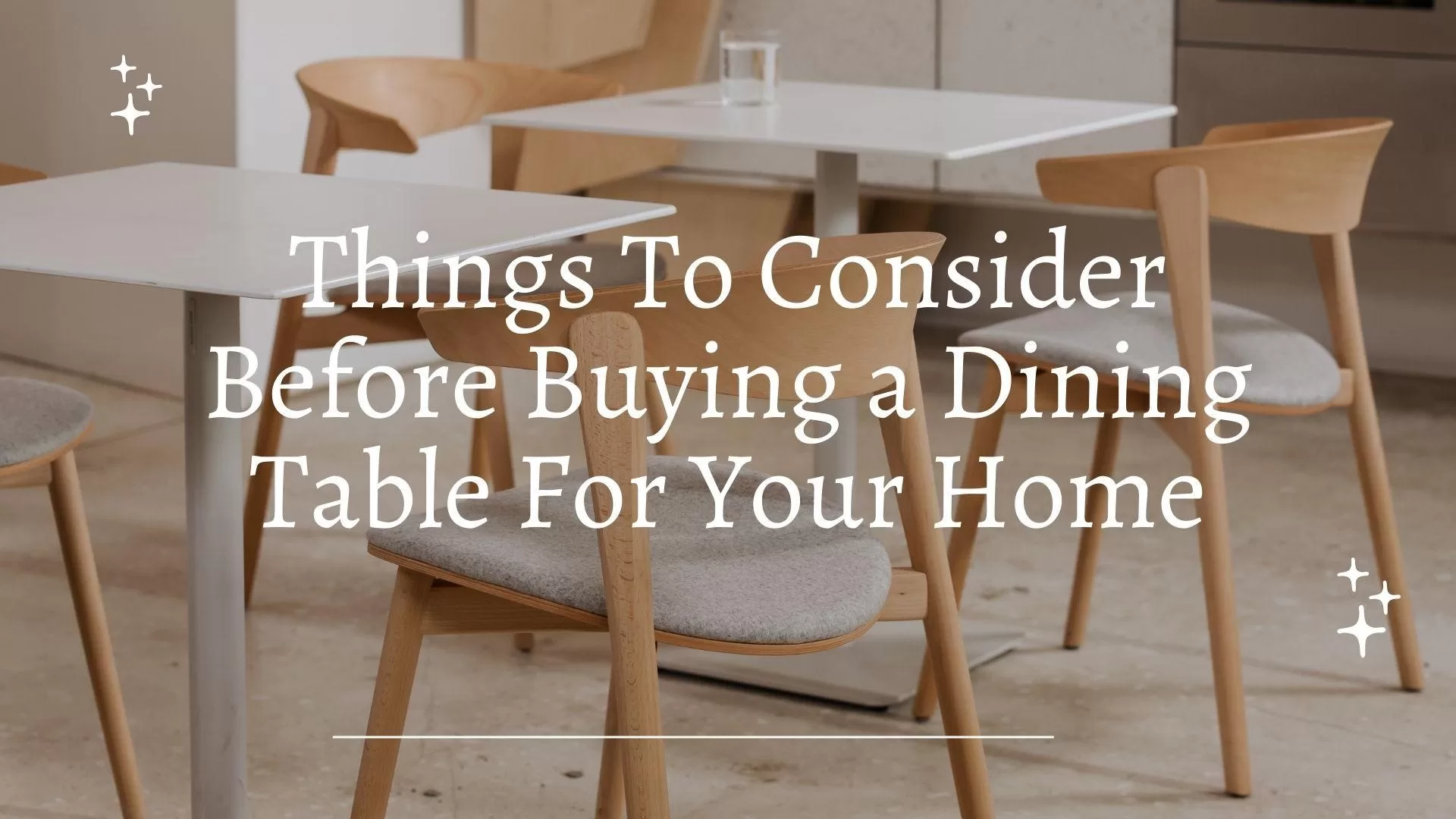 It seems easy to pick the right table for the right place. Many people deem it as going to the furniture store and selecting tables, bringing them home, and voila, you're done. But it is much more challenging than it is accredited for. When choosing dining tables, there are several luxury dining tables with different shapes, sizes, and designs, and you get hours to decide which one you want.
And, of course, you must remember the variety and versatility of dining tables. Whether you are selecting a round dining table for 6 or an abstract modern table for 12, choose the furniture shop and the table features you are looking for wisely. The important thing is to select the right store, whether online or offline, that provides good warranty and maintenance services.
Significance of Having Dining Tables At Home
Dining tables are much more than the furniture lying around your dining room. They are the ultimate space to begin and wrap up your day. You can enjoy wholesome family time when everyone sits around the modern round dining table for breakfast, dinner, or table games. A well-selected dining table can sprinkle soul into your home.
Besides being the hub for meal times, dining tables can absorb memories. When you walk past your round modern dining table, you are hit with the reflections of the past that you spent with your loved ones. So, you should consider it thoroughly before selecting the right one.
---
Read Also:
---
Factors To Consider Before Buying A Dining Table
Not every table is suitable for your lifestyle and family. With the wide variety of modern tables, it is essential to hand-pick the ones that will be the perfect addition to your home. This article enumerates some vital factors before putting money on the dining table. Let's dive right into them.
Estimate The Size
The available space and your needs should determine the size of your dining table—measure where you want to install the table before leaving your home for the furniture shop. If you have a large family or have friends frequent your home, the more extensive tables would be best for you.
Usually, people are concerned about luxury dining tables only seating six or more. But you can find them in any size that fits your requirements. Just get the dimensions of a modern round dining table and match them with your needs to stamp your name on the table.
Finalize The Shape
Dining tables are usually round, square, or rectangular for easy chair placement. But you can also find some modern tables with abstract shapes that match your home decor. Luxury modern round dining tables are ideal for relatively small spaces and families to have intimate face-to-face conversations.
If you have an eat-in kitchen, consider installing a square table that only covers a little space and is perfect for quick bites. When you think of dining tables, you probably think of rectangular ones before any others. The most traditional and typical dining tables to accommodate a large number of people are none other than rectangular ones. So, finalize the shape that fits your needs.
Determine a Suitable Height
The average height of dining tables is usually 28 to 32 inches, but you can also find low or high ones in the market. The table's height is vital in making your meals comfortable and fulfilling. Low-lying or too-high tables are only satisfied with suitable chairs and stools.
Choose the height of your luxury dining table based on your needs, then look at the other factors to find the best one for your home.
Select The Design And Style
Dining rooms are the heart of your home, especially when you live with your loved ones. You should choose a design that matches not only your home decor but also your personality. The wrong choice of dining table can influence your lifestyle and habits.
There are a plethora of dining tables with traditional, classic, period, modern, contemporary, Scandinavian, industrial, and other styles. You should sketch the best style that suits your home and yourself and look for its availability around the stores. Finding the exact design will be challenging, but you can see one that is close enough.
If your dining table's color, finish, and material contrast your other home furniture, it will look too out of place. So ensure to match your luxury round dining tables with your home decor and the rest of the furniture before locking onto the right one to glam up your dining rooms.
Pay Attention To Durability
Durability is one of the significant factors that you should consider before putting your money on a luxury dining table. Maintenance and durability are rare in modern tables, as they are usually all about looks. Aim to find one that is easy to maintain and whose material is durable.
The material of the table significantly impacts the longevity of your dining tables. Your tables will last for years if the material can withstand wear and tear. If you want to see your dining table in a crisp and excellent appearance for a long time, consider tempered glass, metal, hardwoods, or mold-injected plastic tables. And remember to ensure their warranty.
Sort Out Your Budget
What kind of experience are you looking for? The pricing and budgeting of the tables should be addressed. Selecting a luxury round dining table that only burdens your bank account and does not provide the comfort you want is not worth it. Set aside the maximum budget you can put together for your modern round dining table.
The value of the table and budget matter plenty when selecting the furniture. Sometimes, you only get impressed by the looks and don't consider the budget, but that is a big mistake on your behalf. Choose the dining table that is valuable and worthy of investing your hard-earned money into.
Looking for sales and discounts in the store is also a wise choice. Many stores have incredible and customer-friendly deals that can help you cut down on your budget and still get an excellent addition to your home.
Final Thoughts
A well-decorated dining room is like a diamond on a golden ring, and dining tables are the ones that provide it with such grandeur. As dining tables are a vital center of your home and life, you should select them carefully. Ensure your selected modern tables are versatile enough to adapt and fit naturally with your changing home decor.
We have mentioned all the proper considerations you must focus on before buying a dining table. So, follow your heart and the factors to create the perfect luxury dining table that everyone will envy.