There are lots of different types of air purifiers available on the market these days due to their popularity.
They come in all different shapes and sizes. Some smaller ones are ideal for a bedroom or an office, other bigger devices are perfect to help purify your whole house.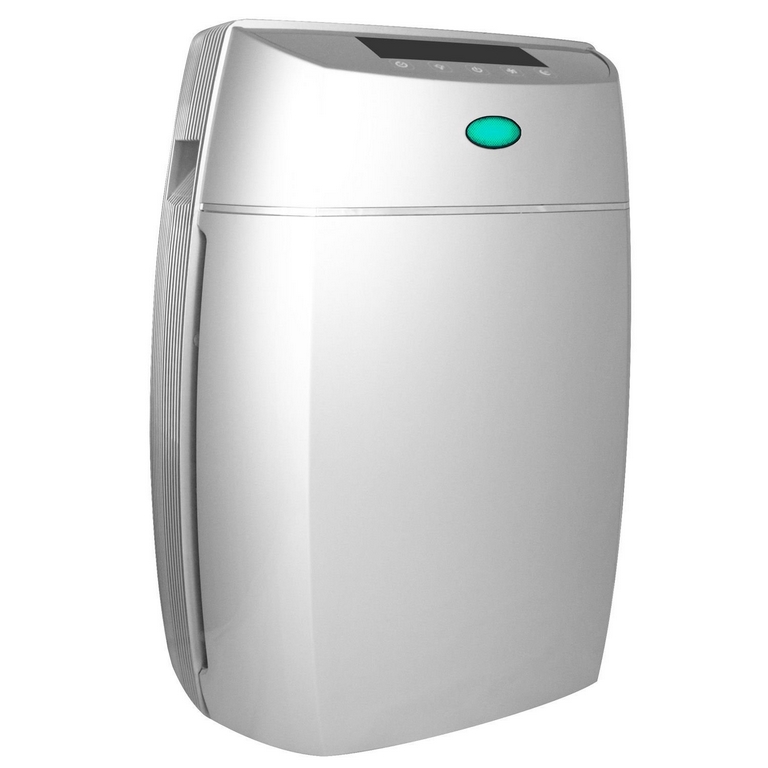 Air Purifiers have many benefits, for example, they can clear the air indoors of toxins, they can be used to reduce mould that has been growing in a room.
they can be great to purify the air in a room for a pregnant woman or a young child and they can help with people suffering from allergies or asthma.
Whole-house air purifiers tend to be a bit expensive. Prices vary from around $500 US dollars to $2,500.
The national average spent in the United States is approximately  $1,300. So, before you put your hand in your pocket to buy a whole house air purifier, you might want to do some research to see if it's worth the money.
Buying A Whole Air Purifier Can Save You Money
Often people decide to have an air purifier in each room. If you have lots of air purifiers in each room it will end up costing you more on your electricity bill at the end of the month.
Also, some air purifiers don't allow you to wash the filters in them so you have to purchase new ones each time they are full of dust and toxins.
If you only have one, it will be a lot easier to maintain and will cost you a lot less just replacing a single filter when needed.
You won't have to constantly turn on and off each air purifier in each room.
---
Read Also:
---
It Can Help Improve The Odor In Your Home
Whole-house air purifiers can help get rid of those bad smells that your family pet has left in your home or old food that has been left out.
Everybody wants their homes smelling fresh and clean. You can purchase fragrances to add to your air purifier to give your home a lovely, fresh odour.
There are many different fragrances you can choose from. If you have a smoker living in the house, an air purifier can help reduce the smell of stale smoke.
They Can Help Improve Health Issues
For people suffering from asthma or if they have allergies, breathing in contaminated air can have lots of negative effects on their health.
Even if none of your family suffers from breathing issues some of your guests might. Lots of people have asthma as it's the most common problem in humans that air pollution causes in the world.
There are lots of components inside most homes that cause air pollution such as wood and heaters. Dust particles are one of the main reasons why people get a cold or the flu.
A whole air purifier in your home can help you get rid of the dust and put your mind at ease.
A Whole House Air Purifier Can Help Remove Harmful Insects
Insects like mosquitoes can be very dangerous. Studies show that almost 750,000 people die each year from mosquito-related illnesses such as dengue fever and malaria.
To reduce the chances of members of your household getting ill, an air purifier can help. Air purifiers can remove poisonous insects and keep the air clean.
It Can Help You Get A Good Night Sleep
Sleeping in a room with contaminated air can affect your sleep. It can cause mood swings and live in an allergic environment can even affect a person's smell.
Everybody wants their room to smell good and to be able to breathe in clean air while they sleep so an air purifier can prove to be a great solution.
Can It Help Reduce The Spread Of Covid-19?
2020 will always be remembered as the year of Covid-19. Experts have been trying to find ways to help reduce the spread of the deadly virus.
We are told to wear masks, wash our hands frequently, avoid leaving the house, and to practice social distancing when meeting other people.
Covid-19 is spread by droplets that come from people breathing, coughing, or talking near each other experts believe.
Most droplets fall directly to the ground, however, others stay in the air.
Although there hasn't been much research on the subject as the illness is still fairly new, some experts think that air purifiers can help get rid of these droplets.
If someone does contract the virus in your household make sure that when you're cleaning or replacing the filter that you wear a protective mask and rubber gloves.