Instant pots are proving to be a popular kitchen appliance that many homeowners have decided to add to their kitchens.
It makes cooking meals simple and quick. Unfortunately, not all kitchen cooking equipment is energy efficient.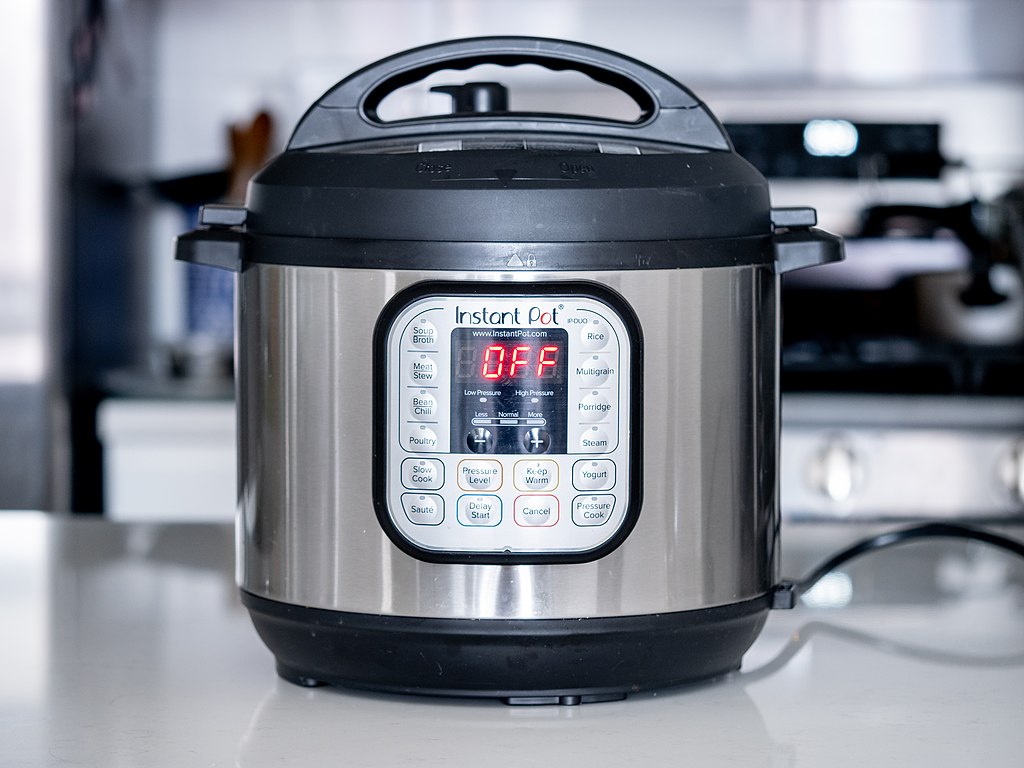 However, because an instant pot cooks meals much quicker than a traditional pressure cooker it doesn't just save you time, it can save you up to 70% on electricity.
Instant pots are one of the greenest energy kitchen appliances available on the market today!
Apart from Cooking Meals Fast, How Else Does an Instant Pot Help Save Energy?
An instant pot is fully enclosed with two separate layers of air pockets. These pockets are between the inner pot and the exterior.
When cooking a quick meal the exterior tends to be cool, when cooking over a long period it feels warm.
All the energy is focused on cooking the ingredients, this is why it makes it more energy efficient in comparison to traditional pressure cookers.
Because it is enclosed during cooking, far less water is needed, almost 80% less than steaming. This can help reduce energy consumption when cooking.
This also allows you to keep your kitchen clean and a nice environment to work in, especially during a warm day when the last thing you need is a hot, steamy kitchen.
Because it is enclosed means that the vitamins and minerals can't escape. This will make your meal that extra bit tasty and can help you maintain a healthy diet.
What Mechanics Are Built-In Help to Help Reduce Energy?
Instant pots are built with highly advanced technology that only heats the inner pot to keep a specific pressure level.
When you cook for a long time using a conventional pressure cooker heating takes up around 40% of the cooking time.
---
Read Also:
---
What Is the Price of An Instant Pot?
Just like many kitchen appliances, there are many different ones to choose from. From slim, modern looking pots to big and bulky ones.
The prices vary, however it is possible to purchase one that fits in with your budget. Some online instant pots are available for less than $100.
What Comes with An Instant Pot?
Depending on what instant pot you purchase, depends on what you get with it. Different pots sometimes have accessories that you can use.
All instant pots have three different parts. Each one has a housing that has a cooking element underneath.
A stainless steel inner pot and a lid. The lid has a sealing ring and a valve that releases the steam. There should be a trivet on the bottom of the Instant Pot also.
Although they are pretty simple to use, they do come with instructions that users are advised to read and educate other family members on the dos and don'ts.
Like any kitchen appliance, instant pots can be dangerous. A large amount of pressure is needed when cooking, so when releasing the steam manually can sometimes cause injuries.
Children and pets must be kept a safe distance away from the pot when releasing the steam. Kitchen mittens might prove helpful as you can cause injuries to your hands on the piping steam.
A wooden ladle might also be a good idea to help you move the valve in a separate direction while the steam is coming out.
Can Instant Pots Help You Reduce Waste?
Cooking with an instant pot has plenty of benefits. Lots of people like to add more ingredients than needed to cook a meal.
The following day they can use the remaining leftovers for a healthy lunch. This is a great habit for people to get used to.
Not only is it convenient but also allows the person to stay away from junk-food as most people have very little time during lunch to cook a healthy meal.
Conclusion
It is great to see so many different new tech devices available on the market that not only makes our lives easier but also helps reduce the energy they require to function.
With its popularity constantly growing it is no wonder you can find lots of different recipes online that help you cook great meals with your instant pot.
In comparison to many other kitchen devices, most instant pots are great value for money. They not only help you save energy but can help you save money on food that might normally be wasted.
They can also save you a lot of time, as you won't need to clean lots of different pots and pans while using an instant pot.
Before you purchase an instant pot, perhaps checking out reviews online to see what instant pot suits your needs.