The words "remodel" and "renovate" are often used interchangeably in the real estate industry.
A professional that has been working in the industry will know that they mean different things.
If you'd like to embark on a home improvement project, it is important that you're aware of the differences.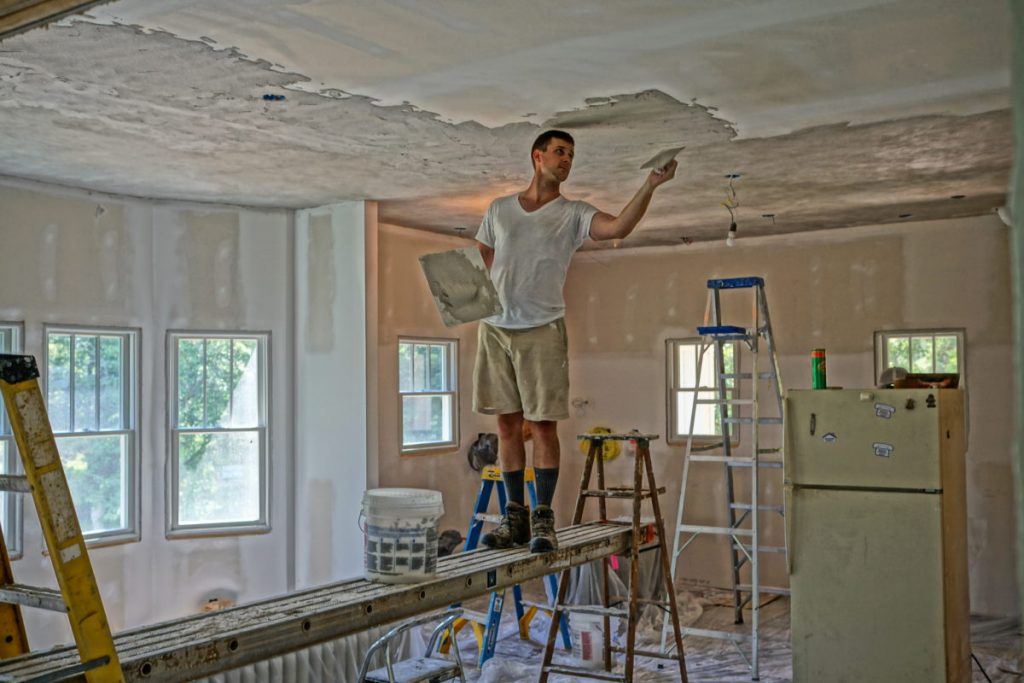 There is a basic difference between the two and the mean can be inferred from the word itself.
To renovate is to restore something to its original state while remodeling could result in something new or totally different from what existed before.
There is a stark difference between the two terms and there is no reason why they should be used to mean the same thing.
Residential Renovation
Now that you've known the difference between the two terms, what does it mean to do a residential renovation? With a renovation, you'll be reviving the condition of your home.
It could mean repainting the walls or resurfacing the cabinets. You should be searching for home renovation companies in Calgary if it is going to be an extensive renovation project instead of trying to figure out everything on your own.
A good example is with custom renovation. Such a project could improve the aesthetic and also create a personalized experience.
There are also smaller and inexpensive renovation projects such as painting that could also be impactful in improving the appearance of your home.
Residential Remodeling
A remodeling project could mean altering the structures in your home. Any project that involves redoing the layout or structure will mean that the house is being remodeled.
  You might decide to extend the kitchen space to the living room. This could involve breaking down walls so that the whole area is going through a complete redesign process.
This will be a whole new look to your home with major alterations taking place.
---
Read Also:
---
Which One Costs More?
As you might have known by now, a remodeling project will obviously cost more than a renovation because of the work involved.
This is because there will be complex designs and breaking down of walls in order to achieve the desired outcome.
If you're planning to remodel, it is important to know how much you'll be required to spend. Kitchen and bathroom remodel tend to be more expensive because of the work that is involved.
You also want to ensure that you're working with the right remodeling contractor so that the project is going right the first time.
Getting Ready for the Next Step
Once you've known the difference between remodeling and renovating, you'll be faced with the dilemma of which option to go.
This will also depend on a couple of factors. Before you can settle on any given option, there are a couple of considerations to have in mind and they'll include:
Budget: The budget that you set aside will have a big say on what is achievable with the home improvement project.
If you're on a tight budget, a complete haul will not be a good idea given how expensive it can get. You can try and renovate some areas of your home.
A fresh coat of paint always does the trick if you're looking for something subtle and impactful at the same time.
Permits: There are some renovation projects that you can get away with without a permit but will be mandatory for remodeling.
The reason why a permit will have to be obtained is so that the proper building codes are followed. You might also find it hard to obtain a permit if you're not a licensed contractor.
DIY Solutions: Renovations are friendlier to DIY solutions compared to remodeling.  Hanging new windows, painting, wallpapering are all permitted if you can do it on your own.
There is no need to reach out to an expert for some renovation projects as a DIY solution could just as be effective.
ROI: Renovating the house provides a better ROI mainly because it is not as costly compared to a remodeling project.
Home Design: If you inherited a poor home design, there could be no other solution than to remodel it. You don't always have to do everything all at once.
Conclusion
Any home improvement project should be worth undertaking. The choice will depend on a couple of variables with some out of your control.
Whatever you decide on, make sure that you're working with an experienced home contractor in order to achieve the set objectives with the improvement project.
Research the credentials and experience of the contractor so as to be sure you're working with the right person.