Choosing the right flooring is a big decision.  You'll want something that looks good, will last, and is within your budget. It can be difficult to decide which is the best option as there are many variables.
However, hardwood flooring, such as this quality herringbone flooring is always a good choice. It comes in a wide variety of styles and is durable. The question is, whether you should opt for engineered or solid wood.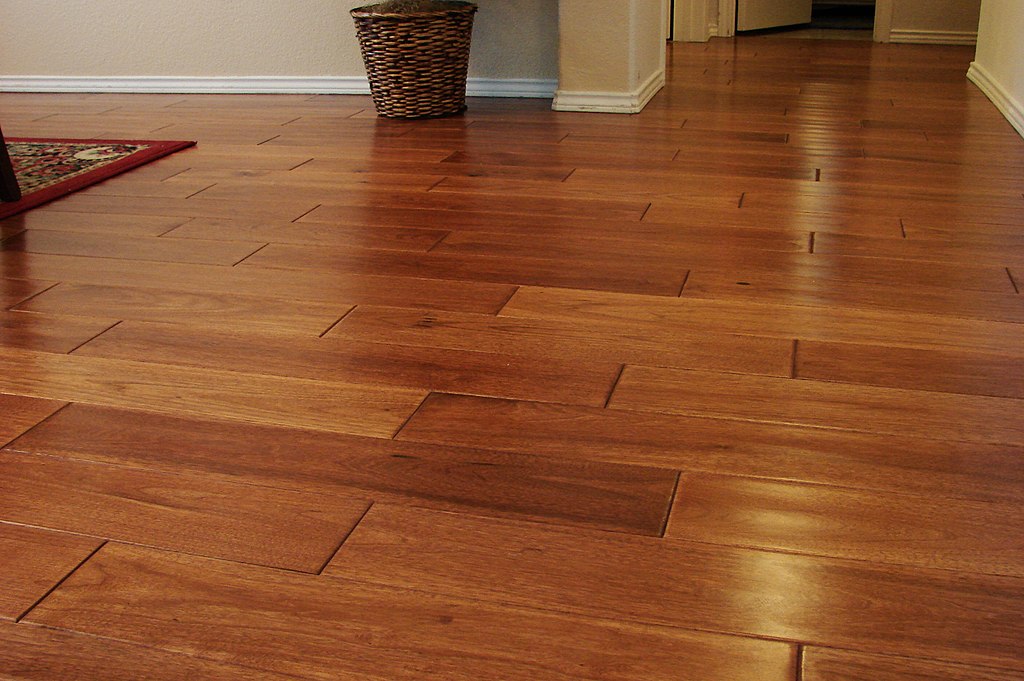 Engineered Floors
Engineered floors are made of plywood. This is generally high-quality to ensure durability. The plywood is overlaid with hardwood, giving it the same appearance as hardwood but it is substantially cheaper.
The styles and colors available with an engineered floor are the same as with solid wood floors. After all, the top layer of an engineered floor is effectively the same as the solid wood floor.
Solid Wood Flooring
As the name suggests this type of flooring is made up entirely of wood. That means it is one hundred percent solid wood.
This type of flooring is usually created in long planks and it has tongue and grooved edges to ensure it can be easily interlocked. Alongside interlocking the boards they will need to be nailed to the subfloor to prevent movement.
---
Read Also:
---
The Advantages of Solid Wood
Solid wood flooring is more expensive than engineered flooring. But, there is a good reason for this. Because it is made entirely of high-quality wood it is more expensive to create. In contrast, engineered flooring is predominantly plywood which is a manufactured wood and therefore cheaper to create.
Solid wood flooring is likely to last for between 30-100 years if looked after. In contrast, engineered flooring generally lasts between 20-40 years. That's still impressive but not in the same league.
It's also worth noting that a solid wood floor can be sanded and then refinished multiple times throughout its life without losing the integrity of the finished look. In contrast, engineered flooring can only be sanded once or twice. After this, you are likely to start seeing the plywood under the finish which will ruin the wood look.
You should also note that the depth of the planks is much greater with solid wood flooring than engineered. This helps it to last longer and improves its insulation qualities.
Finally, solid wood flooring generally has a wider array of color choices.
Engineered Flooring Advantages
Engineered flooring is similar in length to solid wood. The planks of both are at least 12 inches long. Engineered flooring planks can be as long as 60 inches while solid wood floors can extend to 84 inches.  Both types of flooring are the same width.
But, where engineered flooring comes into its own is its ability to survive in damp conditions. In humid and damp environments solid wood flooring is likely to warp, engineered flooring has a much higher resistance to dampness and is highly unlikely to warp.
Of course, engineered flooring is considerably cheaper to purchase. It can be just half the price per square foot.
Both floors are also easy to maintain, a regular vacuum and damp mop is all it takes to keep them looking like new. Of course, an occasional polish won't hurt, providing you choose a product designed for these types of floors.
Choosing Between The Two
The good news is that both types of flooring are an excellent choice for your home. There is no right or wrong decision. You will need to weigh up your personal situation and preferences to decide which is the best option for you.
That means considering cost, the color range, how long you would like it to last, and perhaps how likely it is that you'll need to sand it to deal with stains and damage.
It should be noted that while engineered flooring performs better in humid environments, neither of these flooring types is really recommended for use in damp environments, such as kitchens and bathrooms.
To help you make the right decision it's a good idea to look at several examples of these floors in-situ. This will help you to appreciate the subtle differences and make it easier to make the right decision for you.