An old damaged wood floor, the wording is enough to turn you prudent. It's old, and then it's damaged too.
The large amount you had to pay to install the floor, there is no sign of it. Then the issue remains there is no one else to blame for the dire state except you. The sadness intensifies. We concede.
Many of us have gone through this and learned the trick to take care of hardwood flooring the right way, the hard way. Welcome to the club and prepare yourself to try somewhat reinforcing your already damaged and old wood floor.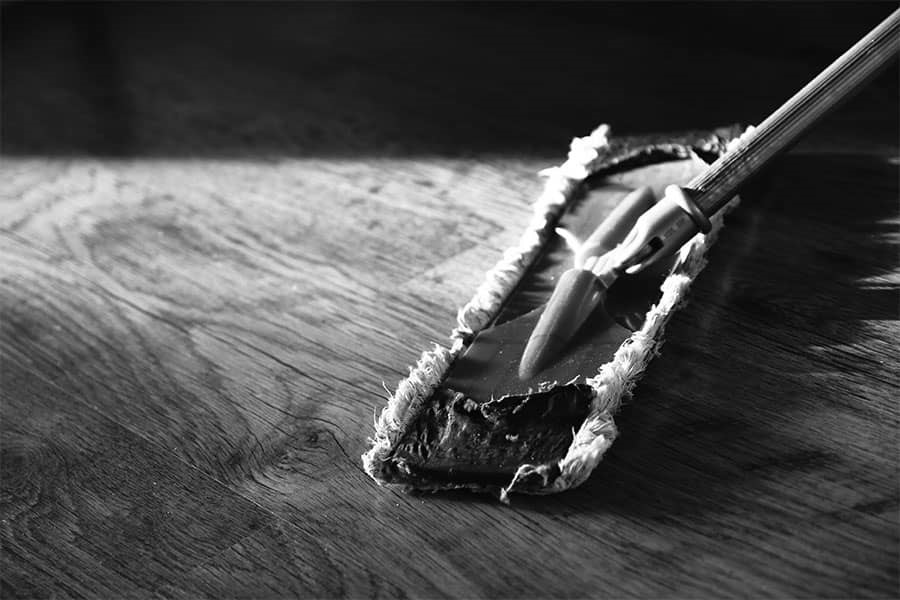 Here, we will share a few basic but essential tips on how to clean old damaged wood floors with you. Do not be astounded when you notice wood floors and basics in the same sentence.
How to Clean Old Damaged Wood Floors
Tip #1 – Choose Your Tools Wisely
The tools, products, and the process you have used and followed thus far to clean your hardwood floor, by now have clearly told you that they were not appropriate.
The way you were using those tools might also have played its part to damage the floor and make it old way before it should have been. The prime and common mistake we always commit is that not thinking twice before using random tools.
Like brushes, the worse scrub pads, and if there is anything worse than the scrub pads, it has to be the steel scrubbers. Let us emphasize it by saying using a steel scrubber on the wood floor has to be a crime.
If you had indulged yourself in installing expensive flooring, why would you turn pinchpenny while buying some high-quality cleaning tools and products, doesn't make sense!
If you didn't earlier, save your floor from further damage by buying some high-quality cleaning tools, like a vacuum cleaner, microfiber pads, hardwood floor cleaning machines, hardwood floor cleaning solutions, so on, so forth. And no, scrubber, please.
Tip #2 – Hardwood Floor Cleaner Machine
Always choose a cleaning machine that is designed and constructed for using it on wood floors. No multipurpose cleaner machine or a cleaning machine that can clean n-number of floor types.
There are plenty of high-quality hardwood floor cleaning machines available, so nothing to worry about. A Hardwood Floor Cleaner Machine will ensure thorough cleaning without damaging the already damaged floor.
Moreover, if it's designed to clean a wood floor, no matter whether it's a spray, steam mop, or any other type, you do not need to be too cautious.
The mop pad or brush and the moisture or cleaning solution you are using doesn't let you go harsh or spill too much. The machine itself knows what is suits the wood floor. That understanding proves to a boon while cleaning the damaged wood floor.
Tip #3 – Daily Dusting
It is not a light statement when it is said that daily dusting is the ultimate way to upkeep any floor. And when it's hardwood, and water is its nemesis, daily dusting becomes all the more important.
All the dirt and dust that layers on your hardwood scratch the surface while inhered on it. It's vital to remove those sharp, spiky, damaging particles from the surface so that these don't get a chance to leave irreversible scratches.
Plus, the more you leave those on the floor, the better the chances of them turning into grime and soot due to a few drops of moisture that none noticed had made its place on the already filthy surface.
Or who knows, you might have roamed around the whole house with wet sandals. So, no matter how tough it might be for you to manage, always try dusting your old wood floors daily.
The new one might have handled it better and took time to lose its sheen, but the old, damaged floor can never and be beyond any repair within days.
Tip #4 – Sweeping with Water
If it were all new, we would have suggested you not to sweep the hardwood with water. Use anything else, but not water. Staying true to that is impossible, though.
How can you clean a surface and disinfect it without mopping it with water? But then hardwood doesn't handle moisture well, so the less water you use, the better the wood will last.
What to do, thus the need for cleaner machines. Even if you use moisture, you use it sparingly. If you still want to clean the old and damaged wood floor, you can try mopping it with water, but only after wringing it thoroughly.
Twice a week that is it. And that is not enough; you must dry the wood surface immediately after cleansing it with water. You can mix a reliable hardwood floor cleaning solution in the water, mop the wood surface with it and disinfect it.
Tip #5 – Clean The Spilled Water, Foods, And Liquors at Once
Not just from the old, damaged hardwood floors, you must clean the accidental spills immediately from any surface. Otherwise, the spills will stain the floor pretty badly.
And to clean those stains, you will try hard, use harsh products, and further ruin the floor. When you instantly clean the mess, they will not get the time to stay and set in.
So there will be no stain. Also, sweeping the spilled water or food pronto will ensure the water or moisture doesn't seep in the old, damaged wood and ruin it from within.
Ensure you clean the warped, damaged portion of the wood thoroughly. The spilled stuff might have stuck in between the warped wood or crevices.
Immediate cleaning will not let the stuff rot or stink badly, and as they are not embedded yet, it would be easy for you to clean it with a mere pad or terry cloth with a few light sweeps.
Tip #6 – Recoating
If you notice the floor is only looking old and damaged because it has lost its sheen, then better to recoat it with a high-quality recoating tool and finishing product.
You can do it yourself with a buffer tool. The tool will remove all the ground-in dirt, work on the scratches, and turn the surface to an even one.
After you are done buffering, complete the process by applying an even coating of finish. Before recoating, make sure to do the dusting and thorough sweeping of the wood floor. Go gentle on the warped, damaged portions, if there are some.
Tip #7 – Take an Expert's Help
The look of your floor will tell you whether it is possible to restore it. However, wood floors are, most of the time, repairable. So it's better always to repair it immediately when you notice warping, scratch, or dent.
If you cannot do it yourself, call an expert. The service might cost you a little, but at least your already damaged floor will be safe and restored for you to have it for a couple of years more, satisfied without cribbing about an ugly floor.
If you thought it was hard to upkeep a newly installed wood floor, you were not wrong. If you thought cleaning and upkeeping the old one would be easy, think twice. But the elegance is such that the wood floor gets away with all the hassles it prompts and well deserves all the cosseting.