The key to a truly luxurious kitchen is one that is spacious, well-lit, well-equipped, and well-loved. This is a kitchen that will serve the needs of the cook and the needs of the cook's family.
The kitchen, therefore, needs to be a place where the family can enjoy themselves and spend time together.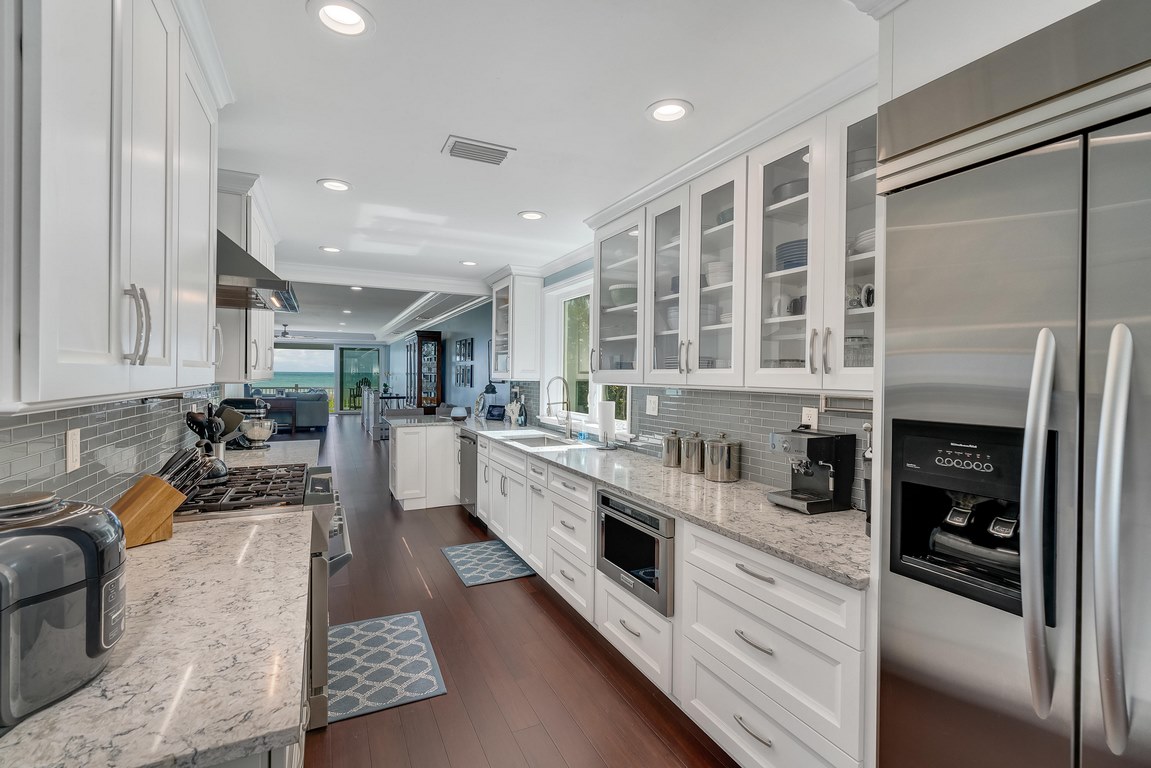 The kitchen needs to be so beautiful that it will inspire you to cook with pleasure and make time to enjoy the fruits of your labor. In this article, we will discuss truly luxury kitchen ideas.
However, if you want to know about luxury kitchen ideas, then visit the article on the Caesarstone website to read the article.
Minimalist Rustic
Minimalist kitchen design is a trend that many homeowners are enjoying. And, if you are looking to create a minimalist kitchen design, it is important to keep a few things in mind.
A minimalist rustic kitchen is all about simplicity and functionality. The space is well-planned with a large island. Sharp white and tan cabinets and natural wood flooring come together to create a modern and edgy kitchen.
For example, you should make sure that your kitchen is organized. In order to create a minimalist kitchen design.
---
Read Also:
---
Concrete Luxury
Concrete is an excellent material. It can be used for a variety of different surfaces, and it can be used to create a variety of different elegant luxury modern kitchen designs.
A concrete kitchen can be made from concrete flooring, a concrete island, concrete countertops, and even concrete cabinets. It can add value to your home, and it can be used to create a warm and inviting kitchen.
This is why a concrete kitchen is a popular choice for many homeowners. For example, you can create a practical and aesthetic kitchen.
Focal Point Islands
A true kitchen island is a focal point, a place to gather, a place to entertain, and a place to cook. It can be a special spot for a home chef or a special spot for the family to enjoy and socialize.
A kitchen island is a versatile space, a place to make all your food and beverage activities happen. The kitchen island is the hub of the home, the heart of the kitchen, and the center of family life.
Mixed Finishes & Textures
Whether you opt for a smooth surface or one with a soft texture and a more natural finish, there are a variety of options available.
With a contemporary look in mind, there is a great choice of stone surfaces that take inspiration from natural materials such as wood and stone, with the added benefit of using eco-friendly materials to create a more environmentally-friendly kitchen.
If you are looking for a more traditional finish, the use of a range of natural materials can give a kitchen that is both stylish and homely. For instance, a natural granite countertop is perfect for a kitchen with a traditional feel.
The soft granite is sure to add a touch of elegance to any kitchen and is a great choice for a kitchen that is intended to be practical and beautiful.
An Open Layout
A large open space is ideal when it comes to luxury kitchen ideas. Because it allows for easy access to the refrigerator and allows for easy access to the kitchen. If you have a small kitchen, this may not be possible.
However, even if your kitchen space is quite large, it's still a good idea to have an open layout. Because it allows for easy access and makes it easy to entertain. If you're entertaining, it's a good idea to have ample space available to gather guests.
Flooring That Holds Up
Flooring is a luxury item for a good reason. It can make or break a kitchen. It's a big expense, and it's an investment. Not to mention, it's a material that's difficult to replace.
The first thing that you need to ensure is that the flooring in your kitchen is durable because it will be standing up to a lot of traffic. This is especially true if you are having a lot of people over for dinner.
Think about a durable flooring solution if you need to invest in a new flooring solution. This is because it will help to ensure that the flooring will be able to stand up to wear and tear and keep on looking great for a long time to come.
Functional Kitchen Islands
Kitchen islands are a must-have in luxury kitchen ideas. They are a focal point and a great place to spend time.
Kitchen islands are a great space for preparing food, but it's also a place to entertain friends, family, and guests.
Whether you are looking for a single kitchen island or multiple kitchen islands, the kitchen island is a great option for a luxury kitchen. Because of its versatility, a kitchen island can be a great place for entertaining and socializing.
Integrated Lighting
One of the most important aspects of a luxury kitchen is the lighting. The lighting in the kitchen is equally as important as the layout of the kitchen and the countertops.
The lighting should be bright and help create a warm environment that will be conducive to cooking and entertaining.
When it comes to lighting, there are a few options that you can take advantage of. You can go for pendant lighting, which is ideal for creating a luxurious and warm environment.
Purposeful Storage
Storage is a must-have in a luxury kitchen. If you are like us, you will find that you will spend a lot of time in your kitchen. Whether you're cooking, entertaining, or simply relaxing, there will be many things that you will want to store in the kitchen.
Because of this, it makes sense to have storage options that are built into the kitchen design. One of the best types of storage is drawer storage. It will make your kitchen more efficient, but it will also add a touch of elegance to your kitchen.
Hidden Trash and Recycling
The last thing you want is to have to go outside and open the cabinet to get to the trash can. Instead, have hidden trash and recycling storage.
This can be accomplished through the use of concealed storage options that are integrated into the kitchen design. For example, you might have a recessed trash that can be made accessible easily.
Conclusion
In this article, we have covered how to create a truly luxurious kitchen. The kitchen is the heart of the home. It is where you spend a lot of time making good and awesome meals.
For this reason, you want to make sure that you have a truly luxurious kitchen. A luxurious kitchen is all about creating a comfortable space that will be conducive to cooking and entertaining. I hope you enjoyed this guide.