Your kitchen is one place that is commonly used by everyone in your home. It is a room that experiences heavy traffic from people looking for a beverage, meal, or sometimes just a place to chat.
But after a while, this space can feel a little lifeless. This is the time it is worth considering painting.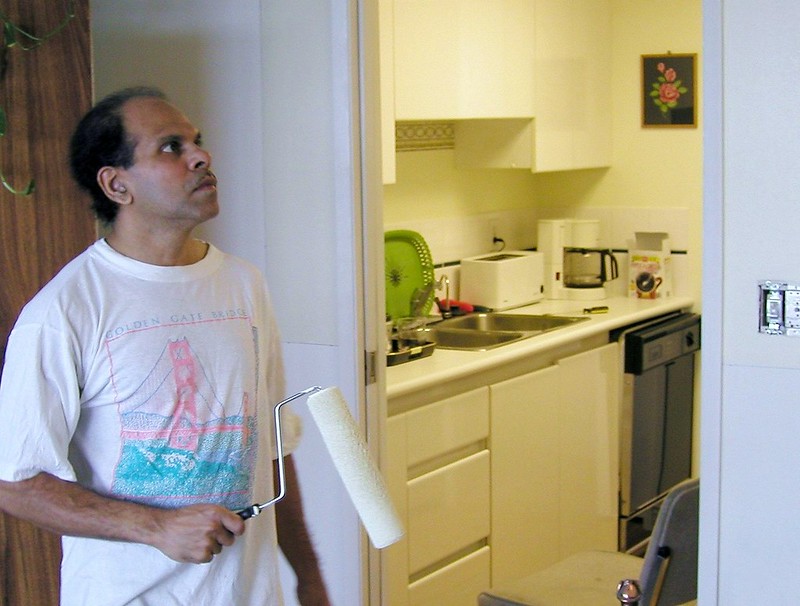 You may be amazed at the transformation that can occur just from giving it a fresh coat of paint. This can do wonders for changing the mood of the room and can also make meal preparation more enjoyable.
Consider repainting the cabinets, painting the walls, or even installing new tiles. For the best results, repainting the entire kitchen is an excellent way to give it a new look and feel.
Read on below for 9 great tips to ensure your kitchen painting project is a success.
1. Choose Colors Carefully
While you can rely entirely on an experienced house painter to choose the best color for your kitchen, you should at least have an idea of what you want to achieve before you seek guidance.
These days, most people go for neutral colors. However, this does not mean they are the best.
Different colors may be better suited to your existing decor. As such, depending on the style, preference, and layout of your kitchen, not all colors will be appropriate.
Some will be perfect, and others will be off completely wrong. Whether you choose gray, white, red, green, or ivory, you must create a welcoming environment.
2. Consider the Cabinetry
Cabinetry is always noticeable when someone steps into the kitchen. These draws and cupboards play a significant role in the room and must be considered during a painting project.
The colors you choose should match the style and décor of the kitchen and the appliances. If it is a small kitchen, light colors will be ideal as they can create the illusion of more space.
If the room is large, either dark, or light colors can both work well.
Also, think about the colors and style of the knobs for the capital. Sometimes a contrast of dark knobs, such as black, on light panels such as ivory, can work well together.
3. Utilise the Flooring
Painting walls, cabinetry, doors, and windows with complete disregard to the floor, will not give the best results. Make sure you match the floor, and also consider upgrading it.
A good house painter advises that you consider all the elements of the room before choosing the color of the paint.
The first dominant color is the cabinetry since it occupies a large space, and the floor will also take a lot of the focus too.
Incorporate the color and style of the flooring when choosing the colors of the walls, doors, and windows. They all need to work well together.
4. Update the Lights
Lighting is crucial in making your kitchen a sophisticated space. After all, you will have a hard time preparing great meals in a dark kitchen.
If you choose to go for neutral or dark paint colors, install lighting fixtures that will brighten it at night. During the day, there should also be sufficient light coming in from windows or even skylights.
If no natural light comes in and the lighting is generally dull, lighter tones will be ideal.
For the best chance overall, either replace the light bulbs or change the light fittings altogether. Consider LED downlights or spotlighting to create cool and modern effects.
5. Do Not Overdo Neutral Colors
Neutral colors are excellent for the kitchen. For example, gray is a common color, but some people tend to overdo it.
Painting everything in gray including the ceiling, cabinetry, the walls, and the floor can be quite boring. It will make the space look dull, especially in winter when there is no sufficient external light getting in.
If you must incorporate gray, make sure to use it sparingly and accentuate other areas with different tones and colors.
6. Create Smooth Transitions With Adjoining Rooms
If your kitchen is an open plan with adjoining rooms when it can be seen from, this is a must to consider.
The color scheme of the kitchen and these adjoining rooms must be well coordinated to bring harmony. The colors don't have to be the same but should at least go well together.
7. Incorporate Vibrant Colors if You Dare
Despite neutral colors being excellent for a kitchen, you should not be afraid to incorporate vibrant colors. If you love orange, red, yellow, bright green, or purple, choose one, or more and go for it.
If your chosen vibrant color is too bright, it can be used in small sections or to accentuate the space.
8. Protect Your New Paint
Without proper guards in place, it is easy for a door to swing open and damage a freshly painted wall. You do not want this to happen.
Instead, do your best to prevent repeated contact between the doors and the paint. This is where door and cabinet bumpers or prospector guards help in protecting the newly painted areas.
If these doors keep bumping into the paint on the walls and cabinets, it will just be a matter of time before it starts falling off.
This is the last thing you need as it will take more money and time to rectify. Even if there were bumpers before, check whether they are still in good condition.
9. Final Tip for the Best Results
If you are planning to remodel your kitchen, you should never paint it first. If you are hiring a professional house painter, they will ask whether you are planning to renovate.
Whether it is the tiles that need replacement, the cabinets, or countertops, any remodeling should be done first.
If painting is done and then a renovation follows, there is a very high chance the new paint will be damaged and thus will need to be redone.
Just make sure to keep your kitchen painting as the last part of any renovation work.
Final Words
Giving your kitchen a new life can be a challenging project without proper preparation. If there is remodeling that needs to be done, it should always be done before painting begins.
Choose the best colors for the kitchen keeping in mind the adjoining rooms. Also, consider the cabinetry, flooring, and lighting. By working with these elements you can achieve the best results.
Also, do not overdo neutral colors. Instead, include some vibrant colors to create a unique look.
Due to the challenges, it can come with, you should work with a professional house painter. They have the knowledge, expertise, and experience to recommend what colors and styles should work.
There is a lot of flexibility with the colors and quality that you can choose. Once the painting project has been completed, it is time to protect the paint.
You have a house to paint and you don't know how to go about it. You need to pick the right color, texture, and finish for your walls. Hire an interior painter, a painting contractor who will help you design the perfect look for your home!
Make sure there are door bumpers in place so that contact between walls and doors is reduced significantly.
For more house painting tips check out this article.