"If anything is good for pounding humility into you permanently, it's the restaurant business." – Anthony Bourdain
Owning a restaurant is a tricky business and as a restauranteur, if you are planning to give your commercial kitchen on share, then it is very important to revamp your kitchen.
In a foodservice industry, it is necessary to be always up to date in order to stay competitive in this thriving environment.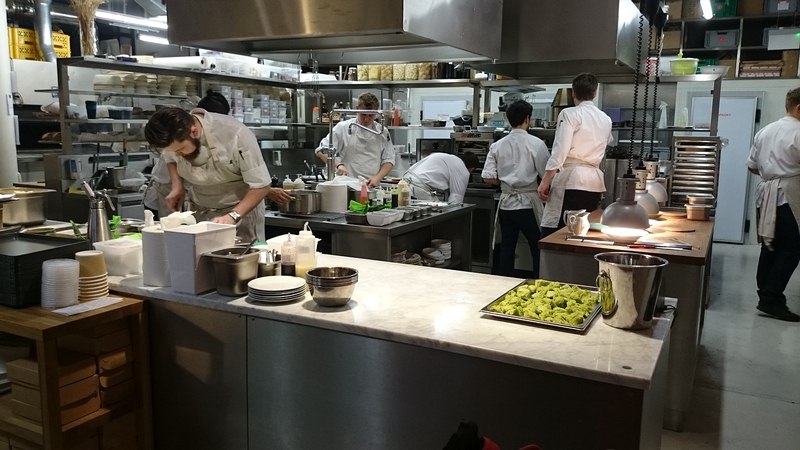 Tips to Upgrade Your Restaurant Kitchen
A restaurant kitchen is larger and it operates differently than a regular home kitchen. It basically needs a commercial refrigerator, dishwasher, work tables, disposable catering or take-out supplies, basic kitchen supplies, and steam table pans.
There are many things to consider when upgrading your commercial kitchen, but here are some of the most important tips to consider when implementing that touch-up.
---
Read Also:
---
Conventional Kitchen Equipment
First and foremost, conventional kitchen equipment is one of the most important things that you need and one of the biggest investments that you will encounter when doing an upgrade.
It is best to make that decision to upgrade during the first month of the year when. New equipment means new possibilities and the right set of circumstances.
Consider using energy-efficient equipment. This is more beneficial to restaurant owners when it comes to cutting down the costs of those monthly utility bills. Cutting back on those bills will give you enough budget to work on the future needs of your restaurant.
Energy-efficient equipment is likely to be the top of the line models, so it will improve food quality and output. And if you want to market your business as environmentally conscious, your equipment if the first one to look at because older appliances tend to take up so much energy.
And I know searching for that new equipment could be really exciting but try not to purchase the modish option for your kitchen. What you want are those long-term investments for your restaurant, not those that you would replace in a few months or years.
Right Commercial-Grade Appliances
Always buy commercial-grade appliances. Unlike before, there's a wide variety of commercial-grade appliances out on the market. Those appliances are well designed, easier to clean, and can maintain high performance and functionality.
When upgrading your appliances try considering those that will provide great aesthetic design and has the trademark that will last for years to come. Kitchens nowadays are colorful, convenient, and tech-savvy. Think about these options before finalizing your upgrade.
It is most important that you choose those appliances that you will need the most for your restaurant and do organize them in the most space-efficient way as possible.
Kitchen Layout
To make your kitchen more successful try organizing them in a specific pattern to increase performance and efficiency.
In a restaurant kitchen plan in Saudi Arabia or like any other setting, no two kitchens are the same, it is unique in every establishment and will function differently than the other. With that said, these are the things to be considered during the layout process.
Simplicity
Kitchen Workflow
Space Efficiency and Flexibility
Supervision and Training
Food Safety and Sanitation
Commercial Equipment
Air Ventilation
Storage
Your storage area could be split into 3 parts the dry, cold, and non-food storage. In the cold storage area, this is where you will put anything that requires to be refrigerated or frozen. Here are some types of refrigerators you should scout.
Reach-In Coolers
Walk-In Coolers
Undercounter Refrigeration Drawers
Restaurant Bar Refrigeration
Refrigerated Prep Tables
Merchandising Units
The dry storage will include all perishables and other non-perishables. You may also include here a receiving are for inventory shipments, this will help you in shortening the distance for the transmission of new stocks.
And maintain this area as organized as possible for easy access to what you be in need of.
Keep the heavier boxes at the bottom shelf to ensure safety for your employees. For the non-food storage, you can put here the clean dishes, disposable products, and cleaning supplies.
To prevent contamination, remember to avoid storing cleaning and sanitation chemicals above the equipment, disposables, utensils, dishes, or food.
Improve Your HVAC Efficiency
HVAC (Heating Ventilation Air Conditioning) is another factor for higher costs of energy. Apart from replacing that old equipment, try installing cool roofing to enhance the insulation and air sealing.
Include fans or air purifiers all over the kitchen, set the thermostat properly during nighttime to fit in with the season, and place refrigerators and freezers at a distance from the heat-generating equipment.
Cleaning/Washing
Always be sure to give into consideration where you'll take care of the dishes and the garbage. Conveyor and rack dishwashers will be the best choice for larger areas, an under-counter commercial dishwasher will be an excellent choice for small kitchens.
If you decide on not using a dishwasher, a compartmentalized sink should be considered. The cleaning section should be located near the storage area for chefs to speedily find the clean dishes, and also near the kitchen entrance for a fast drop off unwashed dishes.