A Real Simple Ways to Organize Pantry — Does this sound familiar? Half empty boxes, open bags, stale food and way more mess than you're comfortable showing the mother in law.
For years that was the sorry state of our food pantry. But last year I took a step back and really thought through what I wanted in a pantry. It had to be neat, tidy, everything having a place and items had to be easy to find.
A Real Simple Ways to Organize Pantry
Here are some tips to get your pantry organized (Ways to Organize Pantry) and help you get a sexy pantry.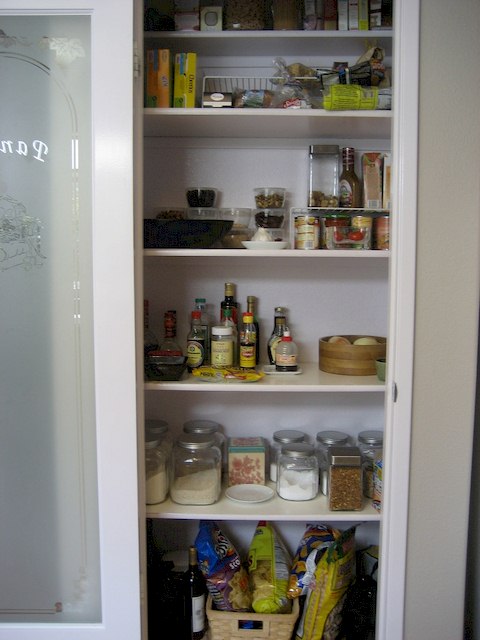 Describe its Current State
Is it messy, chaotic, disorganized, lacking structure? Can you not find things easily? Is there a light burnt out? Does the door squeak? Are the shelves crooked or cracked? By describing in detail what it looks like right now you're able to really identify the issues.
Describe the Desired State
By beginning with the end in mind you'll be more likely to achieve something that is very close to, if not exactly, what you want the first time around. So what do you want in a pantry? Will it have items in their original packaging or will they be put in plastic storage containers? Should it be organized by category (baking goods, pasta etc…) or packaging (tins, bags, boxes etc…)? Hopefully one desire is that you'll be able to find something within seconds so does this include labeling containers or shelves?
Who Cares it's Only a Pantry!
By writing out why you are doing this helps to further clarify and justify the effort you are putting into simplifying and organizing. Does it make you happy? Will it be easier to find things? Can you take pride in your finished product? Will you feel like a weight has been lifted? Will people comment on how great it looks and will you get a bit of joy from that? Whatever it is write out why you're even bothering to do this in the first place.
Friction
Friction can be crippling. Friction refers to those tiny hurdles that "prevent" you from doing something. By identifying the friction in organizing your pantry you can start thinking of ways you may overcome this. What are your sources of friction? Do you have kids that need your attention when they're up and when they're napping it's too loud to be going through your cupboards? Do you not have enough containers to do what you envisaged in step 2 above? Is money an issue?
After identifying these friction points address them, each and every one of them! Can you organize when the kids are up getting them to "help"? Can you get a relative or friend to play with them while you are doing this? Plan the containers, boxes, bins etc… that you will need and then give yourself permission to spend money on them.
Next Physical Action
Make a list of the next physical actions that will move you closer to the desired state you've identified in step 2. It could look something like this:
Pull everything out of the pantry and cupboards
Vacuum/clean the pantry
Make a list of items you buy and typical quantities
Estimate size of containers you will need
Go to shop X and purchase containers
Wash containers
Label containers
Fill containers
Create a plan for the pantry (where will everything live?)
Place containers in the pantry according to your plan
Do it
Now there is no excuse you have everything planned out, purchased and figured all there is left is to just DO IT!
Maintain Status Quo
It's well and good that you now have a very sexy pantry that you're proud to show off but what is going to keep it that way and how can you prevent it from reverting back to it's former ugly self? I think systems work if they are easy, well thought out and logical. It also helps if others using the system are on the same page or at least are aware of what the system is. I find labeling shelves is very helpful in making sure items are returned to their proper home. But hey nobody's perfect and there is a natural tendency for things to deteriorate, just catch it early and trust me the next time you need to re-org the pantry it'll be a breeze!
That's a Real Simple Ways to Organize Pantry. Let me know how you go on your quest to a sexy pantry! Share in the comments.