Soldier piles are the oldest type of retaining walls used in deep excavation or construction.
It is typically formed with H-shaped steel beams that surround the area with it being piled among the next, it was successfully used in the late 18th century in New York, Berlin where it got its original name. These form a barrier between the people around and the work to increase safety amongst everyone.
Alternative ways using caissons, circular pipes, and concrete piles can be used but at a greater cost for the equipment. Also known as "lagging walls," these usually are built around 2-4 yards apart with a height of about 4-6 yards high depending on how much it is necessary.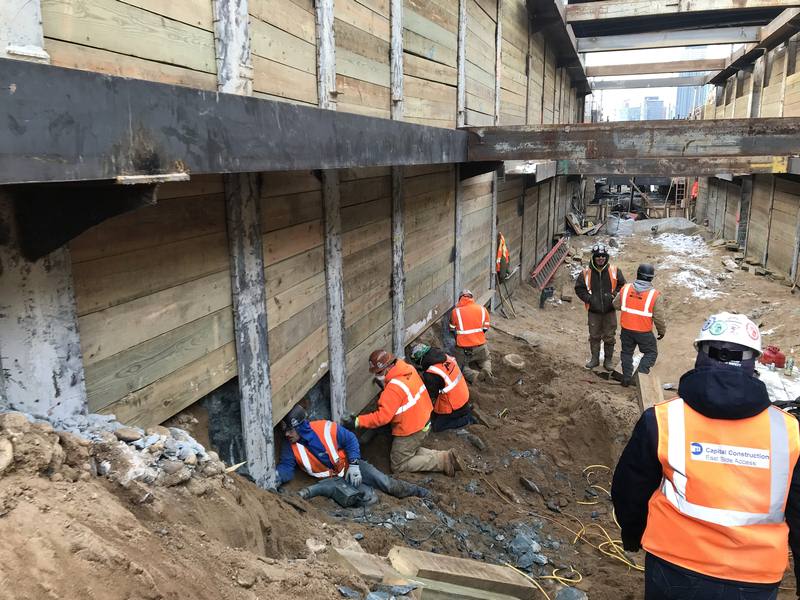 Soldier Piles and its Usage
These soldier piles are commonly found whenever:
There's a deep excavation going on.
Construction.
Repairs among the foundations.
These can be used for commercial or residential use especially in different types of renovation such as professional foundation repairs and such.
Also when walls are in extreme cases, supports like a tieback, bracing, or anchors can definitely hold these up for a more durable and stable use without having the chances of it toppling over ensuring that whenever in the middle of the work no harm can be done outside the barriers of these piles plus it makes it a protection against strong winds or any other disastrous climate that can damage the property in progress of construction or an excavation or diggings that is precious and worth the find making it be ensured that it should be in good forms of how it is supposed to be.
---
Read Also:
---
Soldier Piles and Lagging Needs and Appropriateness of Installment
Speed
Lagging walls are easy to construct and deconstruct making it more ideal to some projects that only require a short amount of time to finish. This particular kind of lagging is what most people need to require when building one as it is as easy as piling.
Cost
The price of material is essential as it requires less spending and more on having the items needed for lagging or soldier piling whenever the work is about to start. Knowing a lot more than just the ordinary materials and where most can be bought is also essential as it makes filtering the cost price, the viability and how the materials of building a soldier pile can be efficient and effective as it is.
Disturbance and Noise Fluctuation
Installing laggings or soldier piles is an intense labor for when beginning a project in that certain area and somehow it may also create noise as it requires moderate to heavy building and can actually take time to finish so while in its process of installation, the noise it creates and the disturbance it makes should be minimal and not too extensive of its intensive work due to its nature of it but to the point where it makes others feel uncomfortable whenever they are around while in the process of installing one.
Making sure that these are minimal to others will make great help as it also can be beneficial when also working in residential areas.
Flexibility
Spacing layouts and management over the land with total control whether the builders get the last minute replacement before finishing is also beneficiary before installing a lagging or soldier piles just to make sure the people have enough space to work with or have more than a square foot of dirt to work with.
Soil Types and Limitations
Laggings and Soldier Piles require a bit more than just a typical soil on the ground, laggings are drilled beneath which make its standing a lot sturdier but depending on what stands on people should know its clay type and the density of a soil and how fast can it drain the very force when the laggings are drilled beneath the surface to ensure that these barriers maintain an amount of stronghold in its certain area it is containing.
Seeing most of its benefits and the needed specifications or having to avoid the unwanted problem can make work a lot easier. Installing the barriers around while giving into considerations before hard labor takes place can mean a lot to people and to the workers behind the barriers, meaning that it's not the comfort nor the anxious of the space taken on land but also the safety of one to another can mean a different thing when putting consideration and carefulness in the line of work.
Soldier Piles and Laggings and the Inappropriate Installations
Taking caution when installing soldier piles and laggings can mean well into work especially when it concerns about the workers' safety, and here it shows what can be avoided and what can be made a solution:
Soft Soil
Determining the type of clay you stand on and the density it has or how much thickness it holds can mean the laggings' durability or sustainability to stand on. Avoid smooth or thin clay as doing so cannot hold as much pressure to what these barriers can give.
Size Limit
Laggings and Soldier Piles also have height limits, meaning that it shouldn't go beyond the given height. If neglected and is built to higher elevations, the barriers can become less and less stable until it reaches to the point where the one pile can mess another pile, one thing for sure keep a pile as sturdy and good as possible with an average type of height for it to cover much vertical length in terms of it.
More Piles
Though inserting more piles just to avoid having taller piles become less sturdy, it can increase the chances of erosion, a problem in the soil to which it can be so hard to either put back a decent platform for these piles to stand on or the spacing to count in when trying to figure the much-needed space for work.
Suggestions, Considerations, and Hints
Before trying to install Soldier Piles or Laggings and such, studying the soil can be very effective to help its sturdiness as it is much as a requirement to make sure nothing happens as expected when installing the piles, doing so can help many different kind of problems like personal injury, loss of property or in worse cases fatal results which, in contingencies, can be very difficult to resolve which is why certification and licensing in soil studying as well as construction is highly recommended as it can bring about lesser expectations of problems.
This suggestion strongly applies to deconstruction as it can still also cause harm to others without close supervision to the professionals.