All of us know that the most prominent part of our homes is the roof.
It protects our properties and our families from unfavorable weather conditions. Therefore, you must plan suitably whether you get your old roof repaired or a new one altogether.
Before you immediately drive to the hardware store to purchase some shingles. You will have to consider many factors before opting for an actual installation.
Say, for instance, your roof is drooping, then that indicates a structural problem that needs to be addressed right away.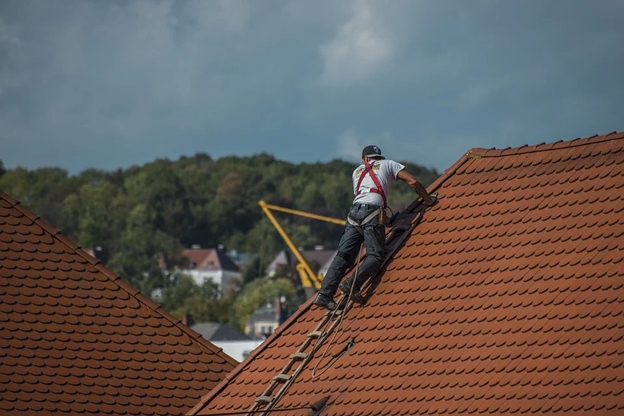 Inspect your roof's slopes; if you see the shingles are curling and buckling, then your roof needs immediate replacement.
To ensure everything ends upright, here are the seven most crucial things you must remember regarding your home roofing.
1.  Choose Between Layering on and Peeling Off
A critical decision to make with pulling out the existing shingles is to layer it or install a new one. To abide by the building code, you should not have more than two layers o shingles on the roof. Since the second layer can put a lot of stress on your roof, you must peel the old coating.
If you face money and time constraints, laying a new layer of shingles over the original is recommended.
Get rid of the old roofing, especially if you have a pitched roof and an old, coiled top. This suggestion will work for you if you reside in a windy region.
However, if you live in colder temperatures, stripping the old roofing permits installing a rubber membrane. This membrane shields your house against water and ice. Stripping off old roofing material can be costly at times, thus make an informed decision between peeling and layering.
2.  Price
Most of us are attracted to the cheapest option. However, that should not be our approach when we want to replace our roof.
Another thing to keep in mind is that exorbitant prices would also not translate to excellent work done. We say opt for quality over price any day.
Since roofing is a one-time job, most contractors pay less heed to quality as they do not hope for repeat work.
And, since it is your house and you will spend a considerable amount there, indulge in extra homework before contracting a company. Say yes to the contractor with positive reviews and experience.
3.  Select the Appropriate Material
Consider the lifespan, price, and appearance when choosing your roofing material. For example, asphalt shingles are economical options, but they have the shortest lifespan.
Metal or concrete shingles last long, on the other hand, and are a great choice if a long-term investment is what you are looking for.
Apart from slate, shakes, and asphalt shingles, you can opt for metal roofs that are superior in both looks and performance.
While some of the materials can be three times pricier, they will enhance your home's curb appeal, resale value and also last longer.
We say examine each option thoroughly and think about the pros and cons of each. If selecting a material is stressing you, hire experts to come and have a look at your roofing.
---
Read Also:
---
4.  Choose the Appropriate Roofing Company
Are you an ambitious DIYer who has tried to install roofs very many times? We say stop. Opt for an insured roofing company like Blue Ladder Roofing Indy to install a shelter of your choice.
Request quotes for the task and does not fall for low bids. Remember that simple asphalt shingle installations may be achievable, but they may not be worth the risk.
5.  Ventilation
If you desire a long-lasting roof, ensure it is adequately ventilated. Make sure your roofing contractor assures you of top-notch ventilation mechanisms and superlative vents for the roof.
This step will go a long way in modulating the attic temperature during summer and trapping moisture during winters.
6.  Protective Covering
Ice and water can both be catastrophic for your house, especially if they fall on the walls. Thus, your roofing contractor must never out the shingles directly without any protective coverings.
If you reside in an area that receives snow and high rainfall, keep this thing in mind. To ensure perfect roofing, make sure additional materials like fasteners and drip edges are installed.
7.  How Loud is the Process?
Roof replacement is a loud process. Hammering and stripping the old shingles cause oodles of racket. If your pets, children, or you are sensitive to blasting sounds, it is best to stay separately before roof replacement occurs.
We recommend letting the neighbors know as well that the roof replacement will be a noisy project ahead of time.
Conclusion
Roof replacement is a critical investment; do not leave it up to any chance. Stay informed and weigh each decision carefully before making a choice! We hope you liked our blog, and your roof lasts a lifetime. For any additional tips you have, please care to let us know in the comments.