Metal roofs offer a significant number of benefits to homeowners. However, most homeowners do not enjoy these benefits because they do not regularly clean and maintain their roofs.
If you own a metal roof and you want to learn more about how to clean it, this article is for you.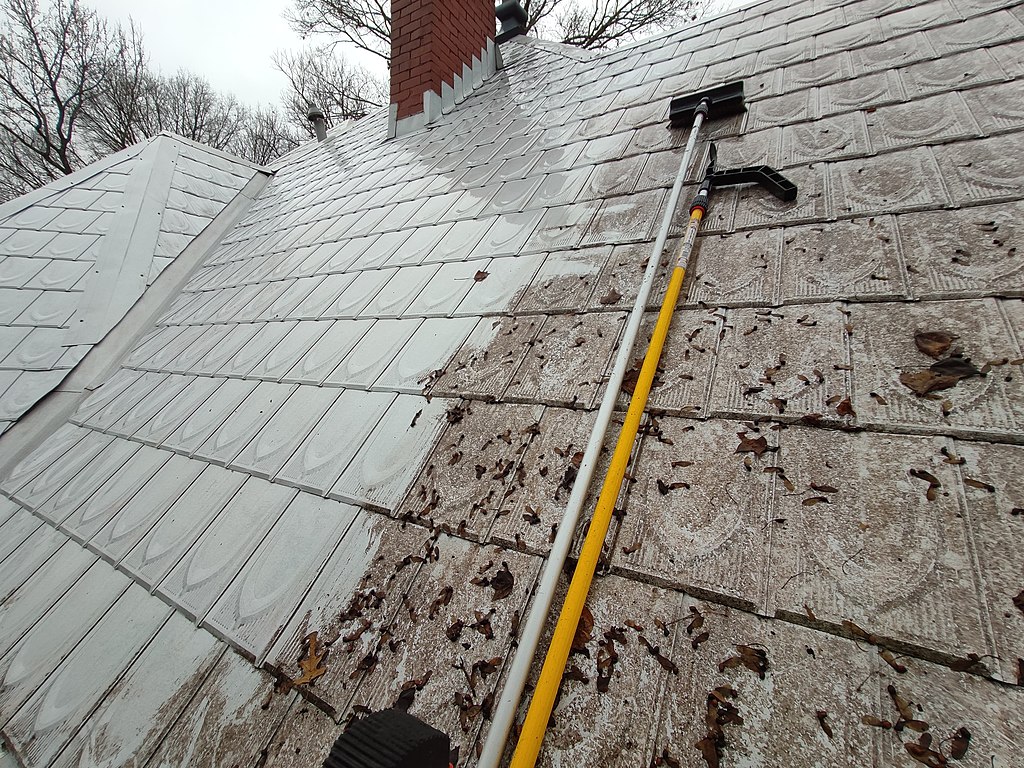 Reasons You Need to Clean Your Metal Roof
Your roof is an investment and should be treated as one. This roofing contractor says proper maintenance of your metal roof helps keep the roof longer.
Meanwhile, listed below are reasons why you need to clean your metal roofs regularly.
Preserving the Look and Preventing Discoloration
Apart from helping the roof maintain its beauty. Removal of dirt and detritus from the roof's surface will prevent discoloration and possible mold growth.
A discolored roof may lessen the value of your home and may discourage future buyers.
---
Read Also:
---
Removal of Stocked Debris
Debris like tree barks, branches, leaves, and various forms of dirt can accumulate on the roof, especially if tall trees surround your home.
When debris accumulates on a roof, it can cause the roof to start leaking or rust. Accumulation of debris can also lead to pest infestation.
Extension of Roof's Durability
Proper maintenance of a metal roof prolongs its life span. Cleaning a metal roof protects the critical elements of the roof.
These elements include things like the; panels, surface, and coating paints. Although metal roofs are designed to have high durability compared to common asphalt.
Still, metal has to be properly maintained and clean to ensure its sustainability.
How to Clean A Metal Roof
Most homeowners fail to clean their metal roofs due to insufficient knowledge on how to clean them.
Proper cleaning of metal roofs makes them last long and function optimally. When it comes to roof cleaning, it is important to follow and adhere to necessary safety measures.
This is to avoid damage to the roof and your body.
Nine Basic Steps to Clean A Metal Roof
The first thing to do is to get a helpmate for the cleaning process. Do not attempt to clean a roof alone because of emergencies. A partner will help you take gears, notify you of hazards, and can call for help in case of accidents.
The next thing is to put on shoes with a firm grip. Ensure the underneath is devoid of stones and dirt to avoid scratches to the roof.
After shoes, protecting yourself is next. This can be achieved by putting on a safety harness. This will protect you from falling. You can attach it between the harness and a thick party of the roof.
Employ the use of a strong, safe ladder approved by the Occupational Safety and Health Administration.
Read and understand the manufacturer's instructions of any cleaning material you intend to use. Some cleaning products may not be suitable for your roof and may deface the paints used for your roof or cause rust. Toxic cleaning substances can cause the injury and death of plants in your home.
After all safety measures have been followed, start cleaning from the ground. Use a long broom or blower to remove debris and dirt. Climb the roof to remove hard-to-reach stains or debris.
Clean and wash dust or dirt with a garden hose. For stubborn dirt, you can use a power washer for stain removal.
Wash off tough stains with soap and water. Use brush or sponge for effective removal of stains.
Use special cleaning products for stains that refuse to remove. However, make sure you contact a professional cleaning firm before applying it.
Signs of Metal Roof Damage
Loose Shingles
Elements of metal roofs are constructed to attach firmly to the roof. However, their firmness can be weakened by wind, faulty installation, and other weather conditions.
A defective or loosened shingle is an indication that your roof needs maintenance.
Mold Growth and Rust
Mold growth and rust are strong indicators of a deteriorating roof. Aside from not being unappealing to sight, mold can cause severe damages to your metal roof.
Mold and rust should be taken care of once sighted.
Dents
Deep dents in your roof make it prone to leakage. This will, in turn, lead to a reduction in durability and integrity. It can also cause corrosion and roof rust.
Although roof cleaning sounds like an easy task still, it requires some level of expertise to get right.
Suppose you don't have the time to learn about it or have the necessary tools for it. Your best bet is to hire an expert to get it done.