Looking for an apartment can be a time-consuming thing to do.
There's a lot of effort involved in apartment searching, and when you do find the right new apartment for you, you'll want to make some changes to make it all your own.
You might not be able to make permanent changes when you're renting a new apartment but there's still a lot you can do to improve it.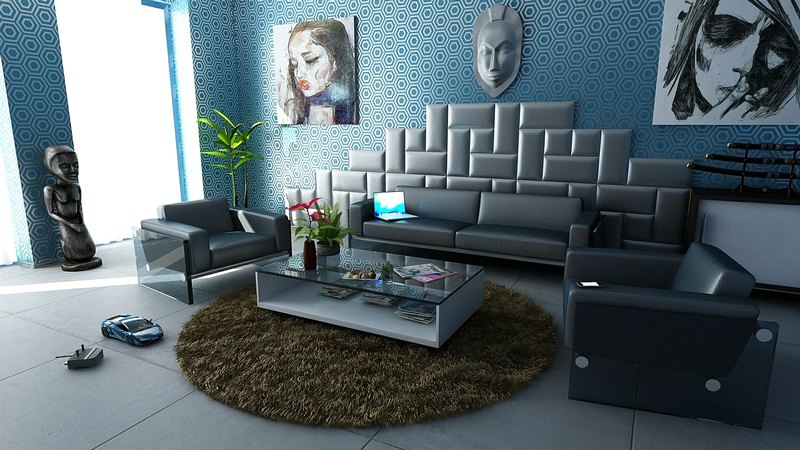 After you've finished apartment searching and signed the lease on your new apartment the fun can really start. If you're wondering where to start when it comes to improving your new apartment you're right where you should be.
Now that you've moved from looking for an apartment to sprucing up your new place, here are some things you can do to improve your new apartment.
---
Read Also:
---
1. Use Removable Wall Coverings
The walls in your new apartment are probably a very basic looking white color. Most landlords aren't going to let you make permanent changes like painting your whole place, but that's not an issue with temporary wall covering options.
You can get removable wallpaper on Amazon or other online retailers without spending too much extra cash. You can also use wall-friendly washi tape to create geometric designs over certain areas of your apartment's walls. Washi tape won't leave a residue, and if you want an amazing accent wall somewhere this is a great option.
In your kitchen, you can use removable tile to create a backsplash on the walls. They're very easy to put up and you'll be surprised at the way it changes how your new kitchen looks.
If you're feeling extra adventurous you can also use this same idea to cover the floors in your kitchen or bathroom with stickers meant to cover your floor and look like more expensive tile.
2. Get Some Plants
If you have a green thumb then go for the real deal and get some plants that you can care for and help thrive in your new apartment. If you aren't as gifted with making plants grow and look great then go for some high-quality fake plants.
A lot of the fake plants you can get right now look really realistic so you won't have to worry about tacky plastic-looking plants at all.
Plants might seem like something that is unimportant but they really warm-up space and make it more inviting. When you're improving your new apartment this is a step you shouldn't skip.
Find some plants you feel suit your own personal aesthetic and place them around your new home as you see fit. You don't have to live in an apartment-sized rainforest but you shouldn't opt for skipping plants entirely either. Find a good balance and go from there.
3. Change the Shower Head
Your apartment is probably going to come with a pretty basic shower head, but you can change that out very easily and it won't even be super expensive.
Just make sure you save the original one so you can put it back when you move out. You won't want to leave behind the nicer upgraded one when you leave.
You can find a ton of different options on sites like Amazon or even eBay. And you can choose between various finishes, different spray types, or other fun features like a shower head that lights up when you are using it.
This is a simple change that will make you feel like your bathroom is a more luxurious place to be once you've upgraded your shower a little.
4. Use Area Rugs to Personalize Bland Carpet
Most apartments come with the most basic carpeting available. It's functional sure, but not very attractive to look at. You can change up the feel of your new apartment with some area rugs.
Search for fun colors and designs that really suit your own personal taste. Use them to bring a whole room together.
Area rugs are pretty easy to maintain so they're a great option for a little extra insurance on your security deposit. If you spill on an area rug it's much easier to deal with than a stain on the carpeting you're covering with the rugs.
You can find great deals on area rugs if you keep your eyes peeled so this tip isn't going to break the bank either.
5. Spruce up Your Smaller Finishings
It might seem so minor that you won't even notice it but changing the switch plates in your apartment to something more decorative and fun to look at can change how your whole room looks. Switchplates with fun designs and unique looks are very easy to find and install.
You can save the originals to put back when you move, so it's not a change you'll need to worry about the landlord having a problem with.
Look for switch plates in colors that complement your design choices in the rest of your new apartment. If you like ornate finishings you can find switch plates that are very decorative instead of going with a more minimalist option.
It's all about what you like best. When you see the difference this small change makes you'll be glad you did it.
You can also change out any knobs or pulls on drawers and cabinets. Again, this might seem insignificant but it's all about personalization. Changing any hardware in your kitchen is another step in making your new apartment your own.
There are many options to choose from when it comes to metal finishes and design elements so you're sure to find something that suits you without looking too hard.
Moving into your new apartment should be an exciting thing. When you keep in mind the ways you can improve your new place to make it even better you'll have the best experience possible. You've already put a lot of effort into looking for an apartment so don't let that effort go to waste.
Keep in mind what you've read here and made changes that you'll love. Personalizing and improving your new living space will be worth the effort when it really feels like home. When you're finished moving and all settled in you'll be glad you took the time to make these small changes. Enjoy.