Dealing with damaged sewer pipes is an absolute nightmare for property owners. The damage disrupts the daily activities within the affected spaces. It also costs money to repair or replace the defective piping.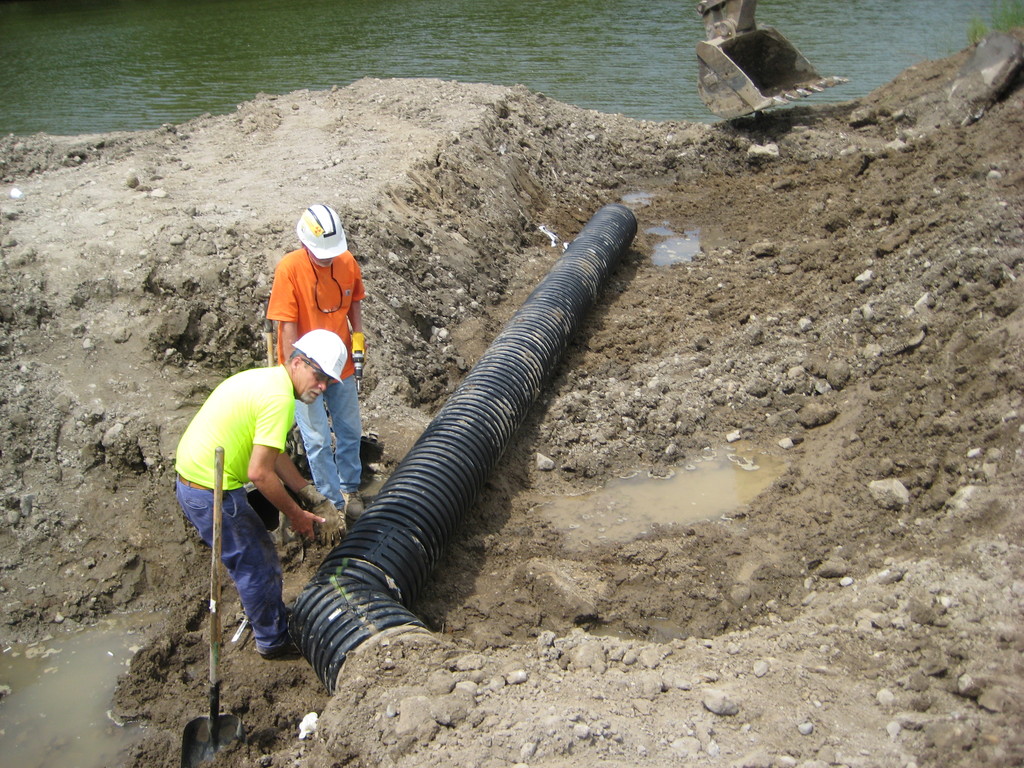 To make it worse, these plumbing issues are quite unpredictable. Plumbing mishaps appear at the worst times, often catching you off-guard and unprepared.
When sewers burst, there are no two ways about it: they have to be fixed by professional plumbers as soon as possible. There is no way you can delay fixing a leaking toilet or a burst pipe until the weekend or holidays are over. Sewer pipes should be repaired immediately. If not, the whole house becomes unlivable and unhealthy.
 So, what are the ten common tell-tale signs that you might be dealing with damaged sewer pipes?
1. Blocked Sewers
Blocked sewerage pipes are the most common symptom of a broken drain pipe. If your toilets and sinks get clogged regularly, there could be a bigger underlying plumbing issue. Damaged sewer lines pave the way for other problems, such as tree root invasion.
The latter scenario occurs after the leaks cause nearby root systems to gravitate towards your damaged sewer lines. The invading roots amplify the existing leakage points. And that often quickens the bursting of these pipes. It also leads to contaminated water flowing into your taps.
2. The Presence of Sewerage Odors
Another common symptom of damaged sewer lines is the presence of awful sewerage odors in your house. This foul smell is often more pronounced in the bathroom or under the kitchen sinks. The best remedy for dealing with such unsanitary smells is to call a professional plumber or browse teamemergencyplumber.com and find a professional near your to unclog the sewers.
3. Slow Draining
If you notice that it takes longer for your sinks or toilet bowls to drain, there is damage to the piping. Tree roots are a leading cause of slow drains. Another sign you should be on the lookout for is a gurgling toilet.
If the toilet produces weird gurgling sounds when you flush, there could be a broken sewer line somewhere in the system. Call a professional to inspect the sewers and remove any roots in the pipes. Move quickly to avoid escalation of the situation.
---
Read Also:
---
4. Multiple Blockages
Multiple clogs are yet another common sign of a defective sewer system. Multiple clogs indicate bigger, undetected problems in the main sewer lines.
Therefore, if you have fixed a clogged toilet only for the kitchen fixture to develop problems the next day, you need to have the main sewer line inspected and repaired right away. In the long run, these damaged sewer lines cause permanent clogs. The latter issues are typically costlier to repair and fix.
5. Sunken Gardens
Unexplained sunken holes in your garden are also another sign of a faulty sewer pipe. These holes appear directly above the damaged pipes. What happens is that the burst pipes suck in the soil above, which creates a sunken hole. These holes will not only lead to sewer line blockages, but they also pose a risk to anyone, especially children, playing in the garden.
6. Unusual Green Grass Patches
If you're experiencing a damaged sewer pipe, you might also notice the appearance of unexplained grass sprouts. These lush patches appear in areas with leaky pipes. You might notice new grass growing in your front yard or along walls.
This growth stems from the influx of nutrient-filled water into the soil surrounding the sewer pipes, however, this can be controlled. Water leaks need to be addressed with great urgency by professionals. Leaving water leaks unattended leads to homeowners facing higher water bills.
7. Rat Infestations
Rats live deep inside the sewers and have no way of accessing your living spaces. But, if the sewers are damaged, the rats find a path to move into our homes. Therefore, a sudden surge of rats is indeed a cause for concern. Failing to repair the damaged sewer lines may exacerbate the rat problem.
Therefore, do not delay a second longer if you notice an upsurge of rats roaming around your kitchen or attic spaces. Call a plumber immediately.
8. Unexplained Sinkholes, Foundation Cracks, and Settlements
The sudden appearance of unexplained floor cracks, settlements, and sinkholes on your property is a worrying sign. These symptoms indicate that there is a bigger problem with your sewer pipes. If you notice these symptoms, the issue has persisted for some time.
Act quickly to repair or replace the damaged piping to avoid compromising the integrity of the structures on which the house may fall at any time. When faced with cracked foundations or sinkholes, you require both a plumber and a mason to come over and restore the proper form and functioning of your property.
9. Unusual Water Pools
Broken sewer pipes often lead to water pooling in and around your property. This damage causes the toilet flush water or the kitchen drain water to come out through the cracked pipes and fill the garden holes or sinkholes. Water pools encourage the breeding of mosquitoes and other unwanted disease vectors.
Therefore, if you notice strange water pools on your driveway or patio, reach out to experienced plumbers to get to the root of the problem before the entire drain system stops functioning.
10. Insect Infestation
Damaged sewer pipes also cause the insect population to skyrocket. As was the case with rats, these bothersome and potentially harmful insects find their way into your living spaces through the minute cracks in the sewer system.
Therefore, if you notice an increase in the number of silverfish or flies, call a plumber. The professional plumber will perform diagnostic tests to figure out the underlying issues.
 How to Prevent Further Sewer Line Damage
Homeowners have several options to prevent worsening the existing damage to their sewer pipes. The first solution is for the homeowner to hire a professional plumbing technician to assess the current issues and fix them right away.
The second option is to perform a complete overhaul of the whole sewer line system. To do so, property owners have to partner up with a qualified plumbing company with the relevant qualifications, experience, and plumbing equipment to sort out the existing sewer problems.
Summary
Damaged pipes expose the entire household to many potential health risks. Preventing damage, especially to old piping, is virtually impossible.
If you notice any of these ten common symptoms of damaged pipes on your property, always act quickly and call a professional plumber. Delaying sewer repairs leads to larger problems that are more stressful and more costly to fix.