Have you ever encountered an issue with your pipes that can seem insurmountable, let alone something like a broken drain pipe underground?
No matter how big or small the problem is, plumbing repairs can be time-consuming and costly.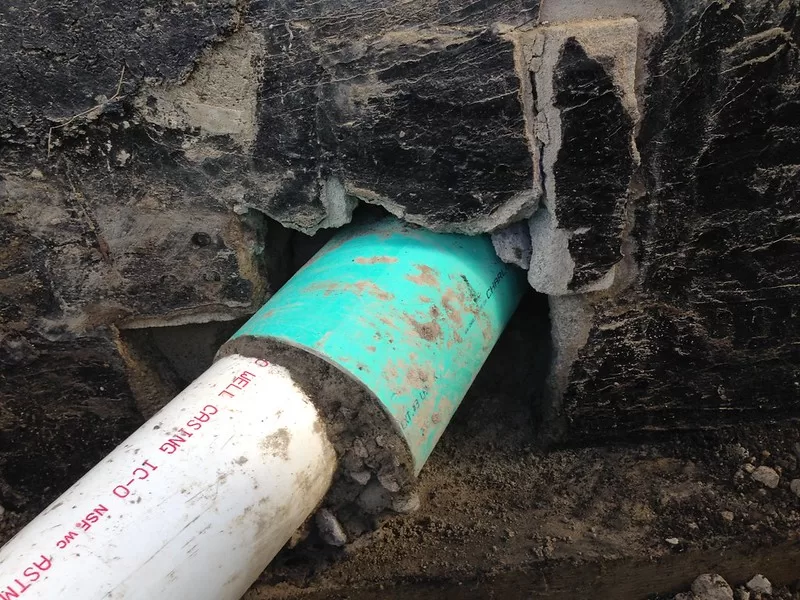 But luckily for you, fixing a broken drain pipe that's buried beneath the ground doesn't have to be daunting — our guide will walk you through each step of the repair and explain why it's important to hire a professional if the problem persists beyond basic DIY repairs.
Continue reading to learn how to fix a broken drain pipe that's underground.
If you need help repairing an underground drain pipe, you can rely on the team of technicians at Clover Services.
Identify The Location of The Broken Underground Drain Pipe
When attempting to identify the location of a broken underground pipe, it is important to use a range of techniques.
If you want to learn how to fix a broken drain pipe that's underground, the first step should be checking for any visible signs outside that might indicate where the pipe is broken, such as an unusual pattern in grass growth or soil displacement. If those are inconclusive, then using ground-penetrating radar may be necessary.
This technique measures subsurface structures, allowing the team to more accurately locate the specific spot where the pipe has been damaged.
Finally, after reviewing all gathered data and properly locating the break, excavation can begin. Utilizing this method should ensure that the broken pipe can quickly and efficiently be located and repaired.
---
Read Also:
---
Dig A Hole Around the Broken Pipe So You Can See It and Access It
You'll need to take the time to dig a hole around a broken underground pipe — not only to gain visibility but also to access the pipe itself with ease. It is advisable to start small and slowly dig wider circles until you have dug down into an appropriate depth.
Once the adequate size has been reached, carefully excavate any exposed sections of the pipe so that you can assess the damage. Doing this will ensure that you are able to locate and identify any problems, while also allowing you to effectively repair or replace it.
Cut Off the Damaged Section of The Pipe Using a Hacksaw or Pvc Cutter
Next, you'll need to cut off the damaged portion with a hacksaw or a PVC cutter. If you're trying to learn how to fix a broken clay drain pipe, you may want to use a hacksaw.
Hacksaws are sturdy tools that are great at cutting materials like clay.
In contrast, if you're trying to learn how to fix a broken PVC drain pipe that's underground, you may want to opt for a PVC cutter.
While cutting, gauge the length of the damaged area to ensure that it is not too short; if it is, it could cause additional problems during repairs. This process requires precision and attention to detail in order to ensure complete repair of the underground piping system.
Get Rid of Any Build-Up That's Inside the Pipe
To clean out any dirt or debris from a broken underground pipe, using a plunger or snake is an effective technique. Plungers create pressure to force debris upwards, while snakes are designed to help dislodge clogs and extract particles that may be stuck in the pipe.
When using either tool, it's important to ensure the surfaces of the pipe and plunger/snake are kept clean so that material does not become redistributed within the system and cause additional damage.
The plunger should also be adequately lubricated with water to minimize friction and reduce any potential harm to the pipe.
 Lastly, never use a wire hanger as a substitute tool as it could scratch the interior of your pipes creating an even bigger problem.
Glue A Coupling onto Each End of The New Section of the Pipe
Installing a coupling on each end of a section of a new underground pipe is an essential part of a successful installation. It must be done properly in order to ensure a leak-proof and secure connection, and prevent any problems from arising further down the line.
Great care should be taken when measuring, cutting, and gluing the coupling to each end as errors can lead to flooding or other costly consequences.
All workers involved must make sure that they have the right tools and materials for the job, as well as pay close attention to their work throughout.
Insert The New Section of the Pipe into The Old One and Glue Them Together
The two sections must be carefully aligned before applying an adhesive to ensure the new and old pipes are firmly joined. For added security and longevity, clamps should be used to help secure the bonding while the adhesive dries.
This process may require additional time and materials, but it is necessary for creating a stable and long-lasting union.
How To Fix a Broken Drain Pipe That's Underground — Conclusion
If you have a broken drain pipe and it is located underground, do not try to fix it yourself. Contact a professional plumbing service for assistance. They will be able to properly diagnose the issue and provide a solution that will get your drains flowing again.