In order to lead a happier and healthier life, you take care of yourself, go for regular checkups and maintain a healthy diet.
But did you do the same for your home sweet home? If you are unsure about this question, then you've come to the right place.
You should know that the health of your home is as important as yours. And this is something many homeowners tend to overlook until the problem starts getting worse.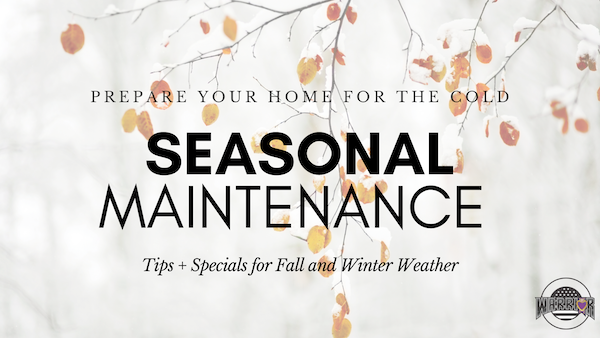 Plus, owning a home is a huge responsibility. Without proper maintenance and care, the health of your home might even start deteriorating.
So, you need to smoothly navigate your home's seasonal upkeep to keep its health in check throughout the year. And here's a maintenance checklist that can help you with the same. Use it to prolong your home's health.
1. Fall Season
Home maintenance practices during the fall season are all about prepping your house for the upcoming winter season. Plus, it also focused on repairing the damage caused by the rainy season.
So, here are some things you need to do to ensure the upkeep of your house during the fall season.
Try testing the sump pump by turning it on and pouring the water down.
Start removing and storing your window screens.
Install storm windows to mitigate any potential risks.
Start winterizing your central air-conditioning system. Or, if you have a window unit air conditioner, this is the perfect time to remove it.
Take your furnace, boilers, and other heating appliances for annual maintenance.
Seek professional help to clean your chimneys.
Use foam covers to prep your outdoor faucets.
Clean your lawn, backyard, garden ponds, and other water fixtures to remove all the leaves and debris.
Reverse all your ceiling fans. Once the vanes start rotating clockwise, it would be easier for you to distribute the warm air throughout the room.
---
Read Also:
---
2. Winter Season
With the drop in temperature and harsh elements present in the atmosphere, your house undoubtedly goes through a lot during the chilly season.
This is especially true for homeowners who live in areas that receive a huge amount of snowfall, such as New York, and Nashville. Obviously, you wouldn't want to take care of any last-minute problems in the middle of a blizzard. Right?
So, focusing on home maintenance is actually preparing your house for potential damage control.
Here's how you can keep your home's health in check during the chilly season.
Get your gutters checked by a professional to look for ice dams and eliminate them before they become a problem. The experts will also check for any frozen pipes to prevent the risk of bursting.
Spruce up on insulation to maximize the functioning of all your heating appliances.
Check your roof for any leaks or cracks that might become a problem after a heavy snowfall. For instance, it would be feasible to look up online and seek advice from your local Roofing Contractors Nashville for better results.
Prevent the risk of indoor flooding by grading the ground next to your home away from your entryways.
3. Spring Season
Spring cleaning is definitely a great way to kickstart your home maintenance routine and prep your home for the summer season. Not to mention, it is also a perfect time to get on with the long-term projects such as denting and painting, and repair the damage caused by harsh winter weather.
To make things easier for you, here we have a checklist that can help you keep your home healthy during the spring season. Keep reading to know more about it.
Use a water hose to clean the gutters until they start draining properly.
Check for damage in the exterior siding and make necessary repairs.
Look for cracks or leaks on the roof. And before you step on that, it would be best to ensure that it is dry and safe to walk. Seek professional help from roofing contractors to take a good look at shingles and vents and repair them as needed.
Check if the trees in your backyard have grown anywhere near the power line. It would be best to contact your local electrical company for pruning.
Re-install your air conditioners in the late spring.
Get the insulation removed from outdoor faucets and make sure all the sprinkler heads are in good condition.
And lastly, you would need to reverse your ceiling fans and make sure the vanes are rotating anti-clockwise. It will ensure the downward movement of the air and maintain the temperature of your room.
4. Summer season
The best part of the summer season is that with higher temperatures and less precipitation, you are able to work under favorable conditions. This means that the summer season is the best time to make some intensive repairs you might have overlooked before.
So, here are some of the home maintenance projects you can undertake during the summer season.
Pain your backyard and fence as required.
Look for cracks in your deck and make necessary repairs.
Don't forget to wash and apply a sealant over your wooden fences.
Get rid of debris from your window wells.
Make sure you flush out the water heater and empty the sediment before detaching it from the furnace.
Build a robust drainage system to steer clear of any problems during the rainy season.
Clean your kitchen's exhaust fan filter.
Empty all the drip trays from your refrigerator and clean freezer coils.
Check around the bathroom, kitchen, and toilets for leaks.
Clean your pool and get rid of the accumulated debris in and around it.
To Sum It All Up
No matter how much you decorate your home's interiors to make it look pretty it needs to be healthy and strong from the inside. This, in turn, will ensure that you don't end up compromising with the comfort in your living space.
So, use the seasonal maintenance checklist mentioned above and ensure sound health for your house throughout the year.
Do it right, and you wouldn't have to deal with any last-minute home maintaining issues.
That was always the plan. Right?