Home remodeling is far from anything as simple as cutting a cake. It requires extensive research and hard work.
People generally contemplate for months if they should opt for renovations before finally mustering the courage and indulging in it. And when the outcome is opposite to what they had in mind, it devastates them.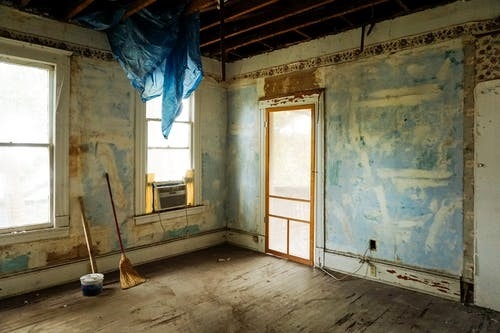 Moreover, upgrading your house takes a bite off your savings. If you make mistakes, your hard work and money may go to waste. Thus, you must prepare a plan and try your best to avoid costly errors.
Knowing beforehand about remodeling errors makes you vigilant and enables you to have a smooth upgrade. That said, listed below are some mistakes that you must avoid during the renovation of your house.
1. Not Vacating The House
You might be tempted not to vacate your home entirely and shift your belongings to one of the house's rooms. Often workers suggest covering things with sheets to save them from damage while indulging in the renovation work.
But for proper remodeling, you should empty the house. This way, you can prevent damage to your stuff and personal injuries as well.
If you're anxious about your belongings, you can easily rent storage units in your neighborhood to stash stuff. Most of them have cameras installed and guarantee security. They also have climate control features, so your precious belongings won't sustain damage either.
2. Rushing the Process
Remodeling is a time-consuming process, and in most cases, it takes longer than the anticipated time. You may find it uneasy living upside down and may want to rush the process.
However, plumbing, installing electric appliances, carpeting, painting, or upgrading flooring is time-consuming, and you can ruin them by speeding through tasks.
Let the workers do their work with total concentration and do not rush the process. Rushing it will not give you your desired results, and renovation workers may end up making a grave mistake.
---
Read Also:
---
3. Wrong Measurements
Renovation demands you to take several measurements, especially if you're re-doing the floors and walls or dividing the space to create more rooms. Mismeasurements can ruin the entire project.
Therefore, you should double-check them before purchasing equipment and getting down to business. It would be better if more than one person measures to avoid any miscalculation.
Mismeasurements result in improper installation of tiles or flooring or wrong placement of electric wires or appliances. Furthermore, it may waste your money and time if you have to re-do something. Take some time and at least take measurements twice to avoid any miscalculation.
4. Miscommunication
Renovation is not a one-person job. Multiple people have to join their minds and efforts to complete the task. It would help if you precisely communicated what you want and should not leave any room for ambiguity.
Often people use a middle person to communicate the instructions. Miscommunication occurs when they leave any important details out and do not convey complete messages.
So, manage communication properly and send precise messages. Establish boundaries beforehand and clearly state the desired outcome. Besides, it would be best to overlook the work to ensure it aligns well with your requirements.
5. Choosing Low-Quality Products
Home improvement projects can be expensive. In many cases, the cost goes way beyond expected and can burn a hole in your pocket.
Therefore, people opt for cheap products to save some money. Although markets have multiple low-quality products, you should understand that such products are not always long-lasting.
Remodeling happens once in years, and people must choose high-quality products to avoid any repairing work.
Cheap products may save you some money now, but you will have to spend more money in the long run, making the whole process more expensive.
6. Ignoring Functionality
One of the reasons people go for renovation is to upgrade their homes and make them trendy. Trends change now and then. However, you cannot opt for remodeling every other year.
While you can keep current kitchen or bathroom trends in consideration, you must choose functionality or fads. Several trends appear beautiful and glamorous, but they are not very practical.
Suppose you have kids or pets. Opting for wooden flooring may not be a good idea as they may scratch it. Similarly, if you have an ailing and elderly family member, consider installing railings to prevent them from falling.
7. Setting Unrealistic Timelines
People often set unrealistic timelines and then rush the whole process. Most of the time, they opt for contractors and set a timeline that is impossible to meet.
Workers either do not put in the required effort or ignore the details, leading to grave errors. You must have a thorough discussion with your contractor and establish a feasible timeline, keeping all factors in account.
8. Indulging More than One Project Simultaneously
Divided attention often produces low-quality results. Do not let your contractors or other workers work on more than one project simultaneously unless you employ separate teams.
They will not give 100 percent attention to your project, and it may backfire. Besides, it would be better to do one room at a time and then move to another. Workers will perform the tasks with full concertation, minimizing the chances of making errors.
9. Ignoring Curb Appeal
Several people think about the inside of the house and do not consider the exterior. Investing in the outer appearance of the home makes it more appealing, making the first impression solid.
While you indulge in the renovation, think about the exterior. Change the front door, install new lighting, or refresh the landscape to raise curb appeal. Aside from making the house more practical and trendy, it increases the worth of the property.
Conclusion
Home renovation is stressful, exhaustive, and can break your bank. During home remodeling, your mind runs in all directions, and you tend to miss out on essential details.
One wrong measurement can ruin the entire kitchen layout. You need to be vigilant and must consult professionals before finalizing the renovation. You must not neglect the original structure and should focus on the quality.
Experts recommend not rushing through the project and must think twice before taking any decision. Home improvement is an investment, and indulging in it with a proper plan can dramatically increase the property's value.