Modern architecture is defined by the technologies and innovative styles of construction that were new at the time.
We can identify Victorian architecture by its ornate details, gabled roofs, and wrap-around porches; however, the factors that define modern architecture were formed out of opposition to many of the architectural styles that preceded it.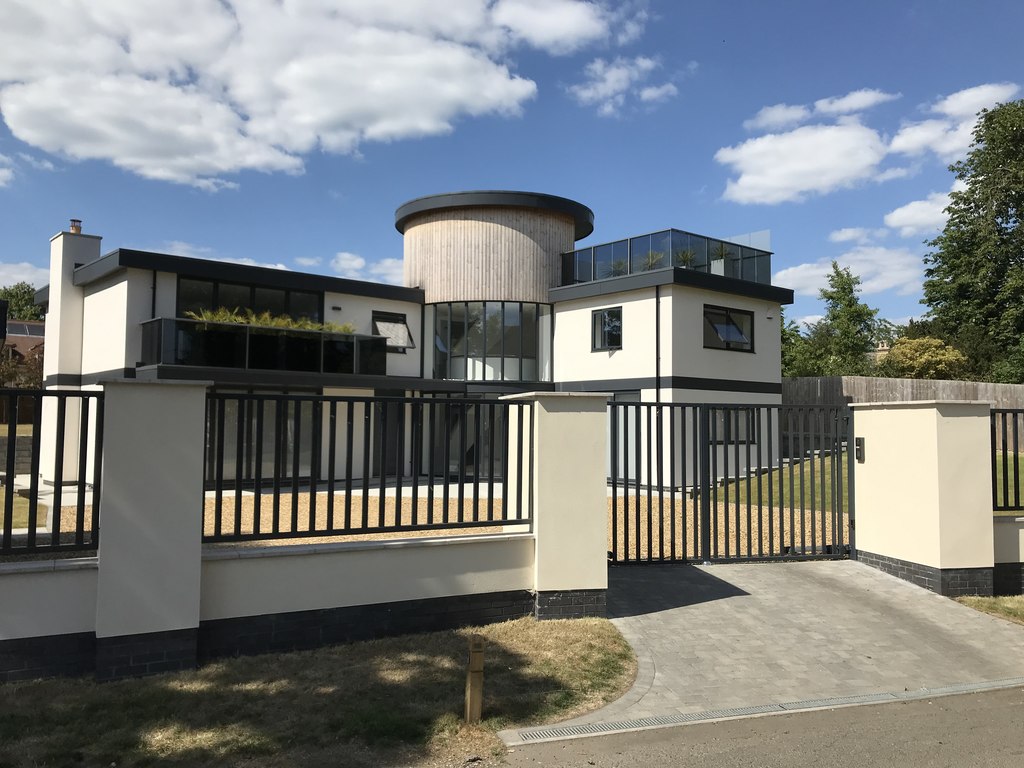 What design architecture firms consider to be contemporary in 2022 has been heavily influenced by the modern architecture era.
In this article, we dive into some of the defining factors of modern architecture, detailing exactly what makes it so unique. Keep reading to learn more…
What is Modern Architecture?
Modern architecture is an innovative sector within architecture, born from the revolution of engineering, technology, and industrialization.
Within the transition from hand-crafted construction to machine-made development, modern architecture was born from a time of experimentation.
Its main purpose involved a deep belief that architecture should involve function. The defining factors of modern architecture were not so much about beauty and decoration, but more so functionality and purpose.
Modern Architecture vs. Contemporary Architecture
While many homes that are being built today have elements of modern architecture, they should not be regarded as modern homes.
Because modern architecture was a result of the collision between early technology and construction, the timeline of modern architecture is said to be between the 1900s and the 1960s.
Contemporary architecture, which is defined as the trend of the present era, may incorporate many elements of modern architecture but is not to be regarded as modern architecture.
---
Read Also:
---
What Defines a Modern Home?
Architectural styles like that of Victorian and Gothic Revival homes were based on ornate features, decorative gables, pointed windows, and large porches.
Modern homes, however, opposed the flashy features of the preceding architecture styles, making their biggest defining factor the absence of adornment features.
Modern architecture was based on function – many of the decorative elements of previous architectural styles disappeared. Instead, modern homes are defined by several unique factors.
Minimalism
Modern homes are minimalist in nature. Modern architecture has eliminated all ornate details and emphasized clean, simple craftsmanship. The exterior shape of the home is typically rectangular or composed of a series of rectangles.
The edges and corners of the home are sharp and well-defined. The house is made to look smooth in appearance or has very delicate textures on the exterior walls.
Minimalism was also evident within the floorplans. The rooms were large, constructed purposefully to feature excess space. This called for a minimalistic interior design, too, which eventually was written off by many designers for being too "cold" and "rigid."
Flat Roofs & Broad Roof Overhangs
Most modern homes typically have a flat, horizontal roof that accentuates their rectangular dimensions. Others will feature a broad roof overhang that is flat in shape.
Modern home construction is built with energy efficiency in mind, so their roofs are built with proper ventilation, insulation, and thermal protection in mind, using organic materials whenever possible.
Modern Materials
Because modern architecture was born from new technology, many modern buildings incorporated materials that were new to architecture at the time. These materials include:
Poured concrete
Steel
Cast iron
Sheet glass
Organic materials
Another key feature of modern architecture is the way it has redefined the use of popular materials from previous styles of architecture. This included revolutionizing the use of wood, brick, and stone in a way that emphasized aesthetic design.
Large Windows
One of the biggest focal points within modern architecture is the importance of natural beauty.
This is why modern architecture often features very large sheet glass windows that reach from the floor to the ceiling, exposing the interior to beautiful, natural light.
Due to their size, these large sheet glass windows effectively mesh the interior with the exterior's landscaping, creating a cohesive design between the inside of the home and its natural landscaping – which brings us to the next point.
Connection to Nature
The large windows serve to mesh the interior with the outdoors, which is expected to have landscaping that features native plants and flowers.
Additionally, modern homes emphasize natural materials such as wood, often leaving it untreated and exposed. Stone is another commonly used, natural material that is used to give these futuristic-looking homes a more natural appearance.
Not to mention, the exterior of the home is usually earth-toned with only one or two accent colors to pop out against the natural tones.
Open Flow Between Rooms
Instead of confining each room by its function, modern homes aimed to create a cohesive flow throughout the home by removing the walls.
For example, you can expect to see very large and open living rooms that flow right into the kitchen, which could be separated by nothing besides the kitchen island or counter.
Another exhibit of this could be a wooden wall partition between the living room and the entry area. This was meant to create a relaxed, casual structure of living, removing the need to confine ideas and connotations to a particular room.
Asymmetry
Despite modern homes typically being constructed into a rectangular shape, one key defining feature of modern architecture is the lack of symmetry.
Architects tactfully planned asymmetrical elements into the home, making it look casual and "thrown together," despite being very meticulously thought out.
This allows the architects to play around with different patterns, textures, and colors while using asymmetrical shapes to accentuate the bold features of the home.
Conclusion
Modern architecture was a unique turning point in architectural history and has paved the way for many of today's contemporary styles.
Despite modern architecture spanning from the 1900s to the 1960s, there are many elements from this architectural style still featured in today's homes and buildings.
Next time you are taking a stroll in your neighborhood, see if you can identify any modern architecture – do you see any large windows, neutral tones, natural materials, flat roofs, or interesting uses of asymmetry? Can you tell which homes are modern and which are contemporary? Maybe you might just have a slice of architectural history right on your block!