As homeowners, our focus is often on maintaining the appearance of our homes and making necessary repairs, but one important aspect that is often overlooked is the insulation in our homes.
A well-insulated house can provide countless benefits, including reduced energy bills and increased comfort for those living in it. However, over time, insulation can become damaged or outdated, leading to a decrease in its effectiveness.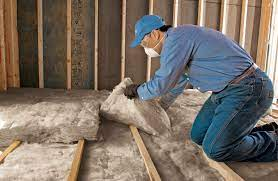 This is where insulation removal becomes crucial. By removing old or damaged insulation, homeowners can maximize their home's comfort and reap the many benefits that come with it.
In this blog post, we'll be discussing the importance of insulation removal and the benefits that it can bring to your home.
We'll be exploring the many ways in which Anchor West County Insulation can improve your living situation, including increased energy efficiency, improved air quality, and enhanced overall comfort.
We'll also be taking a look at the various types of insulation removal available, as well as the benefits of working with a professional insulation removal company. So, whether you
Insulation removal can improve energy efficiency and lower utility bills:
Maximize Your Home's Comfort: The Benefits of Insulation Removal
Insulation is an essential component of any home that helps regulate its temperature and protect it from the elements.
However, insulation can become outdated, damaged, or contaminated over time, leading to reduced energy efficiency, higher utility bills, and decreased home comfort. This is where insulation removal comes in.
By removing old, inefficient insulation and replacing it with newer, more energy-efficient materials, you can significantly improve your home's energy efficiency and lower your utility bills.
The Anchor West County Insulation process ensures that your home maintains a more consistent and comfortable temperature, allowing you to enjoy a healthier, happier living environment.
---
Read Also:
---
Removing Old or Damaged Insulation Can Prevent Mold, Mildew, And Pest Infestations
Removing old or damaged insulation can provide several benefits for your home, including preventing mold, mildew, and pest infestations. Over time, insulation can become damaged and break down, allowing moisture to penetrate and create the perfect environment for mold and mildew growth.
Additionally, pests such as rodents and insects can make their way into your home through damaged insulation, causing potential health hazards and costly repairs.
By removing and replacing old or damaged insulation, you can create a clean and healthy environment in your home, maximizing your comfort and peace of mind.
Contacting a professional insulation removal service can make sure the job is done effectively and safely.
Replacing Insulation Can Improve Indoor Air Quality and Reduce Noise Pollution
One of the most important but frequently overlooked benefits of insulation removal and replacement is the impact it can have on improving indoor air quality and reducing noise pollution in your home.
Over time, insulation can collect dust, mold, and other pollutants, which can have a negative impact on the air quality. Also, as insulation ages, it can compress, resulting in reduced effectiveness in blocking out noise.
By removing and replacing the insulation, you can significantly improve the air quality in your home and create a quieter, more comfortable living environment. It's important to work with a professional insulation removal and replacement company to ensure the job is done safely and effectively.
Insulation Removal Can Help Identify and Fix Moisture Problems Before They Cause Structural Damage
Insulation removal is a crucial step in maximizing home comfort and efficiency. In addition to boosts in energy savings and improved indoor air quality, insulation removal can also help identify and fix moisture problems before they cause structural damage.
Moisture can seep into insulation and cause mold and mildew growth, which can lead to wood rot and other types of structural damage.
By removing old insulation, homeowners and professionals alike can assess the state of the insulation and diagnose any current or potential moisture problems.
Once the issue is resolved, new insulation can be installed to prevent future damage and maintain a healthy living environment. With these preventative measures in place, homeowners can rest assured that their homes are protected against hidden moisture damage while enjoying the benefits of optimal comfort and energy efficiency.
Upgrading Insulation Can Increase the Value of Your Home and Make It More Comfortable
Upgrading insulation can be a practical and effective solution to maximize the comfort of your home, especially during extreme weather conditions. It can also have a significant impact on the value of your property.
By removing old or worn-out insulation and replacing it with updated materials, you could lower your energy bills, improve indoor air quality, and increase your home's overall value.
Not only can update insulation keep your home at a comfortable temperature year-round, but it can also prevent heat loss in the winter and excess heat gain in the summer. Overall, proper insulation is an essential component of maintaining a comfortable and energy-efficient home.