"The kitchen is a place of adventure and entirely fun, not drudgery. I can't think of anything better to do with family and friends than to be together to create something." -Ted Allen
Kitchens are one of the most occupied spots in the entire home. And as homemakers spend maximum time here, this place remains well-organized and clean all the time.
When talking about a static kitchen, one cannot think of anything more than backsplash, cabinets, essential cooking appliances, etc.
But if we pay attention to the current homemakers' demand and style statement, things have changed drastically. One of the biggest changes is the overall decor scheme of the kitchen area.
Nowadays, people love to keep everything subtle yet vibrant. And that's possible when you play around creatively, try your hands on some DIYs, and make every unique decor idea work for you.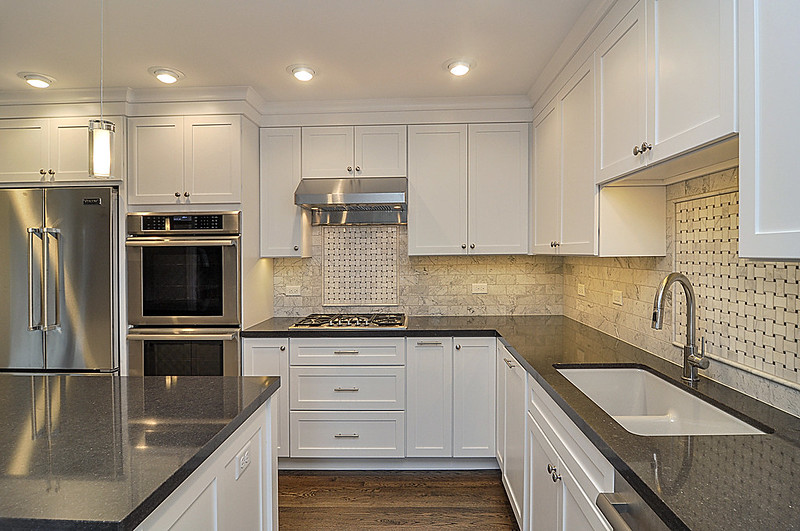 Plan Everything According to your Convenience
Working in the kitchen demands convenience and easy access to everything available. Therefore, plan your space accordingly. For instance – keep the breakfast bowls, cereal, oats, etc., near the breakfast table for easy access.
This way, you can locate the dishware somewhere near the dishwasher to simplify unloading. These are some easy and effective ways to keep you organized and clean in your kitchen.
Don't Forget a Walkway
The pathway throughout the kitchen should be somewhere 36 inches at least. However, this is the ideal estimate, but keep ample space empty to make the kitchen look spacious and beautiful.
Besides the decor, it is essential for a safe cooking experience. A clumsy kitchen stuffed with appliances and dishes can be a major reason for unexpected accidents.
---
Read Also:
---
Keep Appliances at Corners
Kitchen Appliances Like
Microwaves, ovens, or refrigerators should be placed at a corner so that your guests or kids can access them without disturbing your cooking time. This will keep your space look more organized and hassle-free for you and your family.
Storage is a Concern
When it comes to exploring the messiest corners of the kitchen, it's nothing but the shelves or cabinets that are overloading with utensils.
However, many homemakers see it as a major hurdle to keep utensils organized inside the cabinets, but that's easy when you are going with customized cabinets.
Currently, the market is flooded with many Discount Kitchen Cabinets designed to meet your unique needs. All you need to do is share your expectations and requirements, select the best suitable options and get them at your home in no time.
While choosing the next kitchen cabinets, make sure to evaluate its quality and see if it suits your current decor theme or not. Otherwise, consult the kitchen cabinet provider for the best options available for you.
A Feature Light
However, natural light seems great for the daytime, but having a feature light in your kitchen area can uplift your mood and space's appearance effectively.
Although you may be a pro in picking the right lights for your home, you need to think twice when it comes to getting the one for your kitchen. Kitchen lights should be chosen on different parameters like –
What if it ruins with oil and cooking smoke?
Will the color or texture of the light or lamp stay in the kitchen area?
What is the ideal light size required for a kitchen?
Ask yourself all these questions before landing upon a specific light.
If you are running out of ideas and thoughts on this, go for a LED hanging light designed in a geometrical design to enhance the overall look and feel of the kitchen.
Greens are Important
We all have been listening about the perks of having fresh herbs and vegetables since childhood. So, when not make it a part of your kitchen decor? Most interior decorators recommend creating a kitchen garden within your space and enjoy its perks forever.
Plus, there is nothing more satisfying than sniffing the fresh herbs and chilies from your kitchen garden while cooking. Get some colorful pots and plants to make the place look vibrant and lively.
Make Some Space for Sitting
Who would not love to enjoy food coming straight from the kitchen? That's the genuine fun of homemade food. So, when you are about to remodel the kitchen, make sure to keep ample space for a bit of dining table within the kitchen area to utilize the space adequately.
This is the best way to keep your living space free from the clutter of passing on the bowls and winding up an after-dinner mess all the time.
Add Life to your Kitchen Space
Giving your kitchen a basic appearance and theme is significant to make the place look lively and appealing. Therefore, think of a quality backsplash to turn things upside down.
All thanks to the different tiles and water-resistant wallpapers available in the market to sort out this task for you. Surf through the other tiles and background sheets to give your space a much-required texture.
Flooring
If not much, you can think of getting a new flooring at least. This is enough to give your kitchen a new look and feel effortless. If we talk about the latest trends, there is nothing better than the wooden tiles or real-wood floor.
It adds grace to your place, makes the site look cleaner and better in all aspects. All you need is to choose the right wood type for kitchen flooring purposes.
Some Crucial Elements to Keep in Mind When Remodeling Your Kitchen Are
Unarguably, kitchen remodeling is a fun and lifetime experience. But at the same time, make sure you are considering a few essential elements of the same. It includes –
Your budget
Your space available
How much time you can spare on the DIYs?
If the remodeling ideas suit your convenience or not
The Bottom Line is that,
Kitchen remodeling is one of the fascinating things to do, but only when you have a creative insight to deal with the craziness it carries.
When thinking in the right direction, there are plenty of possible ideas to play around with. So, keep up with your creative soul and surprise your family with your intuitive decor thoughts.