In any business or organization, maintaining a clean and hygienic environment is crucial for the health and safety of employees, customers, and visitors.
However, the question arises: should you hire janitorial services or have an in-house cleaning team to maintain your facility? Both options have their pros and cons which need to be weighed carefully before making a decision.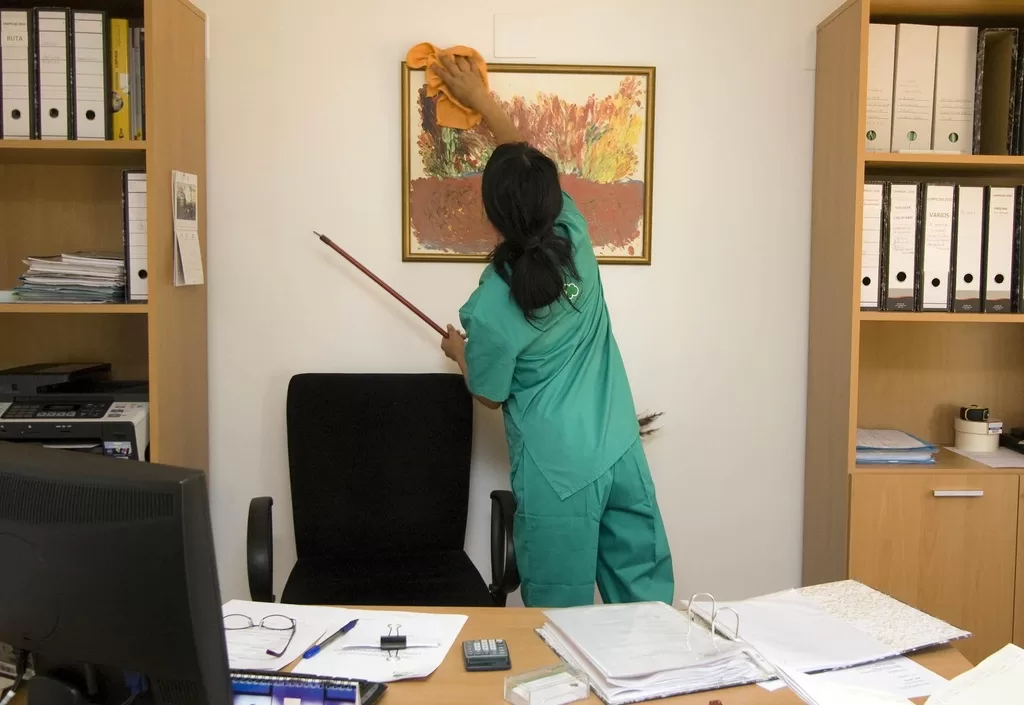 In this article, we will explore the advantages and disadvantages of hiring janitorial services los angeles versus having an in-house cleaning team. We will delve into factors such as cost-effectiveness, quality of work, flexibility of scheduling, and more to help you make an informed decision that suits your specific needs.
The Importance of Cleanliness in the Workplace
When it comes to maintaining a clean workplace, businesses have two options: hiring an in-house cleaning staff or outsourcing janitorial services. Both options have their pros and cons, and ultimately the decision will depend on the specific needs of each business.
One advantage of having an in-house cleaning staff is that they are familiar with the layout and needs of the facility. They can customize their cleaning routines to meet the specific requirements of each area, ensuring a thorough and efficient cleaning.
Additionally, having an in-house staff can lead to increased accountability as employees are more likely to take pride in keeping their own workspace tidy.
On the other hand, outsourcing janitorial services can provide greater flexibility for businesses with varying cleaning needs.
This option may also be more cost-effective as external companies often have specialized equipment and expertise that may not be available through an in-house team. However, there may be less control over the quality of work performed by these outside contractors.
---
Read Also:
---
What are Janitorial Services?
Janitorial services refer to professional cleaning and maintenance services provided by a third-party company. These services include routine cleaning, trash removal, carpet and floor maintenance, restroom cleaning, and more. Janitorial companies are typically hired by businesses or organizations to maintain the cleanliness of their facilities.
One advantage of using a janitorial service is that it can be cost-effective for businesses. Hiring an in-house cleaning staff requires additional expenses such as salaries, benefits, taxes, training costs, and supplies. In contrast, hiring a janitorial service allows businesses to pay only for the specific services they need.
What is In-House Cleaning?
In-house cleaning refers to the practice of hiring and training your own staff to handle all cleaning and maintenance tasks within your facility.
This means that you will be responsible for recruiting, interviewing, hiring, and training your cleaning personnel. In-house cleaning also means that you will need to provide all necessary equipment and supplies for your staff members to use.
One of the biggest advantages of in-house cleaning is that it gives you more control over the quality of work being done. Since these individuals are part of your team, you can train them specifically on how to clean according to company standards.
Additionally, in-house cleaners can become more familiar with the layout of your facility over time, which allows them to work more efficiently.
Pros of Janitorial Services
One of the main advantages of hiring a janitorial service is the level of expertise and professionalism they bring to the table. These companies are well-equipped with all the necessary tools, cleaning supplies, and knowledge needed to handle any cleaning task thrown their way.
This means that they can quickly and efficiently clean your office or commercial space, leaving it looking spotless without disrupting your daily operations.
EstablishedJanitoria services is a leading provider of janitorial services in Los Angeles. The company offers a wide range of cleaning solutions to meet the unique needs of different clients, including commercial and residential spaces.
In addition to this, janitorial services offer flexible scheduling options that can be tailored to meet your specific needs.
Whether you need regular daily cleaning or occasional deep cleans, a professional janitorial service can work with you to create a customized plan that fits your unique requirements. This can help you save money by only paying for the services you actually need.
Cons of Janitorial Services
One of the major cons of janitorial services is that they can be expensive. Companies often charge by the hour, and those costs can quickly add up. Additionally, many companies require a contract or long-term commitment, which can further increase costs. This may not be feasible for smaller businesses with limited budgets.
Another con of using janitorial services is the lack of control over who is cleaning your facility. While most companies will conduct background checks on their employees, there is still a risk that someone could steal from or damage your property. In-house cleaning allows for greater oversight and accountability.
Pros of In-House Cleaning
One of the biggest advantages of having an in-house cleaning team is that they are dedicated solely to your facility. They understand the specific needs and requirements of your business, which means they can tailor their services accordingly. This level of customization is not always possible with a third-party janitorial service that may provide generic cleaning solutions.
Another pro of in-house cleaning is the ability to have more control over the quality of work and cleanliness standards. With an in-house team, you can directly manage and supervise their work, ensuring that everything is up to par. In contrast, it can be difficult to maintain consistent quality with a rotating cast of outside cleaners.
Cons of In-House Cleaning
One major disadvantage of in-house cleaning is that it can be more expensive than outsourcing to a professional janitorial service.
This is because the company would have to purchase cleaning supplies, and equipment, and pay for the salaries and benefits of their cleaning staff. Additionally, if there are any issues with the cleaning equipment or supplies, it falls on the company to replace them.
Another con of in-house cleaning is that it can be difficult to find reliable and trustworthy employees. Hiring a cleaner who has been properly vetted can be time-consuming and costly. In addition, if an in-house cleaner calls out sick or goes on vacation, the company may have to scramble to find replacements or risk having an unclean workspace.
Conclusion
In conclusion, both janitorial services and in-house cleaning have their advantages and disadvantages. Janitorial services offer a cost-effective solution that is convenient and flexible, while in-house cleaning provides more control over the cleaning process and can build a sense of pride within the company.
Ultimately, it comes down to the specific needs of each business. Consider factors such as budget, schedule, size of facility, and desired level of cleanliness when making a decision.
Whichever option you choose, make sure to prioritize cleanliness and maintenance for the health and safety of your employees and customers. Choose wisely so that your business thrives in both the short term and the long term.