Garage doors play a vital role in protecting our vehicles and valuables from theft, weather conditions, and other external factors. They also add an aesthetic appeal to the overall look of a home.
However, with time, garage doors wear out and require replacement. As more homeowners opt for wooden garage doors, it is essential to understand the pros and cons of this type of replacement.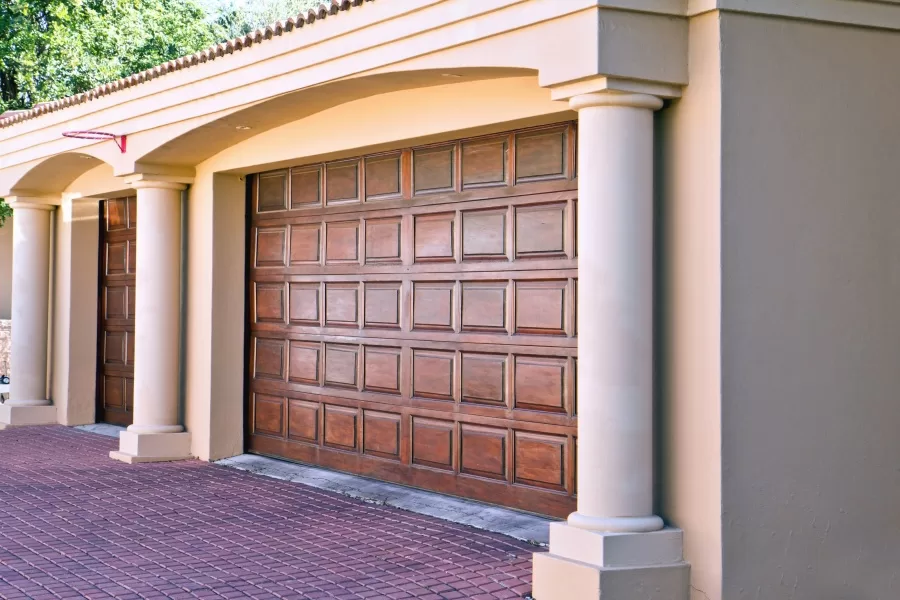 Wooden garage door replacement has become increasingly popular over the years due to its classic look that adds charm and warmth to homes. However, wooden garage doors come with their advantages and disadvantages that homeowners must consider before making a decision.
This article will delve into these pros and cons to help you make an informed choice when considering replacing your garage door with wood.
Why Wooden Garage Doors Are Popular
Wooden garage doors are a popular choice for homeowners due to their natural beauty and versatility. Wood is a timeless material that can add warmth and character to any home's exterior.
Wooden garage doors can be customized to fit any style, from traditional to modern, making them an excellent option for those looking to enhance their home's curb appeal.
You can also contact Murrieta Garage Repair  for further details as it is a trusted local business that specializes in repairing and replacing garage doors and openers. With years of experience serving the Murrieta community, they understand the unique needs of homeowners in the area and provide prompt and reliable service to get your garage back up and running smoothly.
Another reason why wooden garage doors are popular is their durability and strength. High-quality wood, such as cedar or redwood, can withstand even the harshest weather conditions, making it an ideal material for garage doors. Additionally, wooden garage doors require minimal maintenance compared to steel or aluminum alternatives.
---
Read Also:
---
Pros of Wooden Garage Doors
One of the biggest pros of wooden garage doors is their natural beauty and warmth, which can add a touch of character and charm to any home. Wood also has a timeless appeal that can help enhance curb appeal and increase property value.
Moreover, wooden garage doors are highly customizable, with various styles, colors, stains, and finishes available to suit your specific tastes and preferences.
Another advantage of wooden garage doors is their durability and longevity. High-quality wood can withstand extreme weather conditions, including rain, snow, hailstorms, and high winds. Additionally, wood is naturally resistant to pests such as termites or ants when treated with preservatives.
With proper care and maintenance (such as regular painting or staining), a wooden garage door can last for decades without significant wear or damage.
Attractive Aesthetic
When it comes to replacing your garage door, aesthetics is a key factor to consider. Wooden garage doors are known for their attractive appearance and timeless appeal. They can add warmth and character to any home, making them a popular choice among homeowners looking to enhance the curb appeal of their property.
One advantage of wooden garage doors is that they can be customized to suit your specific style preferences. You can choose from a wide range of finishes and stains that complement the overall look of your home. Another benefit is that wooden garage doors are durable and long-lasting, provided they are properly maintained.
It's important to weigh the pros and cons carefully before making a decision on which type of garage door replacement will best suit your needs and budget.
Insulation Properties
When it comes to wooden garage door replacement, insulation properties are an important factor to consider. While wooden doors may look beautiful and add value to your home, they can be less energy efficient compared to other materials such as steel or aluminum. This is because wood is a natural insulator but its effectiveness varies depending on the type of wood used and how well it was sealed during installation.
If you live in a region with extreme weather conditions, having a poorly insulated wooden garage door can lead to higher energy bills due to increased heating and cooling costs.
On the other hand, if you opt for high-quality wood materials combined with proper sealing techniques, you can enjoy better insulation properties that help regulate temperature and reduce energy consumption.
Customizable Options
Customizable options are becoming increasingly popular in the world of home improvement. When it comes to wooden garage door replacement, homeowners have the opportunity to customize their garage doors to fit their specific tastes and needs. There are a variety of customizable options available, including different wood finishes, decorative hardware, window inserts, and insulation types.
One major advantage of customizable options is that they allow homeowners to personalize their garage doors repairs to match the style and architecture of their home.
This can increase curb appeal and add value to the home overall. Additionally, customizable options give homeowners more control over the functionality of their garage doors. For example, insulated garage doors can help regulate temperature and reduce energy costs.
Conclusion
In conclusion, wooden garage door replacement has its pros and cons. The beauty and charm of a wooden door are undeniable, but they come at a higher cost and require more maintenance.
However, those who prioritize aesthetic appeal may find the investment worth it. Before making a decision, homeowners should consider their budget, time commitment, and desired style. Ultimately, the choice between a wooden or non-wooden garage door will depend on personal preference and practicality.
Regardless of the decision made, regular upkeep is crucial for maintaining the longevity of any garage door. Choose wisely and enjoy your beautiful new garage door for years to come!