As the festive season approaches, we all hang twinkling Christmas lights to adorn our homes, to cast a magical glow on crisp winter nights. Hanging these holiday ornaments is an art that combines safety, aesthetics, and creativity. It is a task that can feel daunting for even the most experienced decorators.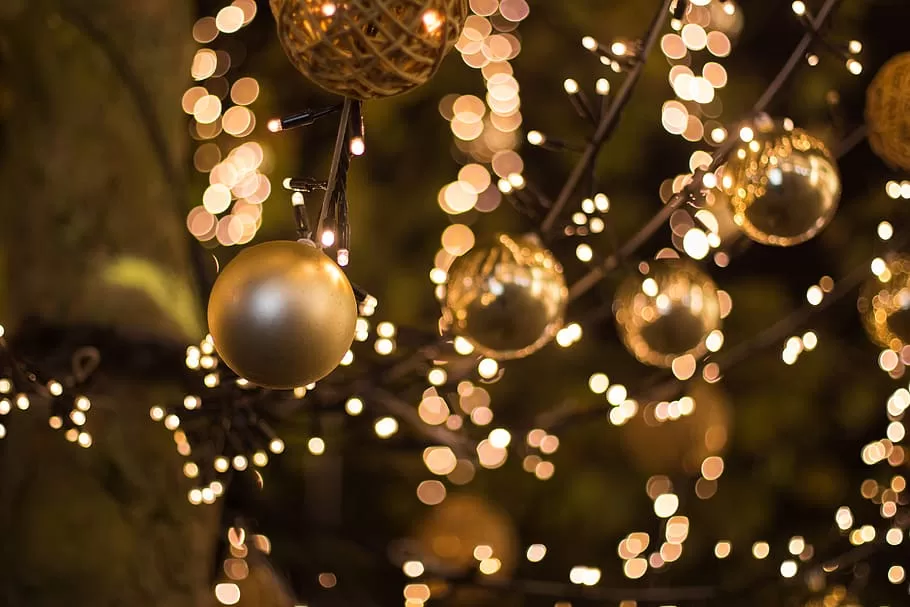 If you don't have an idea about hanging the lights, we can guide you through the enchanting process of hanging Christmas lights to ensure your home becomes a sparkling wonderland. So, grab your ladder, and let's embark on this illuminating journey together.
Step-by-Step Process to Hang Christmas Lights
Here is the step-by-step process to hang Christmas lights and celebrate the holiday season to its fullest.
Step 1: Choose the Right Lights
Before you begin, select the perfect set of Christmas lights for your home. Consider the bulb type like LED or incandescent, light color, and style like traditional or icicle. LED lights are energy-efficient and long-lasting, while incandescent bulbs emit a warm glow. Ensure the lights are suitable for outdoor use if you plan to decorate your home's exterior.
Step 2: Measure and Plan
To avoid running short on lights, measure the areas you want to cover, such as rooflines, windows, and door frames. Additionally, take a picture on your smartphone or sketch a rough plan to determine how many strands you need and where you can connect them. Remember to bring any extension cords or power strips required.
---
Read Also:
---
 Step 3: Inspect and Test
Before hanging your lights, inspect each strand for damaged wires, broken bulbs, or loose connections. Replace any faulty bulbs and plug in each strand to ensure all the lights function correctly. It's much easier to fix issues on the ground than after the lights are hung.
Step 4: Gather the Necessary Tools and Materials
Assemble the tools and materials required for the job, such as a ladder, light clips or gutter hooks, extension cords, power strips, and measuring tape. Choose clips or hooks that are compatible with your chosen lights and the surface you are going to attach them to.
 Step 5: Prepare Your Workspace
Clear the area around your home where you will be working. You should remove any obstacles, such as garden tools or toys, and ensure the ground is stable for ladder placement. If possible, enlist a friend or family member to help hold the ladder and pass materials to you as you work. You can also take professional help from Blitzen Lighting to hang the lights.
 Step 6: Attach Clips or Hooks
Begin by attaching the light clips or gutter hooks along the designated areas, spacing them evenly, typically 12-18 inches apart. For a clean look, ensure all the clips are securely fastened in the same direction.
 Step 7: Hang the Lights
Start from the power source and carefully attach the Christmas light strands to the clips or hooks. Work along the planned path, ensuring the strands are tight but not overly tight. Use an extension cord to bridge gaps between light strands or reach the power source if needed.
 Step 8: Power up
Once all the lights are hung, plug the strands into a power board or outdoor-rated extension cord, which should then be connected to a ground-fault circuit interrupter outlet. This type of outlet is designed to prevent electrical shock in wet conditions, making it ideal for outdoor use.
Step 9: Adjust and Secure
Step back and take a look at your handiwork. Make necessary adjustments to ensure the lights are evenly spaced and hanging straight. Use additional clips, hooks, or ties to secure loose wires or dangling strands. Again check for any fuse bulb.
Step 10: Enjoy the Magic
With your Christmas lights beautifully hung, it's time to appreciate the enchanting glow of your festive masterpiece. Gather your loved ones and enjoy the warmth and joy your bright display brings to your home and neighborhood.
Final Words
Hanging Christmas lights is a delightful tradition that brings joy and warmth to our homes during the festive season. By following these comprehensive steps, you can transform your living space into a mesmerizing wonderland that captures the spirit of the holidays.
Remember to prioritize safety, plan carefully, and allow creativity to shine as you design your stunning display. With patience and attention to detail, you can create a breathtaking spectacle that leaves a lasting impression on everyone visiting or passing by your home. So, embrace the magic of the season, and let your Christmas lights sparkle brightly for all to see.