Creating a cozy outdoor space is important because it will allow you to have a pleasant experience throughout the year, from patio seating to gathering around the fire pit at night. Irrespective of how drab your home exterior looks, with some basic, ornamental additions, you can upgrade it to a cozy retreat.
The key to achieving this is to boost the comfort level of your outdoor space to create a seamless outdoor-indoor flow.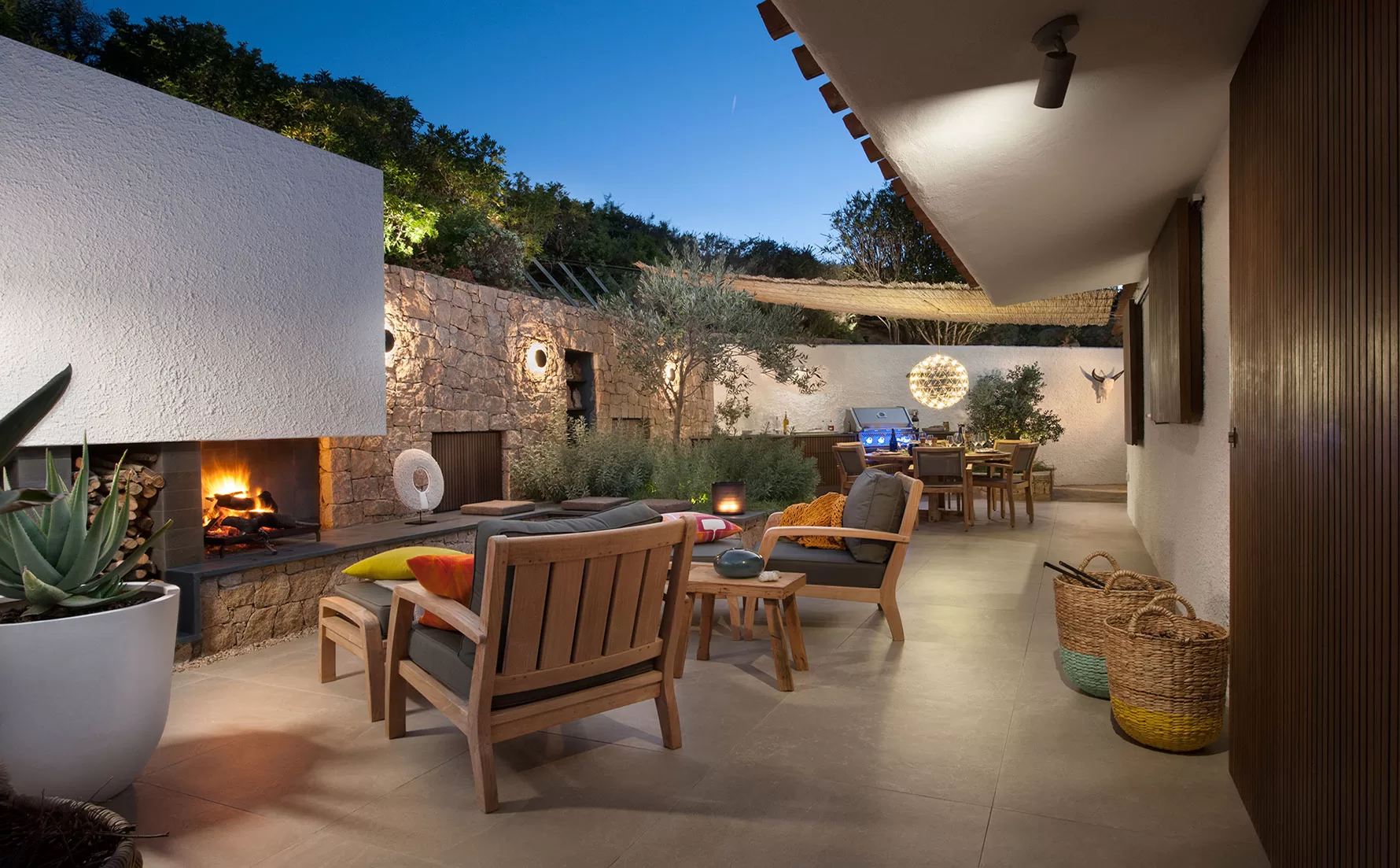 Whether your outdoor space is limited or you have a spacious patio in your yard that needs improvement, we assure you that our practical outdoor cozy tips will transform it from dull to lovely and comfortable in a short period.
Create An Ambiance with Fairy Lights and Solar Lanterns
Add a cosy ambiance to your outdoor living space by hanging a beautiful bamboo lantern from the treetop or placing a weather-resistant solar fairy light on the ceiling. Since they are powered by sunlight, they are low-maintenance, eco-friendly, and easy to use. Furthermore, you won't need to stress over hefty utility bills.
Use Outdoor Rugs to Add Comfort
The quickest way to add comfort to your outdoor living space is to style it with a checkered wool rug. This will effectively turn your space into a functional entertainment space, creating the right ambiance and concealing unappealing decking boards or concrete.
Dressing up your outdoor entertainment area with a patterned polypropylene rug is the fastest way to make it more attractive. It will instantly transform our room into an outdoor living room while covering any unattractive decking or concrete.
---
Read Also:
---
Stay Warm or Cold Nights With A Fire Pit
From lovely crackling fire sounds to extra warmth, add a wood-fueled fire pit and create special evenings in your outdoor space. Consider setting up a DIY cladding fire pit kit that allows you to install straight on your patio or the ground. Alternatively, you can decide to choose a ready-to-finish fire pit.
Create The Best Outdoor Dining Areas
A modern patio table provides seats for up to seven people and endless entertainment options, whether you are feasting outdoors or enjoying a board game with loved ones or family. You can purchase one with an in-built umbrella for extra functionality.
Improve Relaxation with Outdoor Pillows
Add more coziness (and style!) to your wire porch chairs with outdoor throw pillows. They will offer comfort in rough seating, and their weatherproof fabric will improve the entertainment value of the area with a fun splash of colour and vibrancy. For better aesthetic appeal, choose a blend of styles or go for outdoor pillows with a nice surface quality.
Add A Cocoon Chair for Cosiness
A cocoon chair offers the ideal relaxation spot all year long for up to three people. They are highly appealing and also fit in nicely with any contemporary style.
As dusk approaches, curl up with a woolly blanket and comfy pillows in the cocoon chair. You can get a glass of red wine and create a festive vibe with fairy lights and lanterns.
Improve Comfort with Colours
A carefully-selected colour scheme can easily improve your garden's appearance and create a harmonious vibe.
During the cold weather, choose throw pillows and ornamental elements with soft, autumnal colours such as clay, orange, and pink. When combined with a background of dark greys and soft browns, the effect will look sleek and inviting. Always remember to add lots of soft glimmering lanterns as well. You will fall in love with the space during the nighttime.
For instance, adding a grey composite deck board can beautify your outdoor space. It can assist in creating a coherent design scheme in your garden while adding charm and elegance to your yard.
Add An Elegant Resort Ambiance with Outdoor Drapes
Outdoor drapes and curtains with ultraviolet and fade-resistant features will definitely ensure your skin looks good and stays healthy, as well as create a protective cover during the harsh summer sun. But beyond that, weatherproof curtains from your gazebo will quickly add beauty to your outdoor space and add a special touch of elegant resort décor.
Add Warmth to Your Outdoor Spa
Want to add a sense of glamour and comfort? Then go all the way and get your personal hot tub.
Hot tubs come in various styles and sizes, from inexpensive wooden-clad varieties to air-filled styles.  Add any of them to your backyard, and we assure you that everyone will enjoy it, irrespective of the weather. The fact remains that everyone would love to take a dip in a bubbly steam on a cold afternoon.