Experiencing water damage in your bathroom isn't ever an enjoyable experience.
It causes a myriad of issues such as foul odors, unsightly stains, and even mold or mildew.
It's essential to get the issue fixed as quickly as possible to avoid further damage to the bathroom itself or the increasing likelihood of health challenges.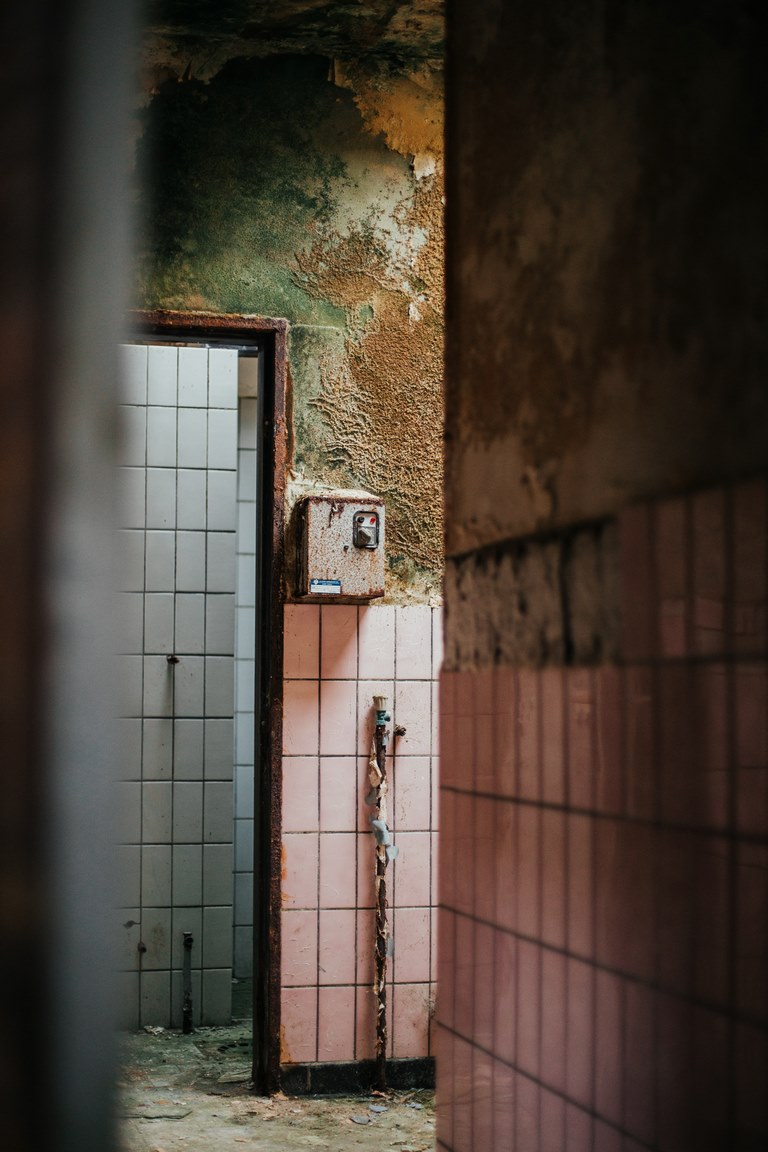 In this article, you'll learn what causes water damage in the bathroom and the signs to look out for.
Causes of Bathroom Water Damage
Several factors come into play when narrowing down how water damage occurs.
Leaking Pipes Behind the Walls
It's challenging to know what's happening behind the walls of your bathroom. A pipe's fitting can become loose and allow the tiniest flow of water.
Over time, a slow drip turns into a massive problem for home and commercial bathrooms alike.
The slow buildup of water behind the walls allows mold to grow before you ever see the signs of a problem.
This buildup happens as moisture gets worse over time. Slow leaks allow water to enter the subfloor and wall cavities eventually, which is typically already a significant problem by the time you notice discoloration.
Overflowing Toilets and Sinks
An overflowing toilet can cause an extensive water damage problem quickly. Large volumes of water will continuously flow out onto the floor while you're struggling to figure out the cause.
Sinks can do the same thing when drains become blocked, and someone forgets to turn off the water.
These types of situations are typically discovered quickly in homes. If you own a commercial property, then an overflowing toilet or sink can sometimes continue for great lengths of time.
As Fast Partitions tells us, customers might walk away from the bathroom partitions after flushing the toilet and leave the bathroom without knowing the toilet just started to overflow.
Several minutes or even hours might go by before someone else enters the bathroom to notice the problem.
Cracked Grout or Tiles
Cracks in tile grout or tiles can cause bathroom water issues. For example, if the grout becomes cracked in the shower, water will continue to flow from the shower and into the walls.
The same thing happens when bathroom floors become wet, and water makes its way into the subflooring.
Too Much Moisture
Condensation and steam that results from hot showers have the potential to cause water damage in a bathroom. Moisture builds up and collects on the walls.
It then drips down to the floor and can seep into tiles. If the moisture remains on the ceilings and walls, it becomes a breeding ground for mold and mildew.
Prevent Water Damage from Occurring
Here are ways to prevent water damage from happening in your bathrooms.
Correct any drainage issues occurring in the shower
Lessen undue water pressure that places stress on the piping system
Tighten all faucets after using sinks, tubs, and showers
Wipe down the walls after showering
Mop the floor and dry it whenever water spills
Get loose pipes fixed right away
Replace missing grout or tiles
Pay attention to water spills or splashes from tubs or sinks
---
Read Also:
---
Signs of a Water Leak from Behind Your Bathroom Walls
Pay close attention to any of these warning signs that indicate you might have water damage.
Damaged Wallpaper or Paint
You likely have a water leak if you see water stains on wallpaper or if the paint begins to blister.
Inspect the floorboards periodically. You'll notice them expanding and warping when water issues exist.
Musty Odor
Do you notice a musty or earthy smell in the bathroom that didn't previously exist? Don't let this continue for long because you probably have water damage behind the walls or underneath the floor somewhere.
Mold or Mildew
Mold likes to grow and live in dark, moist areas of your home or business. Leaking pipes behind walls present one of the best places for mold and mildew to start growing.
If you see mold or the smell of mold starts to cause health challenges, it's likely the result of hidden water leaks somewhere behind the walls.
By the way, it's not uncommon to notice some mildew in shower corners. This issue is typically washed away easily with the correct shower cleaner.
It's the mold or mildew that you see outside a shower on the floor or walls that indicates a water damage problem.
Wet Cabinets
You shouldn't notice moisture inside bathroom cabinets. A valve may require repair, a nut needs to get tightened, or a leaking pipe exists somewhere nearby.
Wall Damage
Drywall bubbles and becomes soft when exposed to too much moisture. It then begins to break into small pieces as it warps. Get the issue fixed as quickly as possible when you notice wall damage in the bathroom.
Ceiling Stains
Look for ceiling stains in rooms that sit below a bathroom. Water does travel in mysterious directions, however.
You might notice ceiling stains in other rooms and then trace them back to a water damage problem in the bathroom.
Loose Faucets
Pay attention when faucets become loose. The issues most likely will allow water to seep into various gaps that end up causing water damage and mold.
Rocking Toilets
A wax ring exists at the base of toilets. Its job is to keep a water-tight seal between the pipe and the bottom of the toilet.
Maintain stable toilets at all times because a loose seal causes water to flow around the base, causing foul odors and water damage.
Floor Damage
Do you see the bathroom floor cracking or buckling? You probably have a leaking pipe to deal with.
Water stains on the floor represent another obvious sign that something needs repair beneath your feet.
Some types of bathroom flooring might become spongy as you walk across it. If you can pick tile pieces off the floor, then water damage has existed for some time.
Conclusion
Water damage in the bathroom isn't an issue that you can wait to fix. Bring in the repair crew immediately to avoid causing additional damage that will become more expensive to deal with.