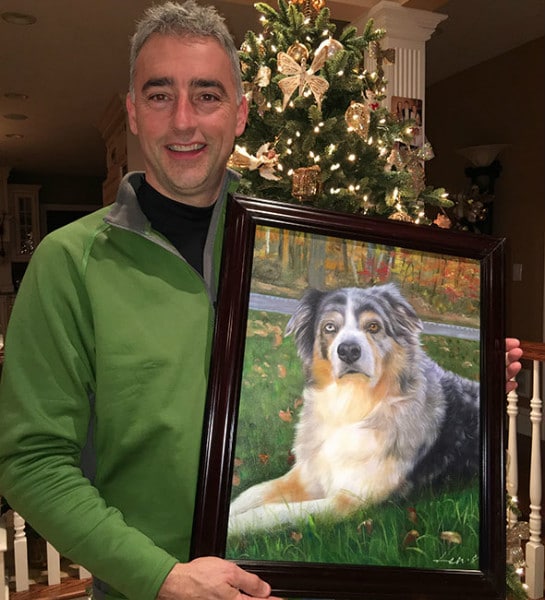 Maybe you're planning on ordering some custom art on canvas, maybe you already have a fantastic custom canvas and you don't have any idea what to do with it. You're not alone! Framing can get complicated.
Framing flat things like photographs is pretty straightforward. You can buy frames that fit most pieces with little fuss, stick your photo in, and ta-da! Instant art! Canvases are a little trickier.
You can't stick them in a frame and have them ready to hang in most instances. The process is a little more involved.
Here's a guide, along with some do's and don'ts to help you frame your custom canvas creation. Looking to order a custom painting from a photo? Check out Paint Your Life to meet our talented artists and see how it works.
---
Read Also:
---
Choosing the Right Frame
There are several things to consider when you're deciding on the best frame for your portrait. Here are some things you'll want to think about when you're choosing your frame:
The dimensions of your portrait
The depth of the canvas
Whether the edges are finished or unfinished
The color scheme in the portrait
The color scheme in the room where you intend to hang the portrait
Other materials in the room (i.e., potentially clashing wood tones)
Any space constraints where you intend to hang the portrait
Personal tastes
There are a few popular types of display options to consider: gallery wrap, floating frames, and traditional frames.
Gallery wrap canvases extend the image onto the edges of the frame so that a frame isn't strictly necessary. Floating frames are thin frames that surround the canvas, making it appear to float inside the frame.
Traditional frames surround the canvas closely and may be created in any number of designs, colors, thicknesses, and materials.
Do's and Don'ts
DO choose a frame that complements both the painting itself and the space where the painting will hang.
DON'T forget to account for the frame when choosing a spot for your painting. The frame may make the painting significantly larger than the canvas itself.
DO consider how the color and shape of the frame will affect the overall look of the painting
DON'T believe that every canvas painting needs a frame. Gallery wrapped edges make for a beautiful, space-saving, minimalist look.
DO choose a frame that doesn't overshadow the art itself. Sometimes simpler is better.
DON'T underestimate a frame's power to enhance artwork! A-frame that compliments a piece, one with a style that plays up the subject, style, color, and depth of the painting, is a great asset!
Professional Framing or DIY?
If you're really, truly, super-handy, you might consider building a frame yourself or modifying a store-bought frame to make it work for a canvas.
If you need a frame for a canvas and you've got a serious budget crunch to consider, plus you've got the tools and know-how to make it happen, a DIY frame job might be something to consider.
If you're not particularly handy, DIY framing may not be an ideal option. When you're dealing with a custom painting, you've already invested a lot of time, money, and heart into your new art.
With a DIY frame and an inexperienced craftsman, your canvas could be in danger of damage or even outright destruction.
Having your portrait professionally framed can save you a lot of trouble and potential heartache if you aren't sure you're up to the task.
All-Inclusive Services = SO Easy!
Sometimes a custom portrait can be something of an empty gesture. Whether you've commissioned it for yourself or someone else, you receive the painting, but then you never get it framed.
It just sits, taking up space and not receiving the attention it deserves or providing you the enjoyment you'd hoped for. An all-inclusive service is a perfect way to make sure this never happens to you.
In the age of the internet, you can get just about everything online. A custom portrait that arrives on your doorstep in a classy, professional frame of your choosing is one of those things!
You can send your photo to the artist of your choice, have them paint or draw it based on your specifications, have it framed, and then send it directly to your door, ready to hang.
Paint Your Life offers several styles of frames for every décor to suit every painting our artists have ever created. Consider the points above to create an amazing frame/portrait combination for your individual space.
Commissioning a custom canvas painting is so much easier than you could have ever imagined. At Paint Your Life, we make it simple, easy, and affordable, and the frame is included! Use the above tips to make sure your ready-to-hang canvas is all you dreamed of.
Revealing an amazing handpainted oil family portrait from PaintYourLife.com on Vimeo.