Trends in the home are always changing, as homeowners' tastes change and new technology and designs come out.
Whether it's looking to update a look, or planning to sell, home improvements and decorating are always going on. And flooring is no exception.
According to a survey by The Rated People, 74% of homeowners planned to do work in 2020. Of those planning renovations, it is millennials that plan the biggest and the most. This age group is also twice as likely as the average UK homeowner to tackle the job themselves.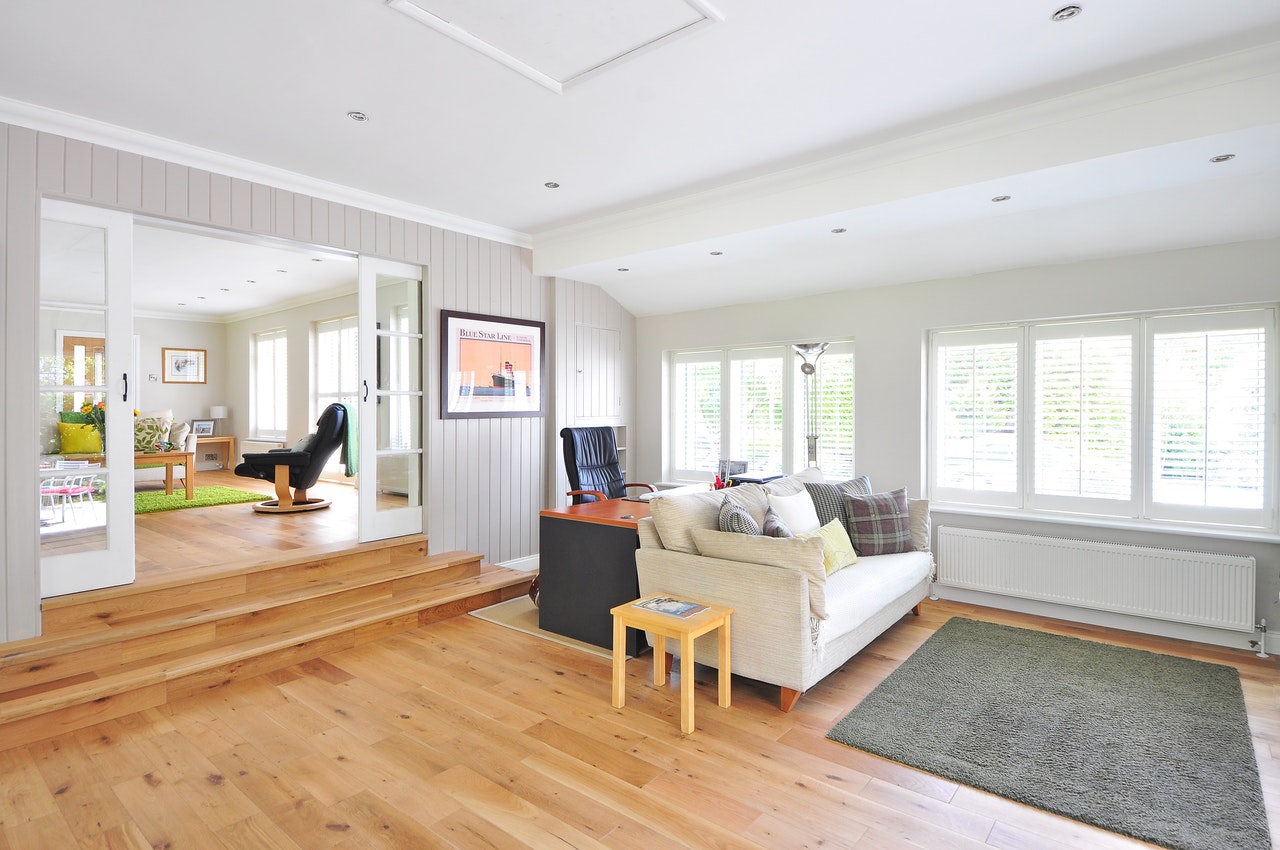 Overall, wooden flooring is on the rise over a range of rooms. Although wooden floors can be colder on the foot than carpets, trends have combated this, at least when it comes to buying homes. Underfloor heating would attract 41% of buyers.
And as we've all been stuck in for a good part of this year, people are looking to their homes. When you're spending more time in your home you see all the little and big jobs that need doing. It's the perfect time to do those jobs that you've been putting off.
So why not update your flooring with one of 2020's flooring trends?
Find out how to restore your stone flooring by consulting Clean Image of Orlando.
---
Read Also:
---
1. Waterproof Flooring
At least in the kitchen and bathroom, waterproof flooring is a must. Whether waterproof laminate or vinyl, this flooring can survive spillages and condensation.
As the bathroom and kitchen are where this is most likely to occur, people are choosing waterproof options to ensure that their flooring choice is durable and will go the distance.
Another plus point with waterproof flooring is the maintenance.
Unlike other floors, this type just needs a sweep and a mop to keep it looking fresh. There is no need to dry it. And with our busy lives nowadays, it's no wonder people are choosing a low-maintenance floor.
2. Black & White
Bold black and white patterns are right on-trend. This style goes with just about anything, from traditional farmhouse décor to ultra-modern designs. Adding black and white flooring can add a vintage feel to any home.
But it's not just simple black and white tiles that are on-trend in 2020. People are going even bolder.
Big, eye-catching graphics are making their mark, giving a unique twist to this vintage style. Homeowners are looking to nostalgic styles and giving them a modern look.
Repeating patterns or tiles that can create a huge pattern are growing in popularity. This unique look is perfect in black and white tiles.
3. Engineered Wood Flooring
As already stated, wooden floors are on the rise, but it is engineered wood flooring that is in the biggest trend here. This type of flooring is made up of plywood which is then topped with a plank of solid wood.
Therefore, engineered wood flooring is cheaper than solid wood, making it the choice for many homeowners.
Another attraction to this type of flooring is its maintenance. It's much easier to maintain than solid wood. So, homeowners are choosing the look of solid wood, but without the maintenance or price tag.
4. Eco-Friendly Flooring
The Rated People's survey found that twice as many homeowners were planning to make their homes eco-friendlier in 2020 compared with 2019. So, it's no wonder that eco-friendly flooring is on the rise.
Homeowners are looking for responsibly sourced, natural materials that are finished with non-toxic wax or oil.
Others are choosing cork, bamboo, and linoleum as eco-friendly options, though these tend to be more niche. As the eco-friendly trend grows though, it is likely that even more designs, materials, and styles will become available to meet the demands.
5. Dark, Strong Grains
When it comes to wood styles, dark, strong grains are in fashion. This finish adds depth to a wooden floor. A dark grain gives a rich colour that adds depth to a room with light walls.
The rich dark tones enhance the grain of the wood, giving the floor a luxurious finish.
This finish can work with contemporary and minimalistic styles, giving a cosy feel. Due to its adaptability, it's no wonder homeowners are choosing this type of flooring.
It allows homeowners to change their décor whilst keeping their floor the same. A darker wood with strong grains is a good investment for those that change their style often.
6. Patterned Wood
Patterns are all the rage, and not just with black and white graphics, as patterned wood is in style. Once again, this is homeowners taking a classic look and giving it a modern twist.
Because of this trend, Herringbone and Chevron designs are coming back into fashion. And with a range of shades available, people are using this style everywhere.
7. Natural Colours
A natural and simple look is another trend in flooring. Homeowners are looking to bring the outdoors inside and using naturally finished wood is a simple way to achieve this. A natural floor creates a soothing luxury in any room.
As the Scandinavian design trends have been popular over the last few years, natural flooring colours have been a huge part of this. They give a minimalistic look, with a sleek, modern feel.
8. Hexagonal Tiles
Another pattern that is trending this year is hexagonal tiles. These have been popular in recent years for splashbacks and accent pieces, but now they are trending on floors too.
Hexagonal tiles give a super-modern look to a room. Homeowners are using them to make their rooms feel different and unique.
With a range of colours and styles available, there are so many options for doing this. Some homeowners are going for subtle styles, others much bolder patterning.
These patterns give a modern feel to any room and are being used to split up areas in rooms.
Trickling patterns that use these shapes are becoming popular, as they blend different floorings in the same room together. And hexagonal tiles are a popular way to do this.
9. Rugs
As wooden floors are on the rise, people are looking to combat the coldness of these floors on the skin. The cheapest and easiest way to do this is with a rug or runner. Rugs also add colour to a wooden floor, creating a bit of flair, and can be used as a centrepiece.
This little bit of texture can really bring some character into a room.
Another reason rugs are popular is that it is easy to change your style cheaply with these. You can keep your flooring the same, but just switch out your rug, and other accessories, to different colours.
10. Stone Effect
Real stone and marble is an expensive option that is out of most homeowners' reach. Instead, homeowners are opting for flooring with marble or stone effect. This adds all the glamour and luxury of a stone floor without the price tag.
This style is popular in bathrooms, where it adds a cooling and luxurious feel. Though some owners are taking this trend into other rooms. It can add a sleek, chic look to any room in the house.
Overall, trends for 2020 revolve around three main factors: sustainability; taking a classic look and giving it a modern twist; simple wood flooring. If you are looking to update your home in 2020, these are the styles to follow.