It is the last task on your long list of chores: you have dusted and tidied and vacuumed and polished. Now all that is left is to get the floor to sparkle.
It would be nice if it were so easy!
Many types of flooring require different treatments. If you choose incorrectly, you might be causing more harm than good.
Here are all the tips you need to care for your flooring.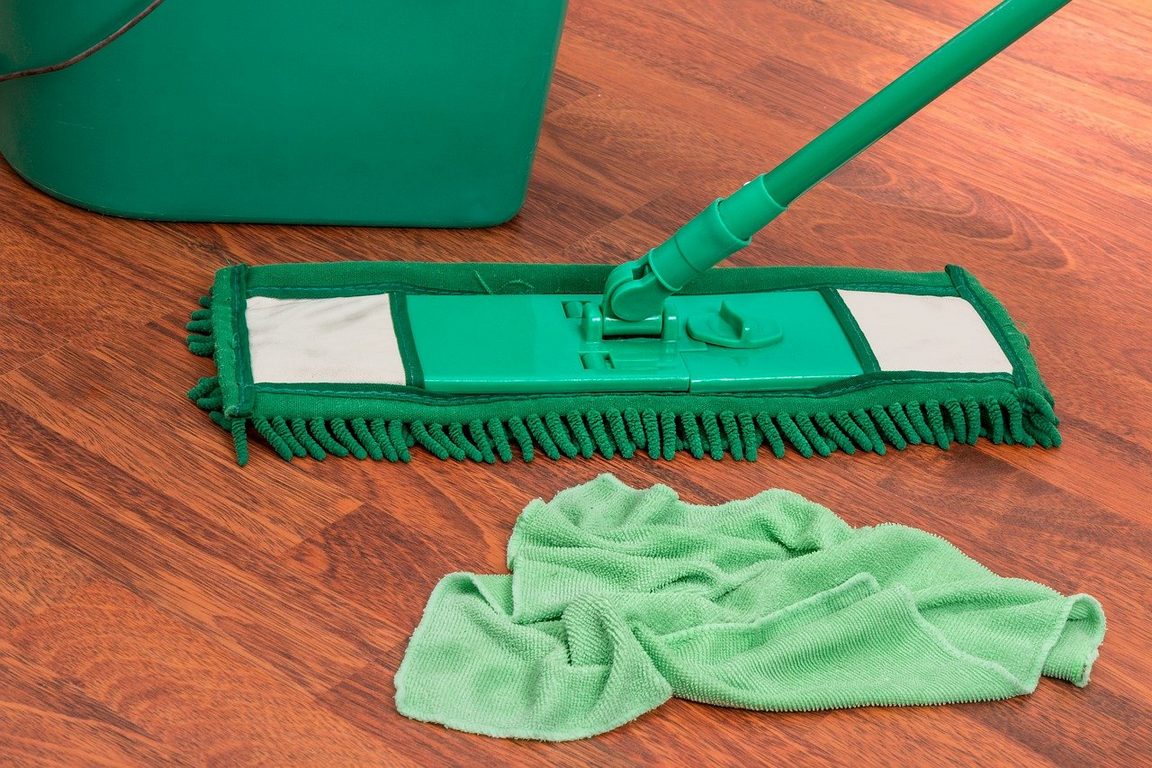 How Can I Keep My Flooring Clean for Longer?
We all know how quickly dirt, grime, and dust can build up. Prevention is always preferable to cure. If you desire easy maintenance, place doormats at the entrances, remove your shoes and ask your guests to do the same, and groom your pets regularly and always outside.
If you spill something, wipe it up as soon as possible, especially on porous surfaces such as marble. Otherwise, you need to continue cleaning!
What's the Best Way to Clean My Floors?
First things first are to consider the flooring you want to clean. There are different techniques and products for different floorings. Do this before you cause any damage to your floors. Once you have determined what type of material to work with, you can follow this handy guide:
Quarry Tiles and Ceramic
Quarry tiles and ceramic are some of the easiest to clean and maintain. Sweep and wash the surface with a mild detergent solution, and rinse with clean water. You should never use wax polish on tiles – it will cause them to become slippery.
You might also try using a steam cleaner. Steam cleaners clean sealed floor surfaces easily and efficiently, and they require only water to do their job.
Terracotta Tiles
Terracotta tiles mature within the first year after installation. Most flooring suppliers stock special cleaners and sealants, so follow the recommendations of your supplier.
Concrete
Concrete is an extremely durable material for outdoor and indoor flooring. It can be cleaned easily and is relatively stain-resistant. It absorbs dirt and spills and will harbor mildew. Even though concrete is tough, it still requires periodic scrubbing.
For indoor concrete floors which are stamped or polished, you'll need to clean gently. You can use a mop, a bucket of water, and mild cleaning solutions.
Expert instructions on this site strongly suggest that you do not use any highly acidic material, such as ammonia or bleach, on stamped or polished floors.
There are many different cleaners you can use, such as liquid dish detergents, mild floor cleaners, and stone cleaners. Mix a cleaning solution and use a wet mop to apply to the floor. Follow that by rinsing the mop in clean water.
To protect your concrete from future stains, seal your concrete with a concrete sealant. Using a paint roller, apply the sealant to the primed, clean concrete.
Start in the middle and then roll the sealant outward to the edges. Reseal the floors every two to three years. Knowing how to properly clean concrete will ensure your house's floors always look great.
---
Read Also:
---
Laminate
Dust, vacuum, or mop the wood floor lightly using a damp mop. Never use soap-based cleaners as they can leave a film, and don't wet the floor much. Don't apply wax polish either: the floor will become too slippery.
To get rid of stains and marks, use a vinegar and water solution. Never use abrasives, including nylon steel wool or scouring pads, as these can scratch laminate.
Nail polish thinned with acetone or other mild solvents can be used to remove stubborn stains such as shoe polish.
Put felt pads underneath the legs of furniture and drip trays underneath plant pots to protect the floor.
Vinyl
Sweep using a gentle brush or vacuum, and use a damp mop with mild detergent to wipe. After wiping, rinse well. Remove scuff marks by soaking a cloth in the neat dishwashing liquid or white spirit, then rinsing it off.
Cork Tiles
For factory-sealed cork tiles, mop it with a washing-up liquid solution. Especially in the bathroom and kitchen, a layer of acrylic or polyurethane sealant will offer extra protection.
Don't over-wet cork flooring, and be careful not to cause damage to its protective coatings or seal by dragging heavy furniture or appliances across them.
Wood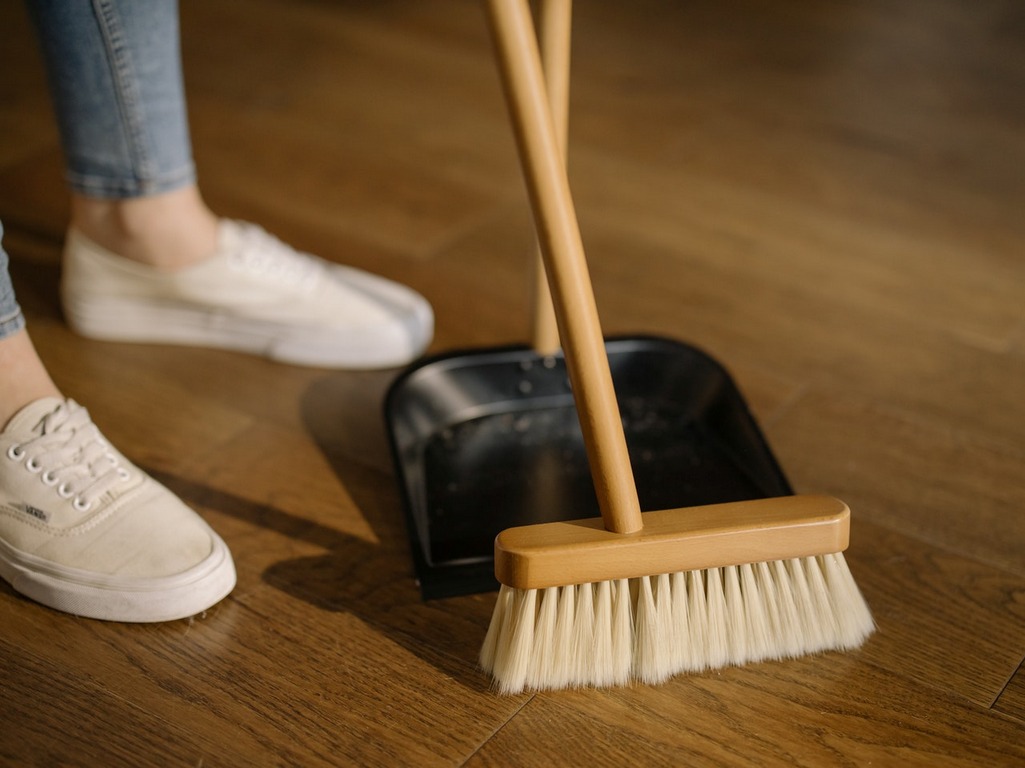 Sealed floors only require sweeping and damp-mopping. Too much water will make the wood swell and split.
Floors that are not sealed and waxed need to be cleaned regularly, and occasionally need to be repolished.
You should use the wax sparingly, since too much can leave a sticky residue that attracts dirt, and must buff. If worn patches appear on the floor, a non-slip floor polish will solve the problem.
On waxed floors, dirt and polish accumulate over time. To clean it, you must remove the wax and start over. You can use a cloth dipped in white spirit. Let it soak for a few minutes, and then use crumpled newspaper to wipe off any remaining wax or dirt.
With abrasive sheets, or by hand, scrub stubborn areas. Once the polish has been thoroughly removed, mop the floor with clean water. Once it has dried completely, apply new polish in sections at a time.
Stone
Stone gets stained easily, so you should always seal it with resin sealants. To clean sealed stones, vacuum thoroughly, then mop with a mild detergent solution.
To get grease and oil out, use a dedicated stain remover formulated for stone.
Linoleum
For Linoleum, remove dirt and dust by sweeping or vacuuming. Clean the floor with a damp mop or cloth with a detergent solution or floor cleaner. Make sure not to use too much water. After washing, rinse thoroughly.
You can remove stubborn marks by using a dampened fine nylon pad.
Porcelain Tiles
For weekly cleaning, in a 16-ounce spray bottle, mix 1/4 cup vinegar and one drop of dish soap and warm water. Spray the floor in sections and then wipe it using a damp microfiber mop.
When it comes time for periodic deep cleaning, use a steam cleaner on your tile and grout — the steam does all of the work getting rid of stains and bacteria, so you won't have to do any extra work in the kitchen.
Can there be a perfect technique for cleaning floors? It depends on your individual needs as well as on your lifestyle. Various types of flooring may need to be maintained differently, whether it be tile, laminate, or stone.
This applies to the methods of cleaning and the cleaning products used on these surfaces. Understand your unique floor type and how much activity occurs on the floors, then invest in the right cleaning materials and tools.