It has taken some wild creativity to come up with the best possible flooring.
In terms of newfangled flooring, vinyl is among the most popular options.
Vinyl flooring was invented to provide a durable, affordable, and temperature-resistant alternative to linoleum flooring.
Also, vinyl flooring had several advantages over linoleum, but the design was one of the most significant ones.
There are vinyl planks in all shapes, sizes, colors, patterns, and designs that mimic almost any natural material, including wood and stone.
There is no end to the colors and patterns. You can select whatever you want, and you can probably find it in vinyl plank flooring.
We have discovered the best natural cleaning options to keep your new floor looking shiny and durable as long as possible.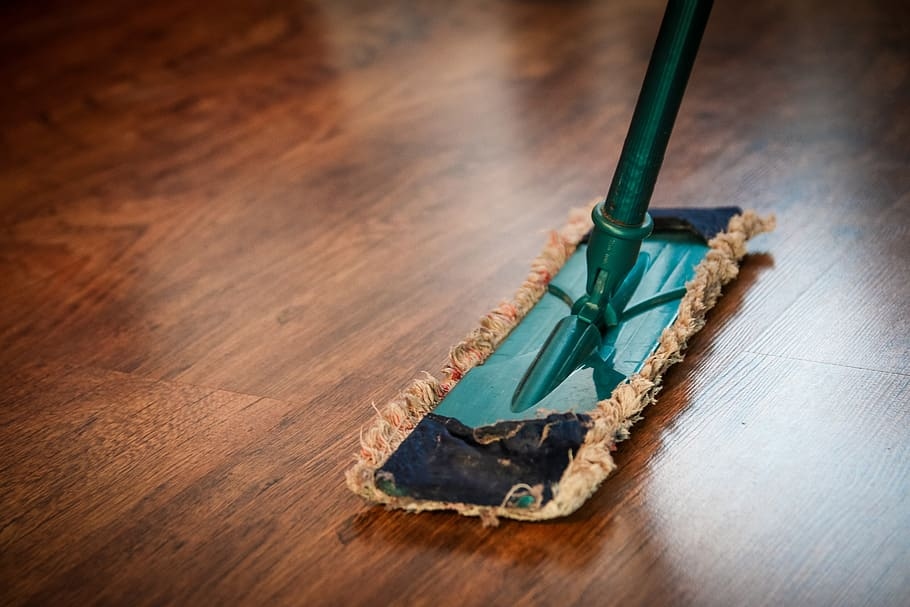 There are actually few flooring types that require as little maintenance as the vinyl plank.
Following in the latter part of the article, a few guidelines tell you the best mops for vinyl plank floors for maintaining the shine, with love and care.
Vinyl Planks
There is also luxury vinyl tile, sometimes referred to as vinyl plank flooring has increased density, rigidity, and durability.
In addition, these planks or large tiles can be used anywhere. Moreover, these vinyl flooring types imitate the design of wood and ceramic tile even more accurately than linoleum.
Vinyl plank flooring can be installed like a LEGO set as each piece clicks and locks together.
We are here to let you guide the way for How To Mop Vinyl Plank Flooring.
Removing Scratches From Your Vinyl Plank Flooring
Floors will inevitably scratch despite our best efforts. For light scratches and scuffs, you have a few options with vinyl plank flooring.
It will need to be replaced otherwise. Besides, a microfiber towel with some olive oil applied to the scratched surface can buff the area.
Furthermore, it may be possible to hide a deep scratch with a vinyl floor sealer if it is profound. And you can use a tennis ball to remove light scuffs.
Vinyl and Wax
The vinyl plank flooring has a layer that seals against moisture and damages and gives it a lovely shine.
In addition, if the wax is applied or wax-related products are applied, the vinyl will eat away or slip around and become a mess.
Also, a coating of vinyl floor sealer may be the answer to your vinyl plank flooring's woes.
Cleaning Your Vinyl Plank Flooring
The flooring is easy to maintain because it is made of vinyl planks. This type of floor is very easy to clean when it comes to maintaining the original shape, color, texture, and feel of your floor.
Further, it is also easy to clean due to the synthetic composition of vinyl planks.
No expensive tools or cleaners are necessary for cleaning your vinyl flooring.
---
Read Also:
---
Regular Cleaning is Key
In spite of how durable vinyl plank flooring may be, regular maintenance is still required for it to last for up to 20 years.
In order to keep your vinyl floors looking bright and clean for years to come, we recommend vacuuming daily, wet cleaning twice a month, and treating stains as soon as possible.
To take care of your vinyl floor or answering your question, here are the following steps that will lead the way for an effective and smooth cleaning process for your flooring.
Vacuum
Mop
Soft bristle brush
Microfiber cloth
Basin
Apple cider vinegar
Bucket
Gentle dish soap
Water
Vacuum
There is no doubt that these vacuum cleaners will do a great job if you like the sound of a vacuum.
And when you have dogs or cats in your home, there is one thing that you need.
And that is a high-quality vacuum that is built for pet hairs.  And with this now you won't have to be sorry.
Further, you may choose either method as long as you develop a routine and follow it.
Your floors will thank you by impressing guests immediately when they enter.
Dry-Mop
It is through daily negligence that vinyl plank flooring is most easily damaged.
It would be best if you used dry moping your floors every day or two for this reason.
Dust, dirt, and debris are picked up with this, which can cause scratches on the flooring that dull its appearance.
Using Scrub
No matter how old or fresh it is. The nylon brush will help loosen a stain without scratching your floor.
Besides, brush gently with a homemade mixture of baking soda and water.
For those who cannot remove the stain using these methods, try hydrogen peroxide or isopropyl alcohol.
Wet-Mop
Apple cider vinegar or white vinegar in a gallon of hot water is one of the best cleaners for vinyl plank flooring.
Clean vinyl plank flooring by dampening your mop and rubbing it in the direction of the planks.
Furthermore, rust, dirt, and stains will be removed with vinegar without streaks or suds.
Positives for How to Mop Vinyl Plank Flooring
Protection
Protect your vinyl floor by installing felt pads under heavy furniture and avoid buying furniture with wheels.
In addition, heavy furniture can produces scratch and scuff on your vinyl plank flooring.
So use extra caution while removing or moving your heavy furniture off the vinyl floor to prevent scratches.
Treating Rust
Because vinyl is a synthetic substance, it occasionally becomes rusted, which seems strange, but is true.
You can easily remove the scratches and stains by using a microfiber cloth dipped in the baking soda and water solution to offer a perfect cleaning mixture.
Cleaning Up
It's possible to discolor and leave rough stains when using acids, like vinegar or lemon juice.
Spills should be cleaned up immediately, and stains should be treated with an appropriate cleaning solution.
Negatives for How to Mop Vinyl Plank Flooring
Abrasive Scrubs
Vinyl plank flooring can be easily scratched and ate by sponges, steel wool, and other rough materials. For a deep, scrubby clean, try a mop or a soft-bristled brush.
Ammonia
A synthetic coating on vinyl plank floors and ammonia do not mix well.
It damages the flooring by destroying the finish. And with gentle tools mentioned previously, as well as the easy-to-use cleaning elucidations that are natural, may provide an easy-going alternative.
Wax or Polishing
The special polyurethane coating that protects vinyl plank flooring means there is no need to wax it.
In addition, waxes and polishes based on solvents may cause damage to your floor from the top coating along with the texture making it a dull-looking floor afterwords.