Epoxy flooring is an option worth considering if you want to keep your floors free of stains. It can boost both the aesthetic and overall value of your home.
Although different floor coatings are available on the market these days, epoxy flooring is a popular choice for residential basements, garages, offices, and industrial facilities.
What is Epoxy Flooring?
Epoxy has two liquid polymers that solidify once they combine in the right amounts, resulting in a chemical reaction that alters the liquid polymers into epoxy.
There are two components in epoxy: resin, which is odor-free, light, and colorless, and a hardener that's typically dark in appearance with a strong odor.
It's important to remember that epoxy is highly resistant to almost any form of decay and is mechanically durable. Additionally, it's highly adhesive to any surface it bonds with.
Why Choose Epoxy Flooring?
The majority of garage floors are plain concrete. Sadly, over time, a concrete floor ends up with unsightly stains from oils, grease, and chemicals.
In the long run, the flawless concrete transforms into an undesirable surface. Once you decide to apply epoxy flooring, it'll transform plain concrete into a smooth, durable, stain-resistant, and low-maintenance floor that'll last for years.
If you want to learn more about epoxy flooring, checking out the websites of companies like Termishine would greatly help. Read on for some basic information you should know about it prior to having it installed on your property.
---
Read Also:
---
1. Advantages of Epoxy Flooring
Epoxy flooring is highly durable and reliable in different types of environments. Depending on your specific needs, you can adjust the resin mixture to achieve the necessary hardness or elasticity.
For a custom look, you can add color and flakes into the mix. Here are some specific advantages of epoxy flooring that are worth taking into account:
Affordability: The price of installing epoxy coating is less compared to other flooring options. Since the layer covers existing concrete, its application utilizes fewer materials than the installation of a new floor.
Aesthetic appeal: The appearance of epoxy is also one of its standout features. The coating is excellent in hiding minor flaws on the floor's surface and is available in different colors or patterns. What's more, it visually enhances plain concrete flooring.
Resistance and durability: Epoxy coating is highly efficient in protecting concrete floors from damage. It's also resistant to stains, moisture, and cracking, and it minimizes wear and tears over a long period. Epoxy can endure liquid spills like gasoline, oil, bleach, and transmission fluid in garages or industrial environments as well.
Safety: The surface of epoxy coating is anti-slip, which lowers the risk for injuries. Additionally, the ability of epoxy to reflect light improves visibility for better navigation.
Low maintenance: With proper installation, the epoxy coating can last for a long time and will require minimal maintenance. Aside from cleaning it on a regular basis, hosing it down with water is usually enough to preserve its pristine condition. Epoxy flooring can also endure heavy foot traffic, strong impact, and temperature fluctuations.
2. Preparation
The installation of epoxy flooring requires proper preparation of the surface to ensure long-lasting results. The surface should be thoroughly clean to get rid of any contaminants that can affect the bonding process.
Depending on the product, you need to power wash the concrete. After the preparation phase, check the concrete for any cracks or holes.
If any are present, they need filling and leveling. Once done, the installation of the epoxy can commence.
Once the epoxy flooring is in place, you can clean the surface with a mild detergent, hose it down with water, or use a dust mop to remove dirt.
3. Types of Epoxy Floor Coating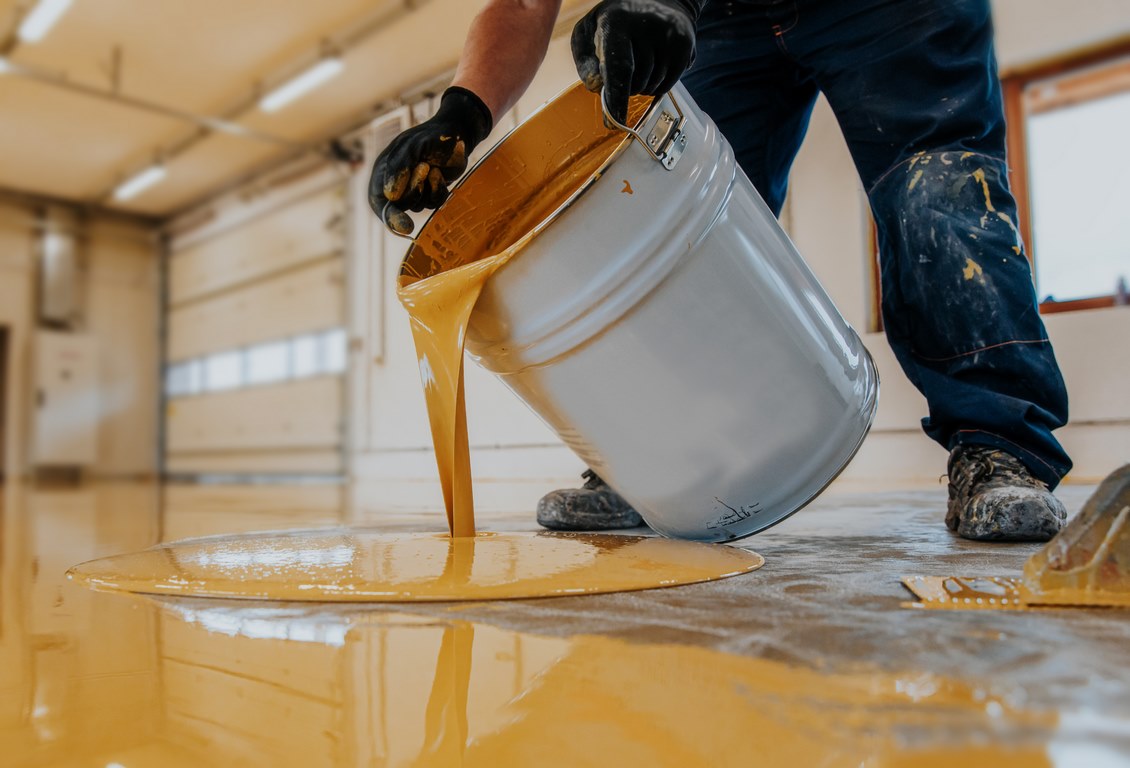 Depending on your specific requirements, several varieties of epoxy flooring are available for you to choose from.
Self-leveling: This epoxy flooring is applied over old, new, cracked, or damaged concrete to produce a smooth, level surface. It provides a seamless look and is readily available in various colors.
Epoxy flakes: These are particles that produce a vibrant, multicolored appearance. They provide a seamless look along with subtle grooves to minimize slips. Epoxy flakes come in various colors, sizes, textures, and styles.
Quartz-filled: Quartz epoxy is a mix of superior epoxy polymer resin and quartz grains in various colors. It's the ideal choice for decorative spaces that require hygienic and slip-resistant properties.
Epoxy mortar: This type of epoxy flooring is suitable for environments that require resistance to chemicals, and it can endure high impact in warehouses, garages, or manufacturing facilities. It comprises 100% solid epoxy along with graded or quartz sand.
Anti-static or electrostatic discharge (ESD) resistant: Anti-static flooring is applicable for environments in which electrostatic discharge is a concern. The flooring has a conductive compound that attracts static electricity, eliminating any possible discharge.
Conclusion
Epoxy flooring is a highly versatile option that's long-lasting, durable, practical, and customizable for almost any space. Those characteristics make it the best flooring solution for residential, commercial, or industrial use.